If your living room is missing that special element that makes it unique, welcoming, and functional, then the perfect Amish furniture ideas could be all that you need to turn things around. Televisions have been the focal point of most living rooms for more than half a century, but sometimes the way we frame them is less than ideal.
If you want to enjoy modern entertainment while still retaining the class and style that will make your home truly unique, then you could consider Amish furniture entertainment centers from the Amish Showroom.
Why Choose an Amish Furniture Entertainment Center?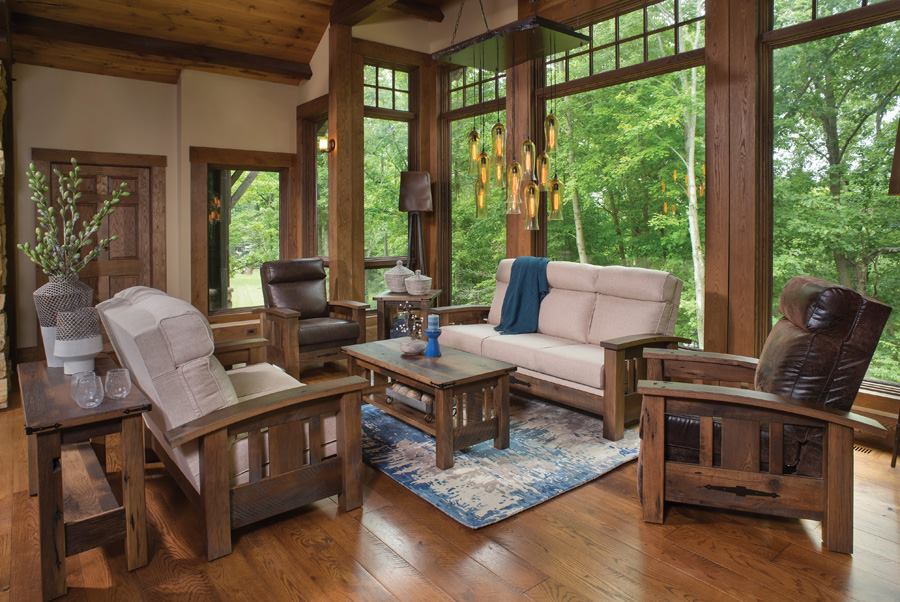 An entertainment center is the focal point of a modern living room. It serves the function by housing your television and other media equipment, and a large entertainment center can also be used for storage and for displaying important family keepsakes.
Just like your bathroom vanity or kitchen counter, the entertainment center is the most important piece of the room.
When you buy Amish furniture online you will have a choice of styles, material, and finishes. Many people still associate Amish furniture with antique styling. While there's plenty of tradition that goes into every piece, Amish styles can still be contemporary, and a handmade entertainment unit won't look out of place in your modern home.
We offer a range of options at the Amish Showroom; your premier destination to buy Amish furniture online. The following are three suggestions that could give you an idea of how your home would look.
An Amish Furniture Corner Unit for Your Living Room
For a traditional corner unit that has both presence and style, you could consider the Boulder Creek Corner Media Console. Available in a range of woods that are finished in high-biomass EcoPoxy, you could get the perfect stain that brings out the style of your living room. If you're aiming for a contemporary aesthetic, then try using a deep brown maple in Graphite, Onyx, or Espresso.
A Minimalistic Entertainment Center for a Clean Aesthetic
If you prefer to keep things low profile, then the Caledonia TV Cabinet is a great option. It has a strong presence without taking up a lot of physical space, which is perfect if you want your multimedia experience to be fully immersive. At 72" in length, this piece of Amish Furniture won't leave you lacking in terms of storage from the handcrafted cabinets. Both solid and glass paneled cabinets round out the design. As with all our online Amish furniture, you'll be able to choose the perfect timber and finish to match your home décor.
Go Big with This Bungalow Wall Unit – A Master Example of Handcrafted Amish Furniture
If you want maximum presence and storage options, then our Bungalow Wall Unit is designed for you. Soft close drawers are available on custom orders. In standard configuration, you'll find more storage options than you would expect from an entertainment center, and this could help you to streamline your living room storage. A large unit like this would be perfect if you really want to bring the attention of the room to one single area.
Browse our complete collection of entertainment centers and other beautiful Amish furniture for your living room. A beautiful home is just one click away, and with easy online ordering, you'll find that The Amish Showroom becomes your new favorite place to shop.