You can't look past Amish furniture when you want the highest quality, longest lasting, and most beautiful natural wooden furniture. Amish collections have a place in America's history, and they're also very much a part of the contemporary style.
Our Amish Showroom is based in Minnesota, but we ship our products all over the United States, and design collections focused on both traditional and modern ideas. West Coast Style is one example of a design philosophy that pairs perfectly with our furniture collections.
It's incredibly popular today and quite a departure from what you might see anywhere else in the United States. Learn about this unique style and you could discover new ideas for your bedroom.
Amish Furniture is Perfect for West Coast Bedroom Design
What is it that makes the West Coast Style unique? It's all about big, bold, and eye-catching furniture. Whereas some design styles call for subtle pieces that are understated and even minimalistic, the West Coast Style takes a different approach where furniture pieces are large, prominent, and room-filling.
When it comes to upholstery and linen, look for heavy quilted fabrics in darker shades. In some cases, you could blend dark and light, using light colored flooring like designer tiles, deep pile carpet, or even light stained hardwood floors.
The West Coast Style is dramatic in its presentation, so it's ok to go for some contrast. We recommend keeping the furniture dark and then creating your lighter shade contrast with other features or decorations.
If you have mid or large-sized rooms in your home, then you will find that the West Coast Style works perfectly. Of course, you'll also need to have the right bedroom furniture pieces for everything to come together.
Take a look at this bedroom designed in the West Coast Style using the Breckenridge Collection. A combination of light and dark has been used, which helps the bedroom furniture to stand out even more. You'll also notice that the size of the furniture immediately creates an impact. West Coast Style isn't for the fainthearted, but if you're adventurous enough to explore furniture that you might not have otherwise considered, then you will be rewarded with results just like this.
Go Big and Bold with All of Your Furniture
A bedroom inspired by the West Coast Style will need to be consistent when it comes to your furniture. Armoires, dressers, jewelry boxes, and nightstands etc. should all follow the principles of big, bold, dark, and dramatic.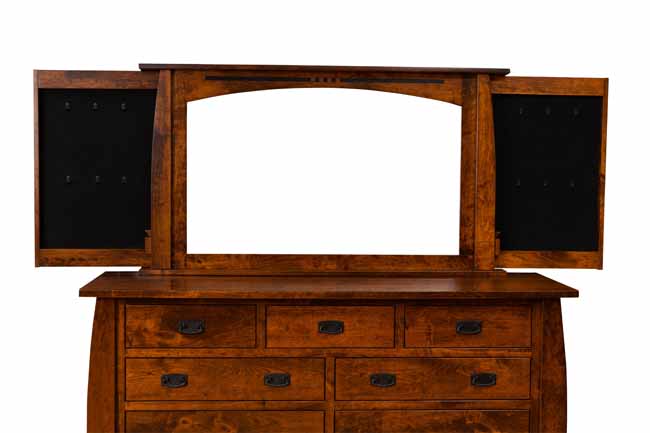 You could even add beautifully functional custom items, like the Colebrook Jewelry Mirror. A hidden pull-out jewelry box is the perfect way to safely store your precious collection. You can even gain a security advantage, as we craft these to such high standards that nobody would know the extensions were there!
It's All About the Color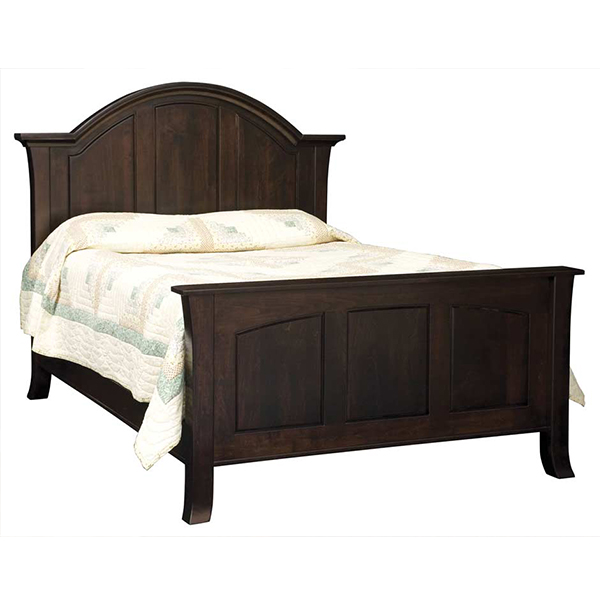 Large furniture would feel too imposing with light stains, so we advise leaning towards some of the darker and more modern tones. Graphite, Onyx, and even Espresso are perfect for West Coast Design. All our woods can be finished in your stain of choice, although we recommend Brown Maple and Cherry to bring out the best results.
You'll see exactly what we mean with the Hampton Bed. It has a strong presence with the beautiful handcrafted foot and headboard. The headboard is larger than average, which helps to make a real statement in your bedroom design. You could go even darker with the stain, with full customization available when you order Amish furniture online.
You can view our stain options right here, giving you even more inspiration for a West Coast Style bedroom using Amish Furniture.
Beautiful Bedroom Amish Furniture Available to Browse Today
You don't even need to leave your home to find the best Amish furniture for a West Coast Style bedroom. Amish Showroom is your gateway to heirloom quality furniture that you can buy for any room in your home. Custom options, including soft close drawers, stains, and wood selections mean that you can get the perfect dark and bold furniture, or anything else that you have in mind.
Browse today and make a furniture investment that will last for generations to come.