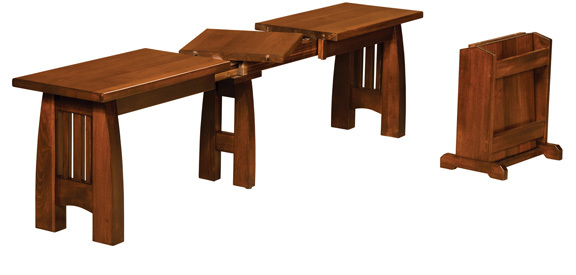 When you're looking for dining room seating options, benches probably aren't the first things to come to mind. However, there are a number of important benefits that you can gain from choosing bench seating, particularly if you have a large family or if you love to entertain. Benches are unique and can add some quirk and personality to your décor. They're also highly practical, adding convenient seating for a relatively low cost.
With expandable Amish Furniture benches, you can add space only when you need it, keeping your dining room streamlined and organized.
Benefits of Amish Furniture Benches
Before you invest in traditional chairs, consider all the benefits that can come from bench seating.
Benches are Cost Effective: Are you looking to add style and distinction to your home on a moderate budget? Benches for your dining room are often more cost effective than buying single chairs.
You'll Add More Seating Capacity: If you love to host friends, or if you have a large family, you'll get more seating capacity from Amish Furniture benches. With expandable benches, you can even create more seating for special occasions, without having to bring unmatched chairs into the room.
Benches are Minimalistic: If you want a clean and streamlined dining room, you'll love the aesthetic of handcrafted wooden benches. They're minimalistic and can keep your dining room clutter-free.
Benches are Versatile: You can use benches at your dining table or anywhere else in your home. If you want to add seating to a hallway or entryway, then benches could be the perfect solution.
Benches are Low Profile: Do you have a unique Amish Furniture dining table that you want to be the key feature in your dining room? Benches have a less imposing style than traditional dining chairs, bringing the focus to the middle of the room.
Benches Are More Intimate: For family dining or entertaining, benches make a lot of sense. They bring diners closer together without reducing comfort. They can spark conversation and interaction while dining. The subtle difference could make your dining room a much livelier place.
Style Choices: For many families, benches are all about style. If you want to bring something unique to your dining room, a bench could become a real conversation piece and mood setter.
Hand Made Amish Furniture Benches
Even with all of the benefits made clear, you really need to see some examples of the benches that you could have in your home. Amish Furniture benches are handcrafted in Minnesota and are made to last for generations. Expandable benches give you maximum versatility without any compromises in style.
The Henderson Bench: This is a beautiful handcrafted bench that incorporates elements of the Mission style. If your home follows a theme of big and bold, then the elaborate arched legs of the Henderson bench will impress you. Available both as a standard bench and expandable bench, this could be the perfect solution to bring some unique class and distinction to your home.
The Frontier Bench: Do you prefer something that's more minimalistic and a little bit rustic? The Frontier Bench could be perfect for your dining room. The straightforward design hearkens back to simpler times when furniture was functional above all else. Exceptional craftsmanship could make the Frontier Bench a unique talking point in your home. Available as an expandable bench, this choice would also be incredibly versatile.
The Farmers Bench: How about a bench that would work in a classic country home, or even a modern home that features a transitional décor? The Farmers Bench is a beautiful option with hand-shaped legs that exude class and style. Use this bench to compliment a hand made Amish Furniture table, or, let it be a star on its own by using it as occasional seating in your home.
View a Complete Range of Amish Furniture Benches
Explore your unique sense of style with benches made by master craftsmen and women. Our Amish Furniture benches could be the missing element that turns your dining room into something truly special and unique.
Browse the Amish Showroom and invest in heirloom quality furniture for your home.