Spring 2018 Update
Maple Harvest:
Spring 2019 Update we had a great year of harvesting Silver Maple Trees.  Our neighbor's property had some "monsters" that had never been harvested before and were due.  We will be offering some Maple specials in 2019 that are going to be very hard to beat.  Keep an eye on the sales page for specials.
The 2018 lumber harvest is off to a great start!  Very cold temps in Minnesota and the lack of snow allowed the frost to set in!  We have been trying to gain access to the lowlands timber for about 3 years and our crew finally got in there! We will be offering some great deals on our Maple woods. We have a huge inventory of lumber and fully intend on passing the savings directly to the consumer.
Walnut Harvest:
2019 Spring update our MN DNR (Department of Natural Resources) conducted a tree audit from our planting.  He estimates we have approximately 31,000 new walnut trees growing and they are looking great.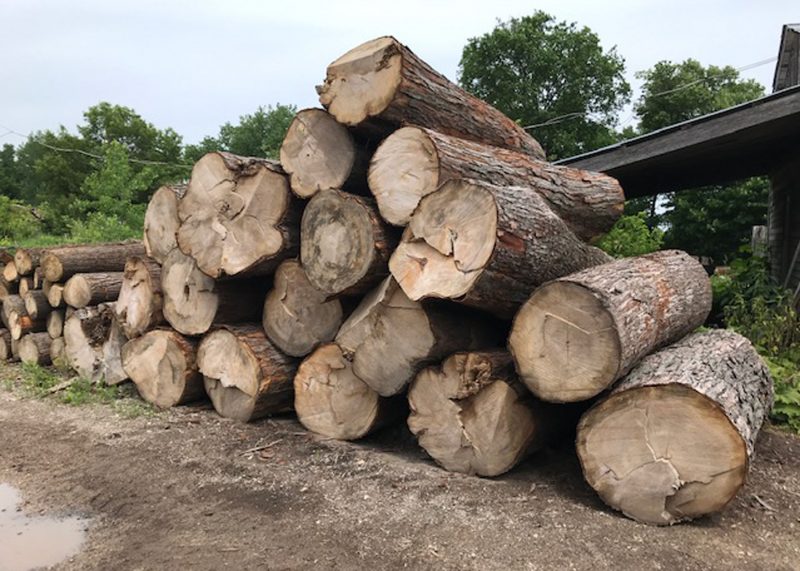 Amishshowroom purchased a large quantity of mature walnut trees from the State of Minnesota.  The trees are some of the most stunning samples of beauty Mother Nature has ever created (in our opinion).  The land is being replanted with new trees in accordance with our re-forest policy.  Our family is a past winner of the State of Minnesota's highest conservation award and we plan on passing trees to the next generation!
Many of the Walnut trees have lots of knots and outcroppings.  We will be offering some special prices on live edge dining tables, rustic coffee, sofa, end tables.   Stay tuned!
Walnut and Oak tree planting:
In accordance with our DNR Forestry plan we planted nearly 3 acres of new Walnut and Oak trees in 2017.  This should add thousands of trees to our forest reserves in 75 years.
New Vacuum Kiln
Amishshowroom has installed a new Vacuum Kiln to our lumber drying facility.  This kiln will dry our large live edge walnut slabs about 3 times faster than our old kiln.  We can dry our drawer box lumber in 1 day, using less lumber in the process.  Now we can cut the drawer box width to nearly the size we need, right at the mill, and be ready to use them next week.  Our builders like the improved color quality of the maple lumber due to the low oxygen "under vacuum" process.  Watch the video below.