There's nothing better than having a home that is perfectly decorated with high quality and beautiful furniture. At the Amish Showroom, we craft and directly supply the best Amish furniture online, and we're confident that we have the versatility in our collections to improve every room in your home.
Whether you are designing an office or a study, a new dining room, or even a master bedroom, our furniture can give you the 'wow' factor that you're missing. If you want furniture that 's going to last the lifetime of your home and even beyond, then you'll love the three collections that we've showcased below.
Bradbury Style Trestle Table for Your Kitchen or Dining Room
Trestle tables are a great alternative to the more common leg tables. With a trestle design, your Amish furniture can stand out, and you'll see the full extent of the craftsmanship on the underside support of the table.
The Bradbury style offers a magnificent dining table for casual dining in a kitchen, or it can even be used in a formal dining room. The table is available in sizes up to 48" x 72", and you will be able to select different American timbers including Hickory, Hard Maple, and Rustic Cherry. The tabletop edged can be customized whether you want mission style or a beveled edge, and the solid wood construction will last for years in your home.
The Bradbury style is a great option if you want something that is elegant and that is still relatively affordable.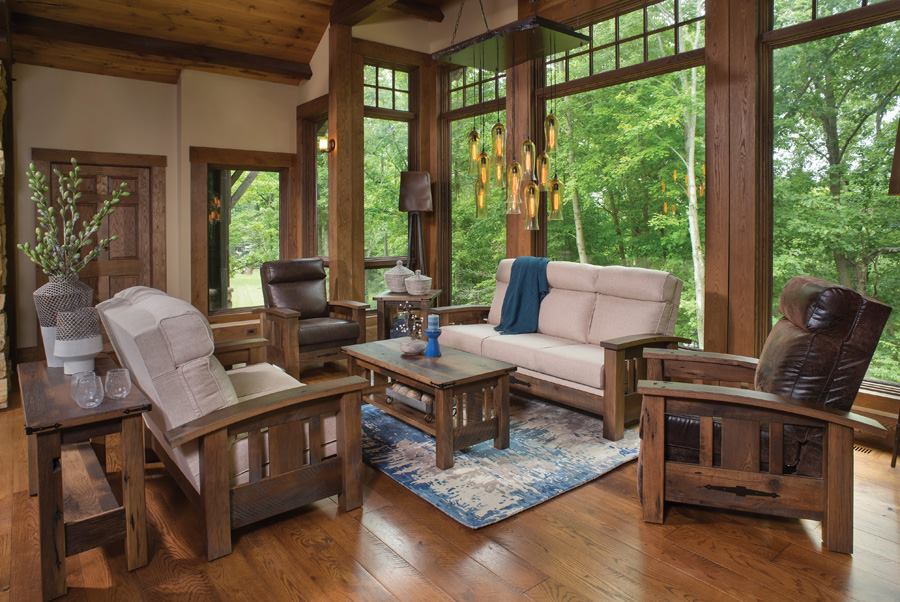 The Ironwood Suite for a Gorgeous Master Bedroom
In your master bedroom, you should spare no luxury. You deserve the very best, and that's exactly what you could have if you choose the Ironwood Suite of Amish furniture online.
This special collection is available for order in Rustic Rough Sawn Brown Maple. It looks spectacular and can suit both modern and traditional homes. It leans more towards the traditional side, but not in a way that would make it feel outdated.
This is real heirloom quality and could easily be passed down for generations. The collection includes items like side tables, a storage chest, a handmade bed with a spectacular headboard, and dressers/tallboy drawers depending on what your needs are. You can choose from different items in the collection to get the perfect fit for your bedroom.
There's Plenty More to Choose When You Buy Amish Furniture Online
We've only touched on two options here. There's plenty more to see when you browse our online store. Most of our furniture pieces are customizable, and our collections offer plenty of flexibility so that you can decorate a home in a way that reflects your personality.
Browse our Amish furniture online and give your home the true luxury touch that you deserve.