You're ready to invest in Amish Furniture, but you're unsure about which type of wood to choose. The Amish Showroom provides extensive options, including luxury materials like Walnut and Hickory. Oak is one of our most popular materials, and for good reason. It can be cost effective, it's long lasting, and it offers a beautiful grain that is suitable for both contemporary and traditional furniture.
What is it that makes Oak such a great material for Amish Furniture, and how will you benefit from incorporating this natural timber into your home?
Amish Furniture That Can Last Forever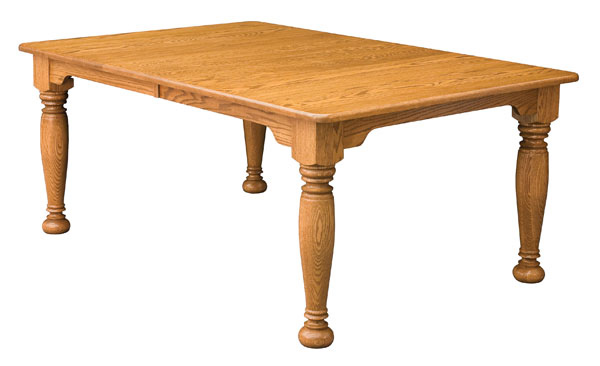 The most important advantage for Oak (and for our other wood options) is the longevity of the material.
We often refer to Amish Furniture as being of heirloom quality, and it's no exaggeration. Oak can potentially last your entire lifetime and far beyond. It has been used for centuries and many of the oldest examples live on in private collections.
Oak is naturally waterproof, and it was even used for ship manufacturing long before composites and metals were used in the modern era. Oak is also incredibly durable and will resist dents and scratches.
Maintenance is important, but the requirements aren't extensive. Treatment with a furniture oil can help to protect Oak that hasn't been finished with epoxy or paint. Depending on your environment and how often you use your Amish Furniture, you may only need to oil Oak every three months or so. When the wood starts to become dry, it's time for a treatment.
Oak Can Be Finished to Create a Unique Appearance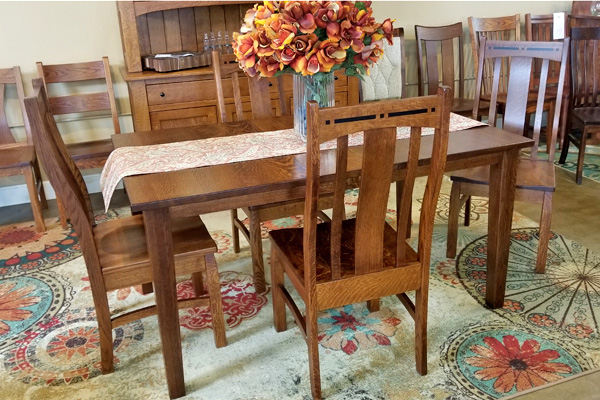 The finishing options for Oak are virtually unlimited. It can be coated in epoxy to provide a glass-like finish that will protect the wood underneath. Oak can also be stained to give it a hue that matches your décor. Darker stains are often used for modern homes, while lighter stains are ideal for traditional homes where you want the grain to stand out.
You can view all our stain options and explore other wood selections by visiting this page.
The grain is unmistakably beautiful, which is why Oak is a popular choice for living room and dining room Amish Furniture. Country styles are particularly well suited to Oak grain, but there are no real rules on how you should use this wood. Order an office desk, a bookcase, or even an occasional table in Oak, and you'll be able to appreciate the fine wood grain every day.
What is Quarter Sawn Oak for Amish Furniture?
Oak that is quarter sawn is cut, rotated, and cut again at the mill. This process helps to create an incredibly strong final product that resists warping. For furniture that will last the ages, quarter sawn Oak is an excellent option.
This method also results in a unique grain pattern that is finer and lighter than standard cut Oak. This can be ideal for furniture that you want to be understated or even modern in appearance. Many people simply prefer the grain pattern that comes from this process.
Examples of Oak Amish Furniture for Sale
You'll find countless Oak furniture options at the Amish Showroom. It's one of our favorite materials to work with. As you begin your search for your next investment, take a look at some standout pieces in our collection today.
The Belleville Leg Table is an excellent example of a traditional country style. It works well in traditional and transitional homes, as well as modern homes that follow a more eclectic décor concept. The Belleville Table comes standard in Oak with a Sealy Satin finish. This is a showcase of the striking grain patterns that can result from expert Amish Furniture craftsmanship.
The Crestline Buffet is another standout piece of Amish Furniture that looks wonderful in Oak with a light stain. Add this to a dining room or even a home bar for an instant touch of class and distinction. This buffet can be handed down through the generations, and the classic styling has timeless appeal.
Oak also works well in the living room. The flowing grain patterns can create drama and a focal point, even on your sitting furniture. The Shaker Loveseat can be customized with leather or fabric upholstery, and the wood panels allow the beauty of Oak to really show.
You'll love Oak for your home. You can get the best pieces by choosing Amish Furniture online. Explore our complete selection today and enjoy the benefits of a classic material that can last forever. When you choose natural timber furniture, you'll make an investment that keeps on giving back.