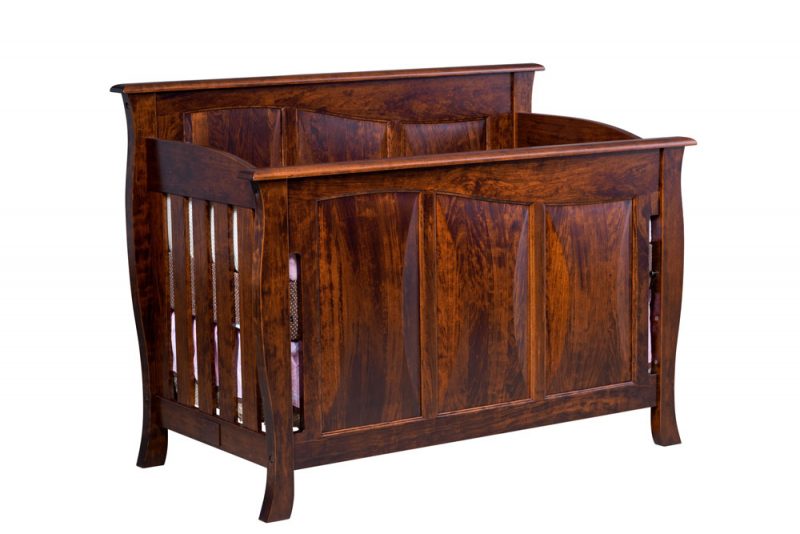 A nursery in your home should be both practical and comfortable. Because you'll be spending a lot of time in the nursery during your child's formative years, you should also aim to make the space beautiful. A nursery will one day become your child's bedroom, where they will sleep, play, and learn. Starting with the right furniture can ensure that you provide everything that your child needs.
Before you plan your nursery, consider some of the best Amish Furniture available today.
Furniture in the Castlebury collection can beautify any nursery or child's bedroom.
The Castlebury Six Drawer Dresser – Storage for Your Nursery
A dresser is an absolute necessity in any kid's bedroom or nursery. The Castlebury Six Drawer Dresser can be ordered with an optional changing station, giving you the perfect place to take care of your baby's needs every day. With six drawers including four large drawers, you'll be able to store diapers, clothes, creams, wipes, and any of the other baby products and accessories that you use daily.
Made from real American wood, the Castlebury dresser will last for generations. It can be used by your child all the way through to their high school and college years.
Make a real investment with handmade Amish Furniture.
The Castlebury Crib – A Beautiful and Versatile Piece of Amish Furniture
Sleep is very important for growing babies, and the Castlebury Crib is the perfect solution for a safe and comfortable sleeping space. This Crib can be ordered with a conversion kit to allow for easy customization as your child grows.
In standard crib configuration, it's perfect for toddlers and babies over four months old. With a conversion kit, it can be modified into a day bed, and later into a full-sized single bed.
Investing in a quality piece of Amish Furniture today will save you money in the long run. Ensure you get the best return on your investment with this beautiful and versatile crib.
The Castlebury Hutch Top – Add Convenient Storage to a Nursery
Want to add even more storage and practicality to a Castleberry Dresser? This Castlebury Hutch Top is the perfect addition that will turn a dresser into a fully featured changing table with shelves for convenient storage. It is designed to match furniture in the Castlebury collection, and it features our renowned heirloom quality. As your child grows older, the shelf can be used to store books, toys, or anything else that needs to be organized.
The Castlebury Bookcase – Shelves for Today and the Years to Come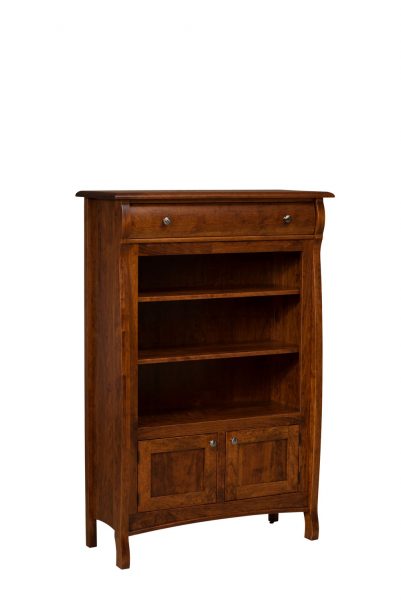 We all know that kids love to collect things. From toys to books, you need space to keep everything tidy and organized. Even in the first two years, baby books and toys can quickly pile up. The Castlebury bookcase is the perfect way to take care of your storage needs, and it will perfectly match other items in the Castlebury collection.
Best of all, this is a piece of furniture that can be used throughout childhood, into the tweens and teens, and even in adult life. All of our Amish Furniture is made to heirloom quality standards. This bookcase could be passed down through the generations, lasting much longer than a mass-produced bookcase that you would likely need to replace within a couple of years.
Featuring shelves, drawers, and cabinets, this is an excellent all in one storage solution.
The Castlebury Night Stand – A Perfect Hub for Occasional Storage
Want to add a smaller nightstand for occasional storage and a touch of class in your nursery or child's bedroom? The Castlebury Night Stand is the ideal 'finishing touch' to a nursery that will provide an aesthetic and functional benefit for decades to come.
Order Amish Furniture Online for Your Nursery or Child's Bedroom
You can buy Amish Furniture from the comfort of your home. Browse our online store and find the perfect youth furniture and cribs to suit your needs. Customization options like soft close drawers, conversion kits, and wood choices can all be made when you order online.
Make an investment for you and your child's future. Amish Furniture brings warmth and beauty to your home, with time tested quality that will last for generations.