When choosing dining room furniture for your home, you'll have some key decisions to make. Size, design, and color are all important. The material you choose will also be critical. Today, the furniture market is crowded with mass-produced furniture. Sometimes it might seem like you're getting a great deal, but, wood composite or veneer furniture is not the best investment.
Solid wood furniture, such as live edge Amish Furniture could last the lifetime of your home and beyond. True heirloom quality furniture can return its cost many times.
Here are the reasons why solid wood live edge furniture is an excellent choice for your dining room.
The Wow Factor of Live Edge Furniture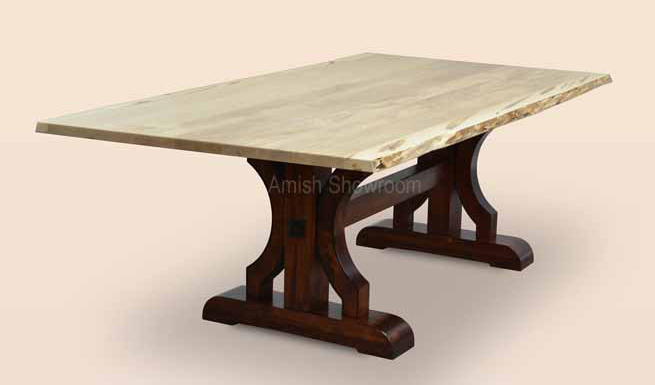 What's Unique About Live Edge Amish Dining Furniture?
There's a misconception that Amish Furniture is suited only to traditional homes. While our unique handcrafted dining tables would look great in transitional and traditional décors, they are also perfect for contemporary homes.
A live edge makes use of the natural shape and grain of high-quality American Timber. Rather than hiding the properties of the wood, we use our furniture expertise to accentuate the positives.
This type of dining room furniture can help you feel closer to nature. We offer several designs so that you can find the perfect fit for your unique sense of style.
A Beautiful Piece of Functional Amish Furniture with a Live Edge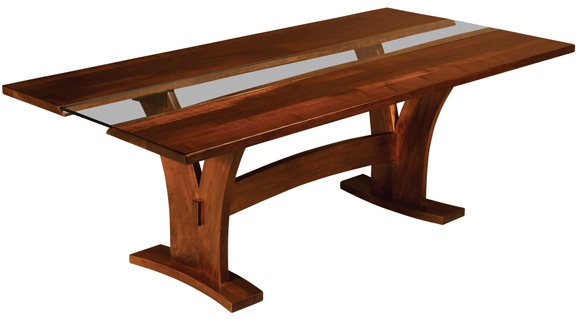 Our Barstow Live Edge table incorporates elements of classic Amish Furniture trestle design. The difference here is the beautiful natural edges that add depth and character. Each table is completely unique, thanks to the unpredictable patterns of natural wood. If you want something that is flat, clean, and contemporary, then the Barstow Live Edge dining table could be perfect for your needs.
This table is perfectly matched to our handcrafted Barstow Benches.
A Live Edge Counter Height Table
The Boulder Creek Live Edge table is a jaw-dropping example that shows you how the live edge furniture concept can be paired with a modern trend. Counter height dining tables are becoming more popular in modern homes. For many people, they are more comfortable, and they can be paired with our handcrafted bar stools. Some families simply prefer the look of a high counter table. The Boulder Creek design will easily stand out in your home and will make the right impression when you are hosting your next dinner party.
High-End Design and Sophistication When You Buy Amish Furniture Online
The Bellingham Live Edge Trestle is another design to consider, and it's one that we are particularly proud of. Sweeping curved lines are used to accentuate the beauty of natural wood. The live edges are separated in the center by a piece of high-quality tempered glass. Part rustic, traditional, and contemporary all at the same time, this is the dining table for you when you demand unique high-end furniture for your home.
This table is perfectly suited to our handcrafted benches. Be sure to check our unique collections made by master craftsmen and women in Minnesota.
Explore More Live Edge Amish Furniture Online
Solid wood furniture is versatile, and our modern designs add a new take to our traditional Amish Furniture methods. Don't settle for mass produced furniture that is lacking in character and distinction.
Browse all our live edge tables today and choose lasting heirloom quality for your dining room.
Amish Furniture is based on tradition with modern updates that you will love. At the Amish Showroom, you'll find beautiful furniture collections to suit any home. Whether choosing traditional, contemporary, or anything in between, these are the benefits you'll gain from handcrafted furniture.
Three Benefits of Solid Wood Amish Furniture
1. Solid Wood Furniture is Perfect for Any Room
Your dining room is one place where wood looks great. There's something incredibly unique and down to earth about natural timber, which can make your dining room feel both elegant and welcoming.
Solid wood furniture comes in countless styles. Whether you love the mission style, shaker style, or modern upholstered styles, you'll find that solid wood furniture gives you several options. You'll never feel limited by natural wood.
2. Handcrafted Amish Furniture Online can be Stained to Match your Interior Design
With a variety of stains and even painted surfaces available, you'll be able to complement the design choices that you've already made in your home. In your dining room, this could mean matching your kitchen. You could even choose contrasting colors to allow for some fresh variation.
3. Wood is Environmentally Friendly
When you choose to buy Amish Furniture, you'll be helping to protect the environment. Our forests are environmentally sustainable and provide significant benefits to local ecosystems. Because you will never have to replace the best Amish Furniture, you'll reduce your waste and carbon footprint