Choosing kitchen cabinets is one of the most important decisions you will make when remodeling or renovating your home. Your kitchen is a hub of activity and it should always be functional and presentable. Wooden cabinets have been the premium choice for centuries. From the earliest homes of the first American settlers to contemporary kitchens, wood has offered significant benefits that go beyond appearance.
Before you invest in new custom kitchen cabinets, explore the advantages of natural timber and Amish Furniture designs.
Four Top Benefits of Amish Furniture Kitchen Cabinets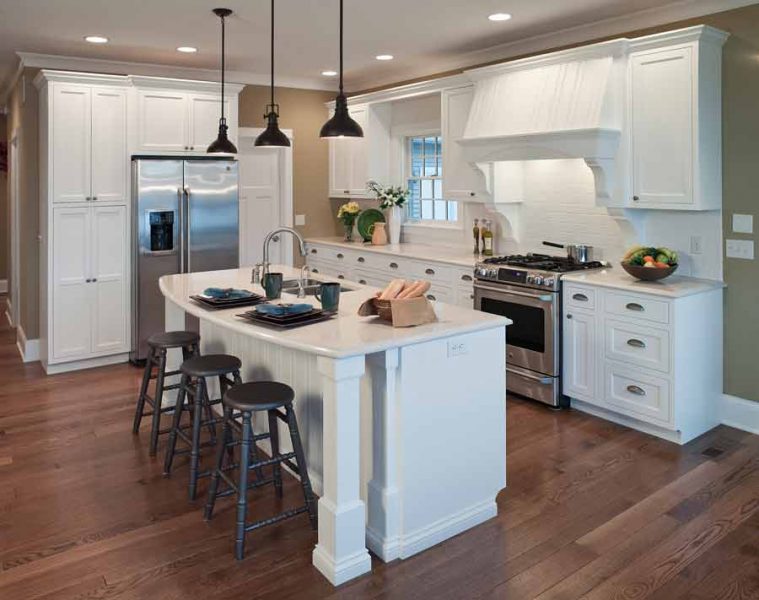 Kitchen cabinets made by the Amish are inspired by tradition. They also bring innovations for the modern day. Take a look at four impressive benefits that could help you make the right choice for your home.
1) An Unmatched Aesthetic
Nothing comes close to the timeless beauty of natural wood. When you want a kitchen that stands out and makes a statement, Amish Furniture kitchen cabinets are the obvious choice.
There are many styles that you could choose for your kitchen, ranging from traditional to contemporary. You could even choose to install cabinets designed with a transitional style to bridge the gap between past and present. Take a look at our beautiful Geradot Kitchen Set to see just how impressive a modern kitchen can be.
Choose a transparent finish for beautiful wood grain patterns that bring class and elegance to your home. Your cabinets could also be painted to complement your existing Amish Furniture.
2) Custom Options
Amish Furniture might be based on tradition, but custom kitchen cabinets will never feel dated or inappropriate for modern life. It's possible to have custom cabinets made for your modern appliances, and you could even add wood paneling to items like dishwashers to create a seamless look in your kitchen.
There are even custom options that can bring convenience to a modern kitchen. Sliding shelves and spice racks, pull out trash cans, and other options could help you to make better use of space, even in a relatively compact kitchen.
We can install soft close drawer and cabinet door mechanisms to protect your cabinets while providing a premium feel.
3) Durability and Longevity
Amish Furniture is renowned for its durability and longevity. Age old crafting methods combined with the latest technology can result in cabinets that will last the lifetime of your home. Even relatively inexpensive wood species like oak will last for decades when properly cared for.
There's no getting around the fact that a remodeled kitchen is a significant investment. You can make better use of your money when you choose kitchen cabinets that will never need to be replaced. Wooden cabinets from the Amish Showroom can be refinished or even painted with solid colors as trends change over time.
4) Variety in Look and Feel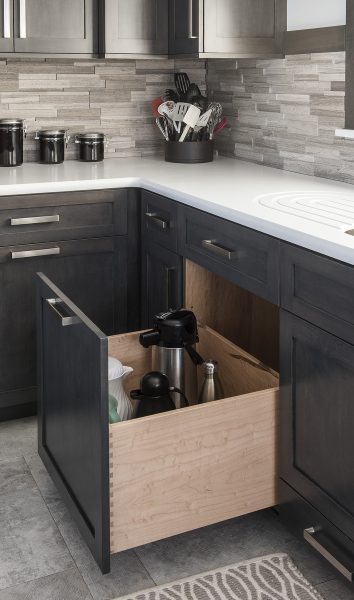 There's nothing worse than being underwhelmed by the materials selection when you are choosing new cabinets. At the Amish Showroom, we provide a comprehensive selection so that you can explore your unique sense of style. The sheer range of wood available for Amish Furniture kitchen cabinets will surprise you.
When you have your custom cabinets made by Minnesota's finest craftsmen and women, you could choose wood like:
Brown Maple.
Cherry.
Oak.
Hickory.
Grey Elm.
Quarter Sawn White Oak.
Rustic timbers (contact us for availability).
Stain options are extensive, allowing you to create a look that suits your home and your personality. Check out all our materials and stain colors here.
Invest in Kitchen Cabinets for the Lifetime of your Home
Don't settle for anything less than handmade kitchen cabinets for your home. The quality of Amish Furniture cabinets will bring lasting value to your kitchen, with bespoke styles that are unique and unmatched in the industry.
If you're ready to design a kitchen that is functional, long-lasting, and breathtakingly beautiful, it's time to explore your options at the Amish Showroom.