Not every piece of Amish furniture is created equal, these handcrafted pieces vary in design and have aspects that make each piece unique. This even comes down to the style itself, the two main ones being the Shaker and Mission styles of furniture made by the Amish. Each style has its own unique history and distinctive characteristics that make them stand out compared to other furniture options.
Shaker Amish Furniture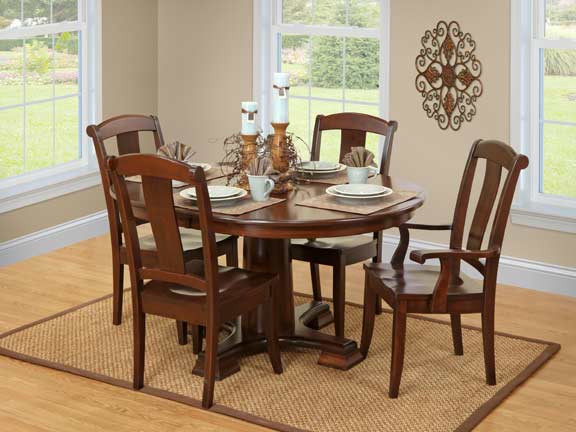 The best Amish furniture made in the Shaker style is easily identified by its subtle curves, round wooden knobs, and tapered legs. The features of this furniture style are traditional and have a gentle appearance. Maple wood is the ideal wood for Shaker furniture, but many pieces have been made using cherry, maple, and pine. This style is often used for bedroom and dining room sets but has also been applied to baby furniture.
The beautiful and simple Shaker style is wonderful for its tapering design that is used to keep furniture light and sturdy. Tapering helps to eliminate excess materials to keep a piece lighter and turned legs offer the same, strong support as thicker pieces. Shaker Amish furniture also doesn't feature any inlay, veneers, or other woodwork to make it stand out. The furniture showcases a humble lifestyle paired with durability and functionality with a simple, yet elegant beauty.
Mission Amish Furniture
The Mission style of Amish furniture takes some inspiration from its Shaker cousin but has its own distinctive characteristics to tell it apart. The straight angle, sturdy slats, and stable legs are the focal point of this type of furniture. Mission furniture typically has a darker stain compared to the earlier version of the Shaker style pieces. The Mission style does feature some ornamentation, but it still calls for a simplicity in its design.
Durability and functionality are still present in the Mission style with exposed joinery showing off the beauty and strength of the furniture. One of the most distinctive features of this style of furniture is the parallel slats that are present to give the appearance of strength. The uniform lines and the harmony of each piece of the furniture are tedious to make, but it showcases a truly deep appreciation for each Mission style piece made.
Each style of furniture carries with it the reputation of durability and longevity that makes it an excellent addition to any home. The furniture is built to be used every day and over time will become a natural fit to any household.