Amish furniture is renowned for its ability to last for generations when properly cared for. Some antique Amish pieces look almost as good today as the day that they were made, and contemporary pieces have a look and feel of quality that is not found in any other type of furniture.
Some people whisper of there being a 'secret' to Amish furniture, but the real secret… is that there's no secret at all. The way we create timeless, heirloom quality, and cross-generational furniture is all down to the quality of our traditional handcrafting, and the modern innovations that we bring to the market.
Epoxy tabletops are the perfect example of how we blend traditional furniture making with modern techniques.
Epoxy Finishes Make Amish Furniture Tabletops More Durable than Ever Before
In the past, varnish, shellac, and wax or oil finishes were used to give furniture an impressive finish and long lifetime. No matter how well Amish furniture is made, only the right finish can ensure that it will retain its beauty for generations.
It's a testament to the quality of the earliest Amish furniture that much of it still exists in antique collections today, however, the finishes are not what they once were. While the craftsmanship is easy to appreciate, some heavily used antique Amish furniture can show signs of distress.
Some people love the rustic look; however, most consumers today want to make a lifetime investment, and that's why Epoxy is so important for our Amish tabletops.
We Don't Just Use Standard Epoxy Resin on our Furniture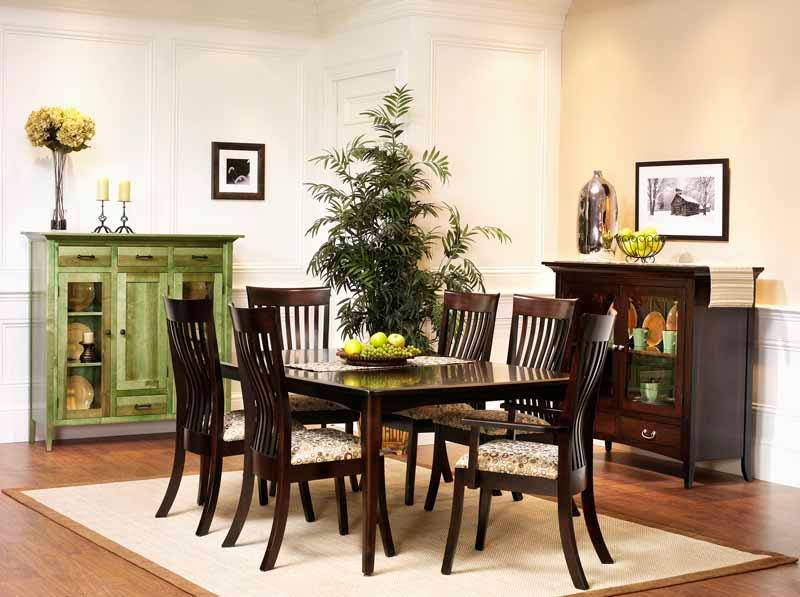 Epoxy is a finishing material that is applied in the final stages of production. Much like a traditional lacquer, oil, or varnish, modern epoxy is made to protect the timber of the furniture. The difference is that epoxy does a much better job, and it can last for decades when properly applied.
Modern epoxy solutions are often made from volatile chemical compounds, which somewhat clashes with the idea of Amish furniture. Our furniture comes from natural resources, and we use timbers that are ethical and sustainable.
At the Amish Showroom, EcoPoxy is the finishing product that we rely on. This special epoxy resin is made from biomass and is perfect for high-end wooden furniture, as it provides an extremely hard finish with a high sheen.
The epoxy is crystal clear, with no coloration that would take away from the natural beauty of the wood below it (pigmentation is available if you want a particular stain for your furniture). When we finish our Amish furniture tabletops with EcoPoxy, we are ensuring that the surface is durable and that it will stand up to usage in a busy modern home. Most importantly, a tabletop finished with EcoPoxy can last for a lifetime and beyond.
Not only do we use EcoPoxy for in our own products, but we can also supply this hardwearing finishing compound for your home projects. Now you could create everlasting woodworking to be passed down through generations. We offer a complete range of pigments, liquid plastic for woodworkers, and UV resistant epoxy for outdoor furniture or indoor furniture that will be exposed to natural light.
Explore Amish Furniture Tabletops Today
If you demand quality, beauty, and competitive pricing, then Amish furniture from the Amish Showroom will be exactly what you're looking for. Epoxy resin tabletops, countertops, and a complete range of home and office furniture await you. With our direct-to-customer online shopping model, we can offer the best prices for some of the best furniture in America.
Explore our collections today and see the what our generations of experience in master furniture making can offer you.