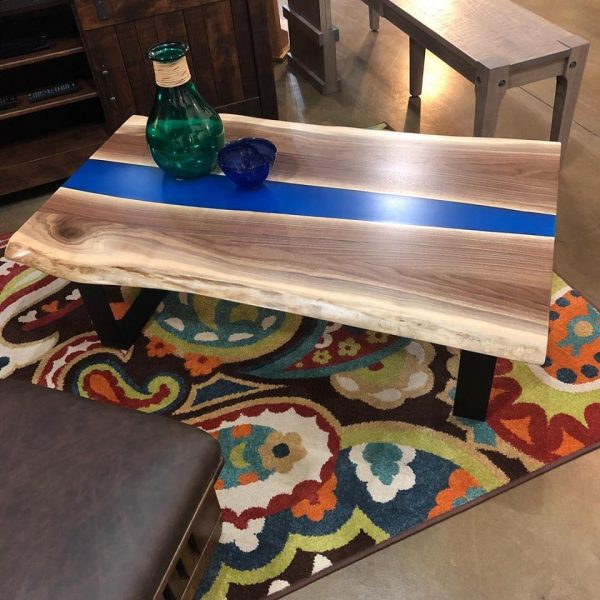 Hundreds of years of tradition go into every piece of Amish Furniture that we create. Tradition inspires our latest collections and ensures that we can deliver a level of quality that is unmatched by other furniture.
While tradition is integral to what we do at the Amish Showroom, we've never been a team to shy away from modern developments. Epoxy resins are popular in modern furniture, and we use them to enhance and beautify the collections that we offer today.
Wood resins like Ecopoxy can be used to protect the wood and give it a durable finish that will last for years to come. We also use epoxy as a feature, creating custom Amish Furniture that you won't find anywhere else.
Our live edge tables are excellent examples of how epoxy can be used as a structural component. Book-matched pieces of timber can be brought together with epoxy to create a finish that attracts attention in your home. Epoxy can be used to make both transparent and solid color finishes. It can fill in imperfections on distressed wood, giving you a rustic aesthetic with all the structural benefits of modern timber furniture.
Can You Use Epoxy on Your Own Projects?
If you're working on your own woodworking projects, we can supply high-grade EcoPoxy resins for any job. From finishing products to resins that can form structural elements of tables, desks, and other furniture, you'll find that EcoPoxy is both affordable and durable. You can use epoxy to finish tables or even wooden countertops to provide decades of use. Ecopoxy can be removed and furniture can be refinished in the future, helping you to create real heirloom pieces.
Epoxies at the Amish Showroom are suitable for any project large and small.
We use Ecopoxy in our own products and love how easy it is to work with. Whether you simply want to protect the furniture or create a completely unique aesthetic, the epoxy resin could be the solution that you're looking for.
Ecopoxy is the Environmentally Conscious Option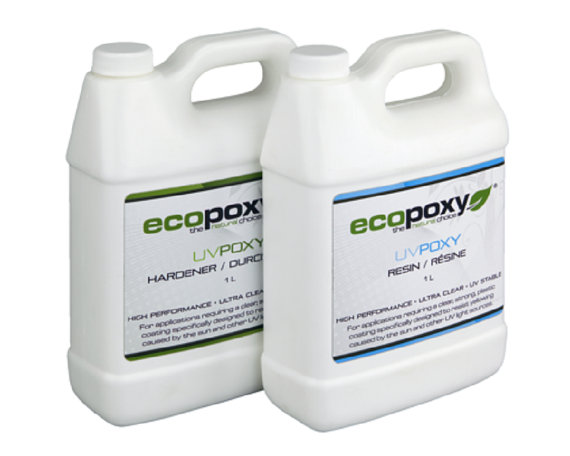 At the Amish Showroom, we have a commitment to sustainability. Natural timber furniture can last for a lifetime and beyond, reducing waste. Our timbers are sourced from our own sustainable forests.
Ecopoxy is the obvious choice for our furniture. This resin is made from high bio-content which reduces the need for environmentally destructive materials. Base products used to make Ecopoxy are sustainable and they support a growing industry of environmentally conscious farmers in the United States.
Whether you want to purchase epoxy for your own projects, or if you are looking for beautiful Amish Furniture designs that incorporate epoxy in creative ways, Amish Furniture can offer the best solutions.
Get Custom Amish Furniture and Epoxy Supplies from the Amish Showroom
If you simply want a complete solution, we can offer a range of custom Amish Furniture with epoxy finishes and features. From dining tables to coffee tables and occasional tables, your options are limitless.
For your own projects, we are also proud suppliers of Ecopoxy. If you want a more environmentally responsible product that uses high biomass content, Ecopoxy is the best product on the market.
As makers of the finest Amish Furniture, we can appreciate products that reduce waste and increase the lifetime of the furniture. If you share these ideas, it's time to browse the Amish Showroom today.