The dining room is a major focal point for any home where people will be passing throughout the day whether it's getting their morning coffee, enjoying lunch, or just grabbing a snack before they head out. Regardless of how busy it gets; the dining room plays host to many social interactions that happen in the home and the furniture probably withstands heavy usage. If you're thinking of remodeling your dining room why not do so with the best Amish furniture?
Old World Charm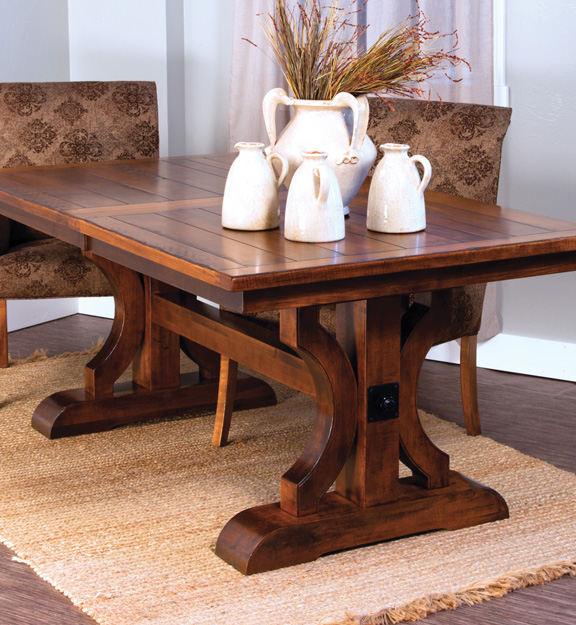 If you've been tempted to buy Amish furniture for a while, if you're remodeling now would be a good time. Hardwood furniture has always carried with it a reputation for being durable, functional, and serviceable. Unlike commercial furniture, the kind made by Amish are handcrafted and the lumber handpicked to complement the finished product.
The Abilene Trestle dining room table is a fine example of the best Amish furniture available that looks at home in a modern house. The dark finish of the table promotes a sense of warmth that will make any visitor feel right at home.
Amish Furniture to Fit Your Needs
The best Amish furniture is built with a function in mind and is incredibly durable even with heavy use. One of the aspects of this type of handmade furniture people don't often know is they can request to have it made to their specifications.
When it comes to the Abilene Trestle, for example, customers have a choice of choosing how big the table is, the type of wood it's made out of, and magnet skirts can be added if requested. It's an elegant dining room table featuring an ogee edge and a curved style base with a spreader for when you have many dinner guests over.
This is just one example of the many dining room tables that can be purchased for your home. You can choose from an assortment of Shaker and Mission styles depending on your preferences and outfit your dining room to be the envy of all of your dinner guests. Feel free to browse our selection and start planning out your Amish dining room today!