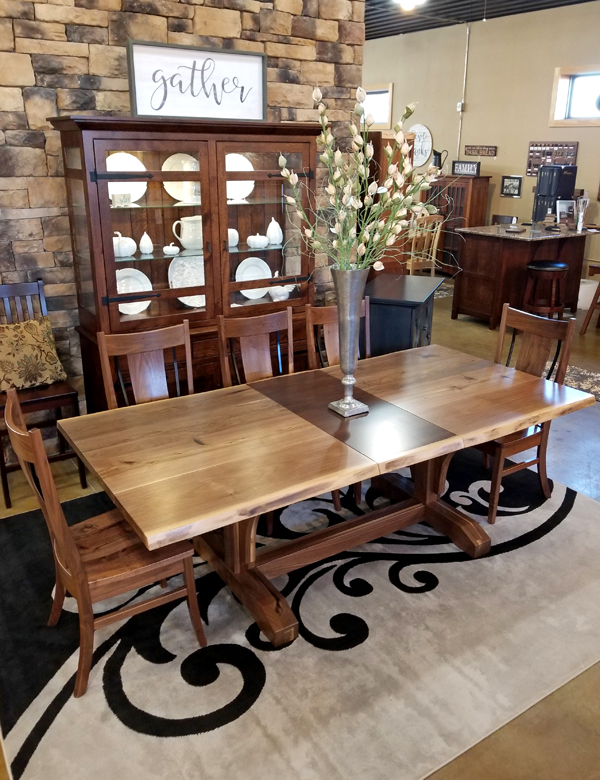 Wooden Amish Furniture is prized for its longevity and natural beauty. Amish families have handcrafted their furniture in the United States since the early 18th century, and popularity of both antique and contemporary pieces has grown phenomenally since the 1920s.
Today, people associate Amish furniture with unrivaled craftsmanship, natural hardwood construction, and durability that can last for generations. If you've looked at any of the most recent collections at the Amish Showroom, then you will also know that Amish furniture is perfectly suited to contemporary lifestyles.
While all our work is rooted in tradition, we are not afraid of branching out to embrace current trends and even new materials. Epoxy is one material that we use in creative ways to bring traditional Amish Furniture ideas into the 21st century.
What Makes Epoxy Perfect for Modern Amish Furniture?
When designing new collections and one-off pieces of furniture, we always think long-term. Amish furniture should be able to withstand daily use while retaining its beauty for generations to come. Traditional finishing methods like painting and varnishing can provide decades of beauty before furniture needs to be refinished. With epoxy, we can extend the durability even longer, while also allowing for custom designs that simply can't be achieved with traditional materials.
The most basic use of epoxy would include finishing a tabletop, countertop, or possibly the tops of dressers and armoires. We also take things a little further, by using epoxy as an integral material in our custom tabletops.
Transparent finishes, solid colors, and even special metallic finishes can be created by our master Amish furniture makers.
Epoxy Trends to Inspire You in 2019

Wondering how epoxy could be used for the furniture in your home? Let's look at some of the most exciting trends of the coming year and how they could be used in your home.
White Epoxy to Pair with Solid Timber – White epoxy resin can be used creatively with Amish furniture to create a striking contrast. Rich walnut is an example that can be combined with white epoxy for an ultramodern look on your tabletops in 2019.
Metallic Epoxy Finishes for Unique Amish Furniture – Our metallic epoxy finishes add sparkle and shine to any piece of furniture. This epoxy is perfect for commercial tables in bars and restaurants, or even for use on a solid timber bar top. Metallic epoxy finishes are also excellent for custom barstools and casual seating when you want something that truly stands out. Silver and Gold will dominate in 2019. You'll also find pigments like copper, electric blue, and more to choose from.
Garnet Epoxy for Rich Furniture – Beautiful, rich, and deep garnet red is an excellent choice to pair with a variety of woods. The darker your base wood, the better it will look with garnet epoxy resin. Combine two pieces of living wood with a garnet center and you'll have a contemporary table that pays tribute to the beauty of nature.
Black Epoxy for Dramatic Finishes – Black furniture is making a comeback in 2019. Dark woods can be combined with black epoxy finishes or multi-piece tabletop designs that are dramatic and eye-catching. Black epoxy can be finished to a high sheen to give you a beautiful modern aesthetic.
Use UV-Epoxy to Protect Tabletops and Other Furniture – You don't have to use solid pigments when you want to protect your furniture for generations. Conservatory and sunroom furniture and tabletops can be finished with a special UV epoxy that prevents discoloration and damage. Whatever trend gets you excited about redecorating in the New Year, UV-Epoxy can ensure that your heirloom quality Amish furniture is both beautiful and protected.
The Best Epoxy Resins for the Best Amish Furniture
At the Amish Showroom, we have a strong commitment to environmental sustainability. Our timbers are carbon neutral and harvested from our own sustainable forests. Epoxy finishes help to protect tabletops and other furniture, leading to longer lifetime and less resource consumption.
We're also very particular about the epoxy we choose to work with, which is why we choose EcoPoxy, a high-biomass epoxy resin that is more environmentally friendly than other options on the market.
Whether you want to protect a natural tabletop, or if you plan to create something totally unique in 2019, you can contact us today to discuss ideas for custom epoxy Amish furniture.