As the heart of your home, your kitchen requires special attention. Function, beauty, and convenience are perfectly balanced in the best kitchens. Color plays a critical part by setting the mood and influencing your decorating choices.
Your home deserves the beauty and lasting quality of Amish furniture, and the growing trend of darker hues could inspire you to get your remodeling project off the ground.
Black or Dark Cabinets for 2019.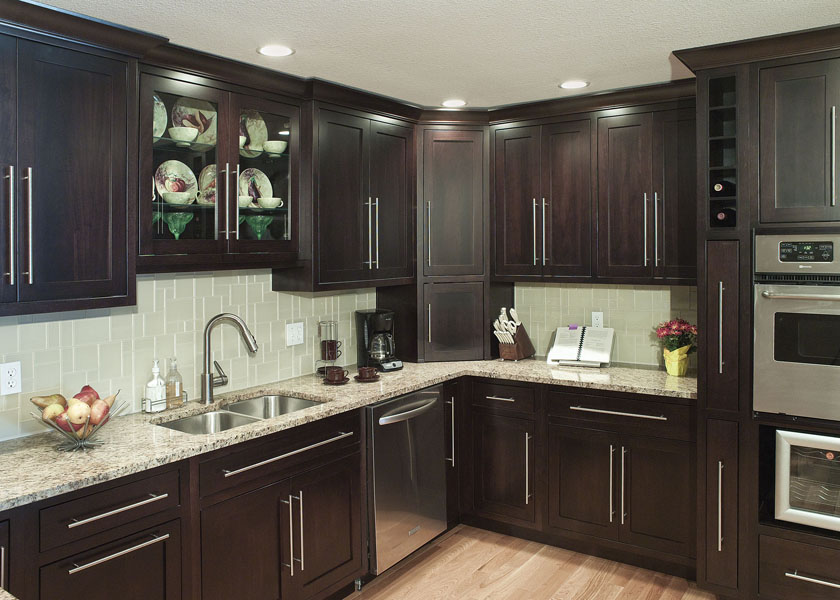 Using black as the base of your design doesn't mean that everything needs to be finished in a darker shade. Beautiful kitchen design all comes down to balance.
Dark stained Amish Furniture cabinets can be combined with light quartz counter-tops to create a striking contrast that works well in both ultra-modern and transitional homes. Even if you choose dark counter-tops, you could use a white or bright color on a back-splash to break things up.
Black is often thought to be monolithic or even imposing, but it's all about how you use it. In some designs, it's possible to alternate your cabinet colors to keep things interesting and attractive. A contrasting white kitchen island in a predominantly black kitchen can reinforce the sense of space and beauty. Feature walls painted in pure white will bring light into a black kitchen with reflective surfaces.
Hardware also makes a significant difference, offsetting darker Amish Furniture cabinets to bring a sense of luxury and style. Gold pairs perfectly with black and is elegant in its presentation. Add gold accents on hardware for cabinets and drawers, hand towel rails, or even gold lighting fixtures can all help you to achieve an aesthetic that stands out.
Amish Furniture Cabinets and Features Made to Last
Black kitchen cabinets make a bold and stylish impact.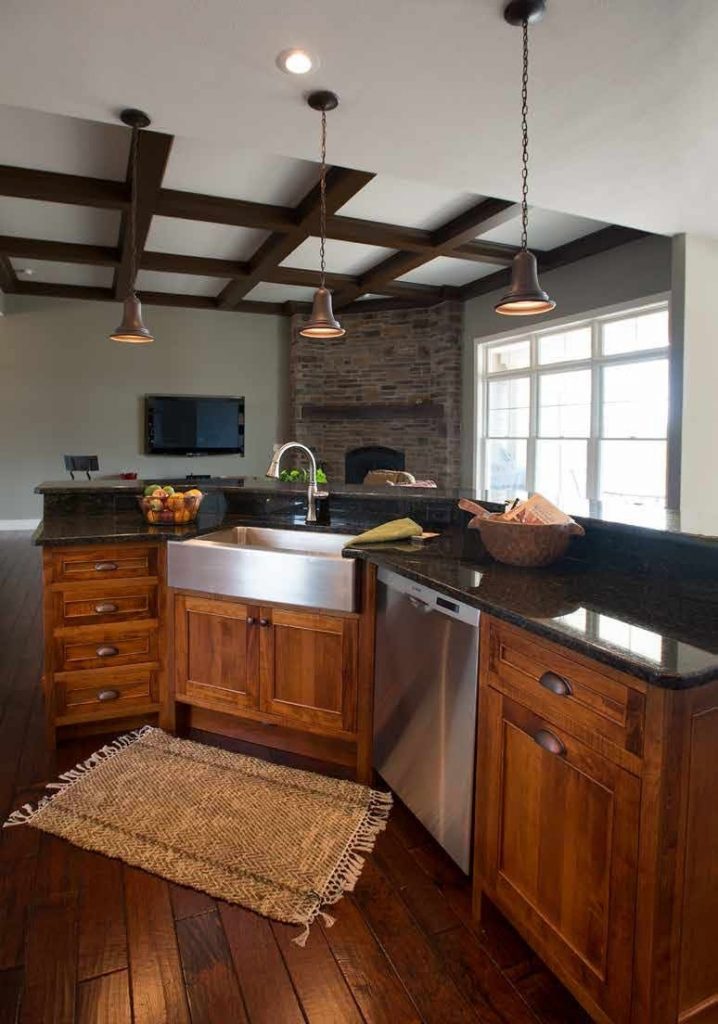 Quality is tangible. It's something that you not only see, but you can feel it whenever you are in your kitchen. The way a cabinet opens and closes or the smoothness of a utility drawer could make or break your kitchen design. With Amish Furniture you get lasting quality and practicality.
Our handcrafted Amish furniture cabinets are made from solid timber and will last for generations. An investment in Amish kitchen cabinets is one that will continue to pay off.
We can finish our cabinetry in hard wearing solid paint or dark stains of your choice. You don't have to go down the route of solid black if it doesn't work with your sense of style. Graphite or Onyx stains are ideal for darker kitchens.
The extra options you get from Amish Showroom will provide you with convenience. Keep your kitchen clean and organized with sliding trash cans. Conveniently store your favorite gourmet and everyday ingredients with a hidden spice rack. A sliding pantry or fully integrated wine rack will make your kitchen the perfect place to prepare meals and entertain.
Soft close drawers and doors can be added as options to give your kitchen a sense of elegance and luxury, while also protecting your Amish furniture cabinets from damage.
A handcrafted designer kitchen will give you the option to execute your own ideas without limitation. When you want the best for your home and your family, Amish Showroom can deliver.
A Handcrafted Kitchen from Expert Amish Furniture-makers
The time-tested quality of Amish furniture is world renowned. You can have the best in your home when you design a custom kitchen with the Amish Showroom. Furniture is handcrafted, made to order, and are fully customizable to meet your specifications.
Create your own interpretation of the modern black kitchen or incorporate something entirely unique. Make your kitchen your own. Talk to us today about our options and look forward to a better kitchen in 2019.