Are you looking to create a rustic, traditional, transitional, or even a ranch style home? Country style Amish Furniture beds offer exquisite styling with the finest hand-construction. They create presence and personality in any bedroom, and you can even accessorize with a full suite to create a look and feel that you will love.
Take a look at three standout collections available at the Amish Showroom today.
The Elegant Dumont Suite – Perfect for a Modern Home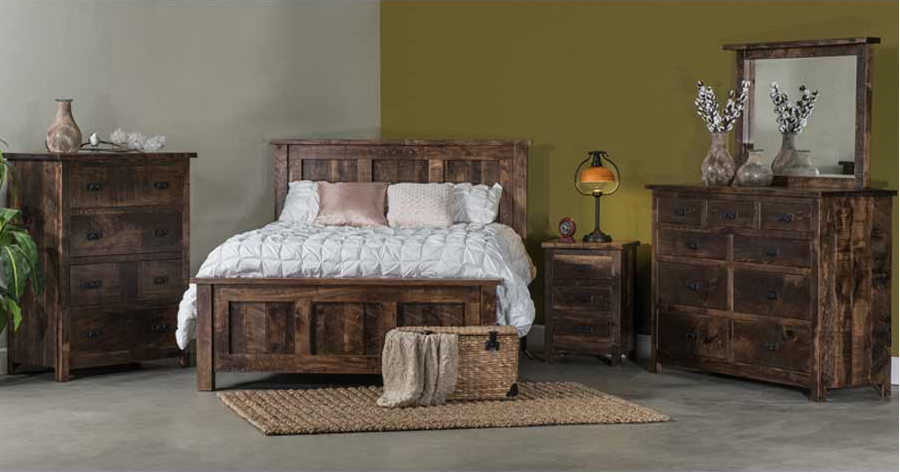 Do you want to incorporate some country heritage while retaining a contemporary look and feel for your furniture? The Dumont Collection is elegant and rich in tradition, yet it fits well into both modern and transitional homes. You can have an authentic country feel, no matter where you live.
The Dumont Suite, including the standout Dumont Bed, is handcrafted by Amish Furniture makers. We use a combination of traditional methods with modern design innovations. When you buy Amish Furniture online, you can make a true investment that can be handed down through the generations.
If you demand comfort and quality, the Dumont Collection is an obvious choice. It's also the most contemporary of all our country furniture in terms of aesthetic, so it's perfect if you want to mix a little bit of the past and present when designing your bedroom.
Big, Beautiful, Rustic Charm – The Vandella Suite of Amish Furniture for Sale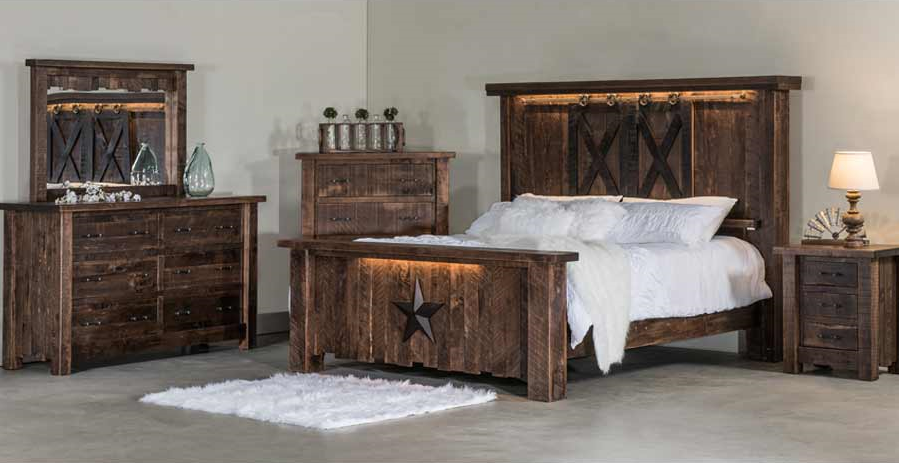 The Vandella Suite> including the gorgeous Vandella Bed is a tribute to rustic furniture used on the American frontier during the 19th and early 20th centuries. This collection has the character that you won't believe, with every piece telling its own story through the select Rough Sawn Brown Maple.
This furniture is perfect for a country home, a ranch, or any home where you want to bring in some of the old traditions while still getting excellent craftsmanship and lasting quality. The Vandella Bed is handmade by the best Amish Furniture craftsmen and women in Minnesota. Rough Sawn Brown Maple timber is specially selected for its natural beauty and rustic appeal.
The accent of the Lone Star and other design features will have you thinking that you've just stepped back in time. Somewhat surprisingly, the Vandella Bed can even fit into a modern home if you make the right interior design choices. It works best when paired with the full Vandella Suite, including our six-drawer dresser, double drawer chest, and Vandella nightstands. You can mix and match pieces in the collection to suit your needs, allowing you to fill a bedroom of any size.
Don't compromise when you want rustic furniture for your home. This is one piece of country style Amish Furniture that is for the bold and adventurous, who know superior quality when they see it.
The Gorgeous and Understated Houston Suite of Country Amish Furniture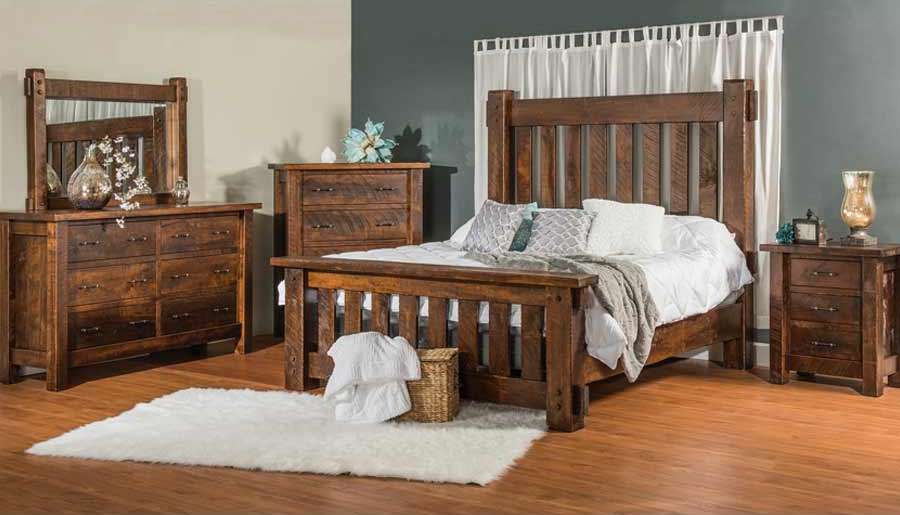 Don't settle on your country style Amish Furniture without first taking a look at the Houston Suite, including the fantastic Houston Bed with oversized headboard. This collection is for you if you like the look of Rough Sawn Brown Maple but want to learn more towards historical country design rather than the full rustic aesthetic.
Clean lines, traditional construction methods, and oversized design features could fill even the largest bedroom with personality. You can customize the Houston Suite to include the accessory furniture that you need, including nightstands, dresser/drawers, armoires, and chests.
Explore the complete range of Houston Amish Furniture online. We exclusively use Rough Sawn Brown Maple to achieve the country look and feel in this collection.
Design Your Perfect Country Inspired Home with the Amish Showroom
Find heirloom quality Amish Furniture online at the Amish Showroom. We are expert furniture makers with the most talented Amish craftsmen and women in our workshop. Our furniture pieces are unique and will last for generations. Amish style is versatile, and you can find the perfect collections to match your own personality and home design.
From the rugged and rustic Vandella Suite to the simple elegance of Dumont Amish Furniture, you won't find collections like this anywhere else in America.
Explore the complete range today and look forward to a fresh look in your home this year.