Bookcase beds are the perfect way to make your bedroom more practical. When you choose designs from the Amish Showroom, you'll also add beauty and a touch of elegance to any room. Find your next bed with three standout bookcase designs from master Amish Furniture craftsmen and women in Minnesota.
Handmade Amish Furniture Bookcase Bed – A Classic Design for Your Home
For a bed that is perfectly suited to a contemporary home, look no further than our understated yet effortlessly elegant Bookcase Bed 017.
The uncomplicated design belies the quality of the construction. All-natural timber with not a trace of particleboard or composite insight; this is a bed that can be passed down through the generations. We use all of our Amish Furniture expertise to create a sturdy frame that uses a combination of seamless dovetail joints and heavy-duty bolts
Choose your wood, your stain, and you could have a custom-made Amish bookcase bed that will look wonderful in any home. No frills and no fuss, this is a classic design with the hardwearing quality that has made Amish Furniture so popular today.
Old Classic Sleigh Bookcase – Timeless Beauty with Practical Function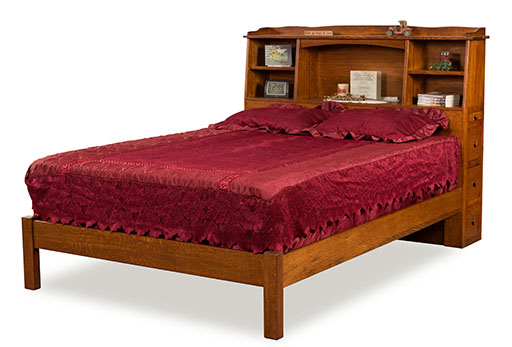 Sleigh beds are a nod to the past when furniture was grand, elegant, and rich with elaborate design features. The Old Classic Sleigh Bookcase Bed is the perfect example of how Amish Furniture tradition can be brought into the modern era.
Featuring a simple partitioned shelf, this bed takes care of daily storage needs for items like alarm clocks, smartphones, decorative ornaments, photos, books, and anything else that you want to keep on hand. Most of our bedroom Amish Furniture can be customized with charging stations for your electronic devices, so let us know if you have something special in mind for your next purchase.
The beautiful panels and curved edges are perfect for both traditional and transitional homes. With the right stain, this sleigh bed would also fit well into a contemporary design home or apartment.
Wood selections include Oak, Brown Maple, Cherry, Quarter Sawn White Oak, Elm, Hickory, and Walnut. Choose a darker full stain with Oak to bring the aesthetic into a modern home. If you are looking for a rich traditional finish, then choose a light stain with Walnut or even Cherry to bring out the full natural beauty of the wood grain.
Available in both Queen and King sizes, this is a bed that is perfectly suited to your master bedroom or any other bedroom in your home where you want to present a style that is both elegant and practical.
An Elaborate Amish Furniture Bookcase Bed with Ample Storage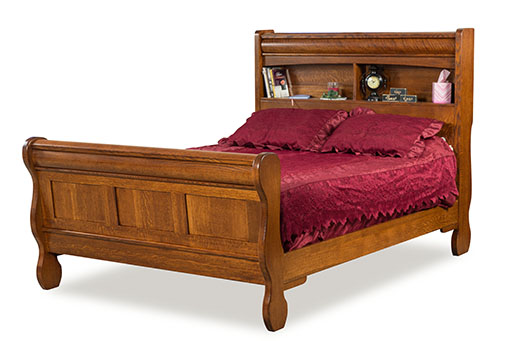 Are you looking for an Amish Furniture bookcase bed that offers more than just your basic storage needs? Our 017-B Bookcase Bed has a simple American design with an elaborate storage solution built right into the headboard. A combination of shelves and side facing drawers take care of all your basic storage needs. Whether you need to create storage in a small bedroom, or if you simply want a backup storage solution to maximize the space that you have, this is one bed that you will want to consider.
The headboard shelves are perfect for storing everyday jewelry, watches, books, electronics, photos, and anything else that you may wish to display. Choose the bed for a spare bedroom and provide your guests with practical storage space. This design would also be perfect for kids and teenagers, with plenty of space for their favorite books, ornaments, tablets, or even portable game consoles.
We custom build our beds and you can choose the best wood and stain to match your existing furniture. Choose a darker stain like onyx to turn this classic design into a contemporary bed that is suited to a modern home.
With exquisite craftsmanship, these heirloom quality Amish Furniture beds will last your lifetime and beyond. Don't compromise when it comes to the furniture in your home. Explore all your options at the Amish Showroom today and make an investment that you'll be proud of.