Your choice of living room furniture will have a massive impact on how comfortable you feel in your own home. Whether relaxing with family or hosting guests, you'll need comfortable and presentable furniture. Sofas, lounge chairs, and ottomans should be as attractive and inviting as they are hard-wearing and long lasting.
If you want all your expectations to be met and even exceeded, then it makes sense to start with Amish Furniture. At Amish Showroom, you can browse a selection of the highest quality Amish couches, ottomans, and chairs, all finished in beautiful fabric upholstery, leather, or ultra leather that allows you to explore your creativity.
Here are the reasons why Amish Furniture is the ideal choice for your home.
Unsurpassed Durability and Beauty When You Buy Our Amish Furniture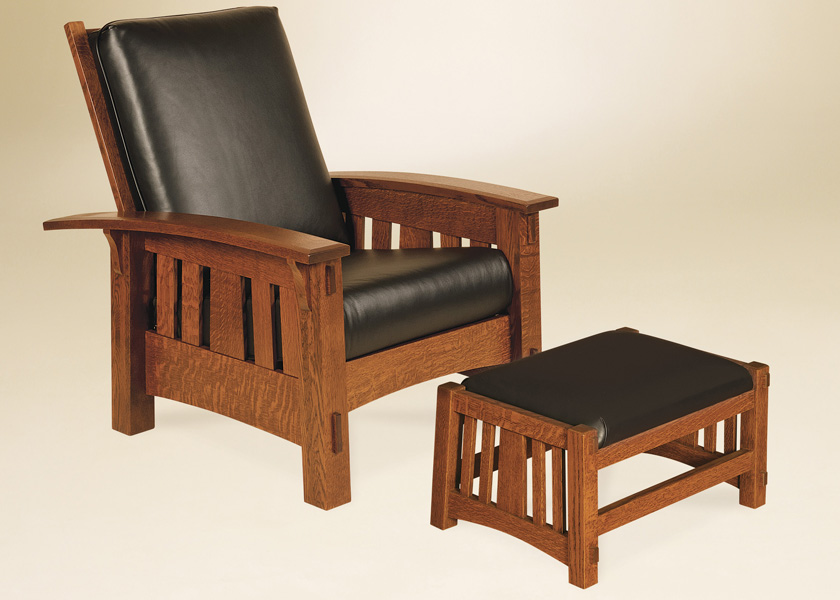 Amish Furniture craftsmen and women rely on centuries of tradition and innovation to create heirloom quality furniture that can last for generations. Unlike low-quality mass-produced furniture, you won't find veneers, composites, or particle board on any piece of our high-quality Amish Furniture.
Wood selections like Oak, Walnut, Maple, and many more can offer quality that goes beyond your lifetime.
Amish living room furniture pieces like couches, chairs, and ottomans are completely unique. Even when selecting pieces from a single collection, each item will have its own personality due to natural wood grains that shine through your stain of choice.
You can raise the aesthetic in your home to a whole new level, with an elegant look and feel that simply can't be achieved with mass-produced furniture. With the help of Amish Showroom, you'll enjoy living room furniture that reflects your own sophistication and sense of style.
Amish furniture is low-maintenance with minimal polishing required throughout the lifetime of natural timber furniture. Upholstered furniture can be carefully hand-washed to retain bright colors with soft inviting fabrics.
The durability of Amish living room furniture comes from more than just the materials that are used. Special construction methods that have been passed down through the years will ensure that your furniture is ready for daily use, and the furniture won't become loose or unstable even after many years of ownership. If you're tired of wasting money on furniture that simply doesn't last, then you'll love the quality that you get from our unique Amish collections.
The sheer range of woods, stains, and fabrics that you can choose for your furniture will allow you to explore your creativity without limits.
Examples from the Amish Showroom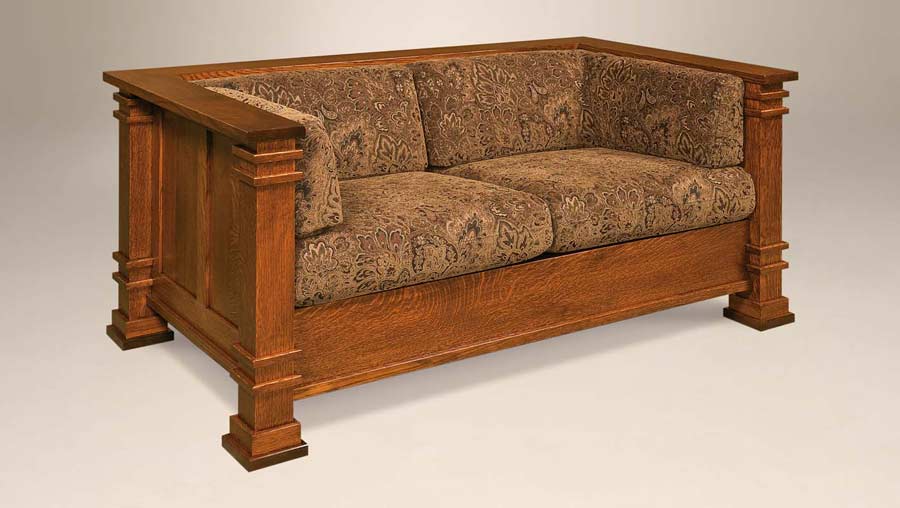 Durable, beautiful, and completely unique; Amish Furniture combines both form and function with furniture that will never let you down. Take a look at some select pieces from the Amish Showroom and begin to visualize just how much you could improve your living room.
The McCoy Morris Chair is a beautiful piece of living room furniture that exudes beauty, class, and distinction. Shown here in plush black leather with a matching footstool, the McCoy Morris Chair can also be handcrafted with fabric upholstery.
For a living room chair that would be suitable for the head of the household, look no further than the Queen Lounge Chair. Add this as a feature chair to complement your living room suite or purchase more than one to use in addition to your sofa. These lounge chairs are also perfect for entry foyer decorating, games rooms, studies, libraries, and home offices.
Our Diamond Loveseat can be created using fabric or leather to work perfectly with your interior design concept. The design is typical of handcrafted Amish Furniture, with extensive paneling and detailing that you simply wouldn't find on the mass-produced furniture of today. Although a traditional design, the Diamond Loveseat (also available in single chair and sofa configuration) can be heavily stained to provide a very contemporary appearance. Onyx stains are particularly impressive when used in modern homes.
We've barely touched on all the options available from our master furniture makers. Be sure to explore our Living Room options today.
Create a Living Room You'll Love to Spend Time In
Love your living room again with new Amish Furniture in 2019. From end tables and ottomans to large sofas, love seats, and chairs, you can find the perfect solutions at the Amish Showroom.