Is your office missing that special piece of furniture that sets the tone? Quality furniture can elevate a room. If you're looking for lasting quality and standout looks, Amish Furniture is the best choice.
Amish furniture writing desks are perfect for creative types. They're ideal for offices and any nook of your home. Refresh your home this year with handmade furniture from Minnesota.
Know Your Style When You Buy Amish Furniture Online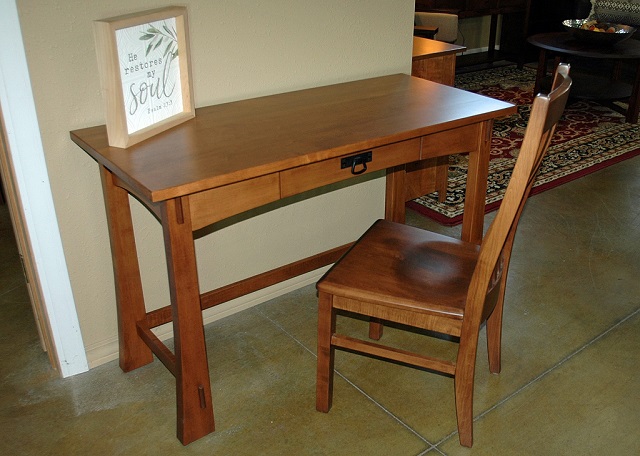 Many of the most popular desk styles of today will fall into three main categories. Consider these styles and the look and feel of your home before you invest in Amish Furniture.
Traditional writing desks made of wood are often the most beautiful option for a home office. Whether using a desk for writing or even for a laptop or desktop PC, traditional design is all about class. Traditional desks are handmade. They can feature elaborate wood carving for unique shapes and designs.
Transitional desks are more modern, but they still incorporate elements from the past. Amish Furniture is perfect for the transitional style. Our furniture creations are elegant and timeless. Transitional style is often rounded with fewer sharp corners. Elaborate design embellishments are less common on transitional furniture.
Contemporary style brings traditional crafting methods into the modern day. This style is often understated and uncluttered. Sharp rectangular geometry dominates in this style. Choose contemporary if you want a fresh modern look in your home. Natural wood is still the material of choice for this style, so you'll find plenty to love at the Amish Showroom.
Three Heirloom Desks to Consider for Your Office
Invest in a quality desk today and enjoy it forever. Consider three beautiful Amish writing desks for your home.
1. Breckenridge Amish Furniture Writing Desk
The Breckenridge Writing Desk is inspired by one of our most popular collections. This is a desk that is very much in the transitional style. There are very few design embellishments. The focus here is quality timber and simple design.
This desk could be used in a home office. It would also suit a small nook of your home or even an entry hall. If you need a study desk for a teenager, this would be a compelling option.
2. Adona Writing Desk with Live Edge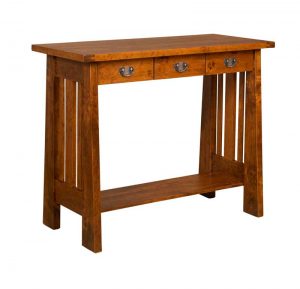 Here's one very contemporary piece of Amish Furniture. The Adona Writing Desk features a live edge which gives it an authentic natural feel. The Steel legs give it a contemporary industrial look that is appealing for modern homes.
A large and flat desk surface is perfect for writing. It would also suit as a computer desk for laptop or desktop use. Minimalist design is popular today. This is a stunning piece of furniture. The quality of the wood shines through. If you love functional modern design, this live edge desk is an option you'll want to consider.
3. Open Freemont Mission Writing table
Looking for a traditional writing desk with the look of real American heritage? The Open Freemont Mission Writing Table could be exactly what you need. This desk looks gorgeous with intricate detailing and heft that is rarely found. We use traditional construction to ensure this desk lasts for generations.
Three convenient drawers take care of light storage needs. Put this in your home office, a bedroom, or anywhere in your home. It can pair well with our other mission furniture. With our most popular wood selections, you'll get lasting beauty and prestige.
Explore More at the Amish Showroom
Amish Furniture uses exacting standards and expert craftsmanship. Traditional construction and the best materials make desks to last beyond a lifetime.
Don't compromise when it comes to the furniture in your home. Explore the complete range of online Amish Furniture including unique handcrafted office furniture. Our desks are available to order today, with custom accessories and other furniture.
See it all at the Amish Showroom and create your best home this year.