There are very few furniture styles that are as popular or as revered as the Mission style. Developed in the late 1800s, the Mission style was a significant aspect of the American Arts and Crafts movement, and today it can be found in homes that follow traditional, modern, and transitional aesthetics.
Mission styles typically incorporate paneling, simple but well-defined lines, and Quarter Sawn White Oak is very often the material of choice. If it's time to upgrade your bedroom or if you are decorating a new home, take the time to view handcrafted Amish Furniture Mission beds at Amish Showroom.
Mission Beds Handcrafted by the Amish are a Great Investment
The Mission style evokes a very historical look and feel, but it is far from outdated. When looking at a Mission bed or any other type of Mission furniture, the deep-rooted tradition will be unmistakable. With the right decorating choices, you could incorporate a Mission bed or full bedroom set into an ultra-modern home, a period-inspired home, or even a home that mixes elements of different eras.
The choice of stain and wood is often just as important as the style you choose. Dark stains typically allow for a cleaner and more modern look. Light stains are better suited for very traditional homes or homes that make liberal use of timber and stone in their construction.
We offer a diverse selection of Mission styled beds, which are constructed using time-tested Amish Furniture techniques. Furniture made from real wood can last much longer than modern furniture that is constructed using composites and other materials. You can buy Amish Furniture online that will last for generations, and your Mission style bed could even become a family heirloom.
Before you explore our complete Mission style collection, look at two standout beds that represent the best of both Mission and Amish Furniture style.
Flush Mission Bed – Simple and Elegant Understated Aesthetic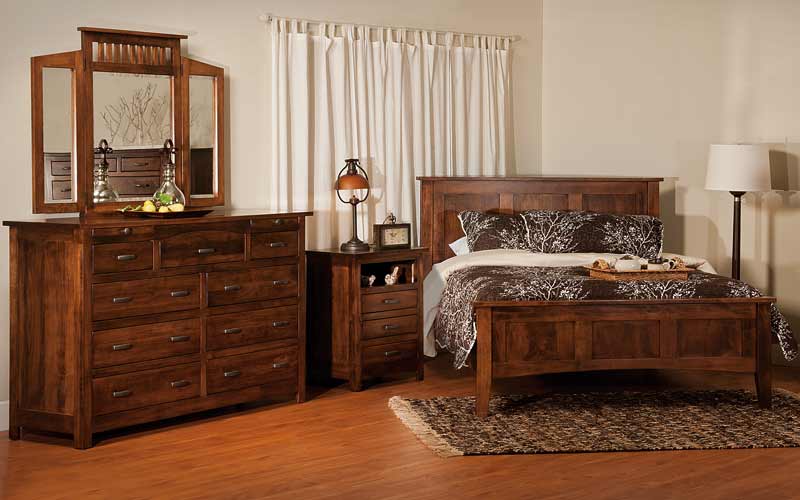 The Flush Mission Bed has character without layering on the design embellishments. The bed is simple in nature but reveals expert craftsmanship and some wonderful design touches upon closer inspection. A paneled head and foot board, tapered legs, and clean lines all come together for a bed that has plenty of presence, but it will still allow you to make decorative choices in your bedroom.
This is the type of Mission bed for you if you want something beautiful but don't want it to fully define the style of your bedroom. This bed can complement other furniture pieces without clashing and it combines the very best of Amish and Mission styles, making it an excellent starting point for a bedroom where you don't want to be constrained to a single look.
Of course, the Flush Mission Bed is also available in a full bedroom set, so you could choose from the other pieces in the collection to complete your room.  You can add items like the Flush Mission 10 Drawer Dresser to really bring out the Mission charm and incorporate a nice touch of historical beauty into your home. Want to add an extra drawer/s, Jewelry Mirror, hidden compartment?  No problem.
The Empire Mission Bed Offers Bold Style for a Standout Bedroom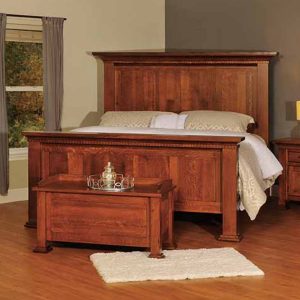 When you demand substantial furniture that is big and impressive, the Empire Bed must be considered. Handcrafted by our Amish Furniture craftsmen and women, you can choose the bed alone, or, combine it with a seriously impressive set that could include a dresser, nightstands, chest, and whatever it is that you need to design your dream bedroom in 2019.
The Empire set features heavily detailed solid timber and panels, and an over sized headboard that works well with modern monolithic styles. Finish this bed or furniture set in one of our darker stains and you'll be right within the zone of ultra-contemporary furniture. Choose a lighter stain and you'll have a traditional Mission look that works well with a plethora of décor choices.
See All of Our Mission Styles and Buy Amish Furniture Online
You don't need to leave your home to view America's highest quality handcrafted Mission bedroom furniture. Whether you are looking for a new bed or an entire bedroom set, we have the collections that will inspire and excite you.
The best craftsmanship, heirloom quality materials, and standout looks can be found in all our Mission furniture at the Amish Showroom.