You hear a lot about refinishing Amish furniture, but here's a good question: does yours really need to be done? It is undoubtedly up in the air for you, and you probably have quite a few questions that need to be answered. Before you start stripping the finish off of your furniture, you should decide, first and foremost, whether or not it should be stripped. In some cases, wood does not need the finish to be stripped away; you can instead use a clear coat. Beyond that, however, there are two different schools of thought when it comes to refinishing solid wood furniture.
Should you Refinish Amish Furniture?
As we mentioned earlier there are two different schools of thought, each one with different implications for your solid wood furniture. The first states that you shouldn't refinish wooden furniture as it could potentially reduce the monetary value. The second, however, believes that refinishing will give the piece a longer lifespan, and is, therefore, a highly valuable asset. If you feel that monetary gain is not a factor here, then refinishing will allow you to get more out of any Amish furniture for sale.
How to Make your Decision
There are a few important questions that you will need to ask yourself before you can actually make a decision, so consider the following:
Painted Pieces from the Amish Furniture Store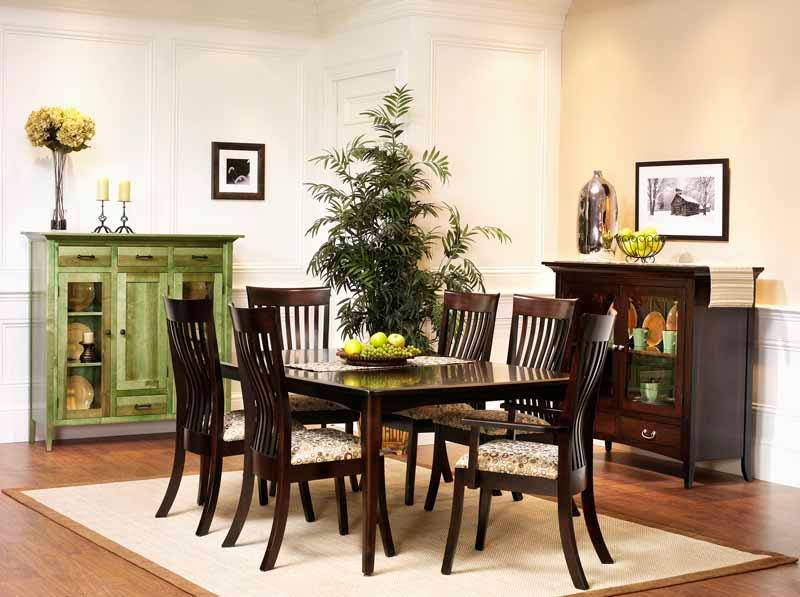 While you won't find any painted pieces at an Amish furniture store, you will find that there are pieces being resold that have been painted over rather than stained. What does this mean exactly? In most cases, it means that that the previous owner was attempting to hide some serious damage, which you will uncover if you choose to strip the paint off. In these cases, it might be best to simply leave it alone.
Is it Stable?
How stable is the piece? Will it need to be repaired before you refinish it? Most Amish furniture for sale is sturdy but if you reach a point where it needs to be refinished, then it might also be time to give it a few repairs. Test its stability by trying to sway it from side to side, wiggle the legs, and see if it is coming apart at the seams. If you find any of these imperfections, you may need to have it repaired first.
What Will it Look Like?
The final question that you need to ask yourself, is what will the furniture look like once it has been refinished? If you are refinishing an antique, it will usually turn out a shade darker, so, when you are refinishing, expect it to be a little bit different once you are done.
Make your Decision
These factors should help you to come to a decision – just remember that once you refinish a piece you are committing to keeping it rather than selling it. At the end of the day, it's going to be worth it, especially if you plan to pass a piece down to the next generation.
If you do choose to refinish your furniture, you will undoubtedly find yourself with a beautiful piece, even if it is a little bit darker. Make your decision and get started!