The furniture you buy for your home should be a real investment. When purchasing for your living room, dining room, and even your master bedroom, it's relatively simple to choose long-lasting pieces that you'll enjoy for decades to come. However, when looking for youth furniture, you might find the decision to be a little harder.
Should you buy inexpensive furniture today? After all, your child's eventually going to grow out of it. Right?
What if you could invest in furniture that your child won't grow out of until their late teens? What if that furniture could be handed down through the generations, potentially lasting forever?
With most furniture, particularly mass-produced furniture, this wouldn't be possible. But, with Amish Furniture, you can make an investment that will grow along with your child. Find out how our furniture is different to most manufacturers out there, and how it can transform as your needs change.
Our Youth Amish Furniture is Made to Last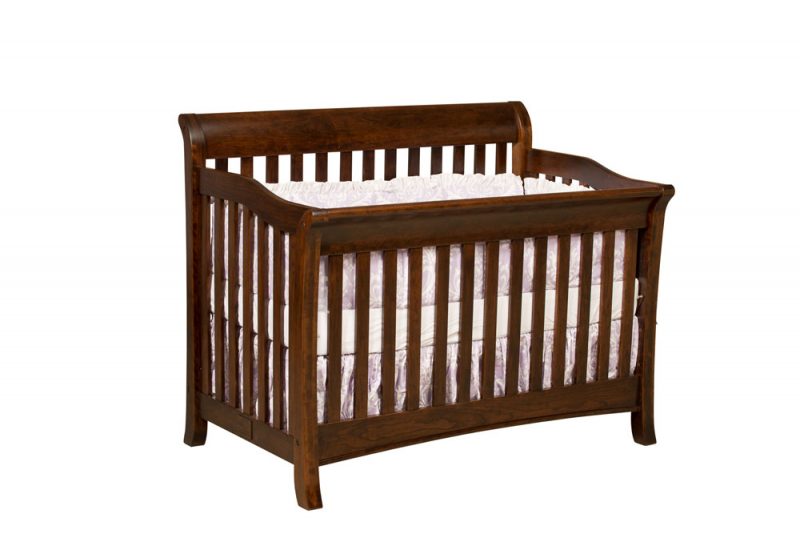 There's value in solid wood furniture. For centuries, wood has been the material of choice for fine furniture creations. With species like oak, the furniture will last indefinitely. Maple, Hickory, Elm, and Walnut all share the same qualities of timeless longevity. With the right care, you could buy furniture today and enjoy it for a lifetime, and it could then be handed down for many generations.
At the Amish Showroom, we've anticipated how families use their furniture. Our master craftsmen and women have developed innovative solutions to ensure that you get a long return on your investment. In fact, our cribs can last from your child's earliest weeks and months, right up until their mid or late teens.
Let's look to our popular Berkley Crib as an example…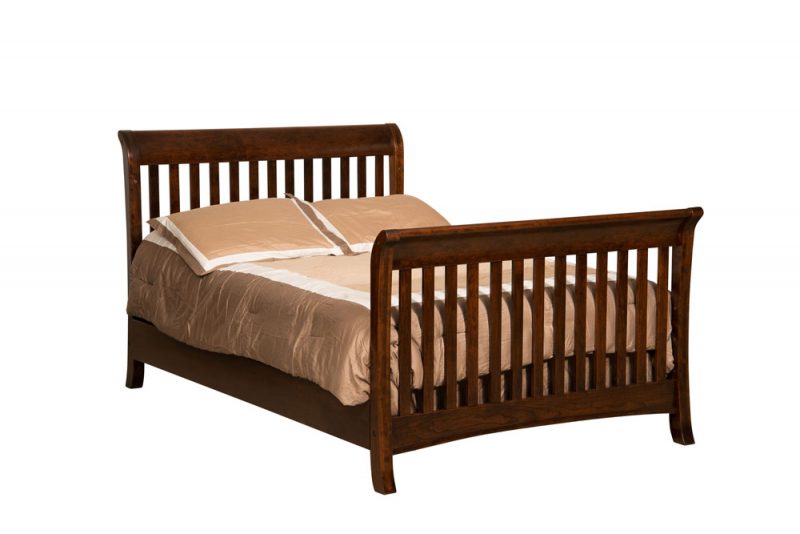 Made from solid wood, the Berkley Crib immediately stands out as a beautiful piece of Amish Furniture. The classic design with flowing curves will make your nursery appear warm and welcoming – just as it should be!
You'll be able to use this as a crib and later as a toddler bed. It can become a day bed by removing the front section. As your child grows, it converts into a full sized single bed, which can be used all the way through the teens and tweens, up until adulthood.
By simply adding an optional conversion kit, you'll see this furniture transform as your needs change. You won't get this kind of flexibility with flat packed furniture or cribs that are made to be disposable. You could spend thousands of reinvesting in furniture throughout your child's formative years. Why not make a single investment today, and see it pay off into the future?
More Amish Furniture That Adapts as Your Child Grows
A bed is important, but what about the other furniture that you have in your nursery?
The Carlisle Changing Tower is an excellent example that will make sense in a nursery, as well as any young child's or teen's bedroom. The offset design makes it perfect for adding a soft changing mattress and all your accessories. When you don't need a changing station, it can simply be used as an offset design dresser. The top is perfect for displaying toys, ornaments, or whatever it is that your child loves to collect.
The Berkley 7 Drawer Dresser is another perfect example of the best Amish Furniture that adapts as your needs change. In standard configuration, it's a beautiful dresser with plenty of storage place for clothes, diapers, and linens. With the changing box topper, it's a full-featured changing station. Remove the topper, and it's back to a dresser again. You can stain match the topper to give a seamless look that exudes quality and class.
You won't find this kind of versatility with most furniture that is available today.
It's the Extra Thought That Makes Amish Furniture Perfect for Nurseries and Kid's Bedrooms
Let's face it, being a parent can be expensive. Investing in versatile high-quality furniture is something that can save you money in the long term. Amish Furniture is made from high-end materials that will stand the test of time.
Don't just buy furniture. Buy the best furniture that grows and changes, just like your child. Explore a complete range of youth furniture and cribs at the Amish Showroom today.