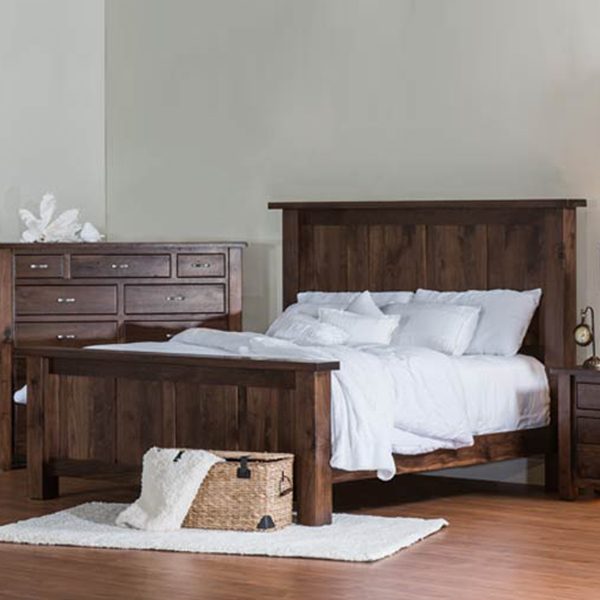 Living in an apartment often comes with some compromises. Space is usually the biggest consideration that you'll need to make in terms of home décor. Having less room to work with doesn't necessarily mean sacrificing comfort… just as long as you choose your furniture carefully.
Amish Furniture is renowned for quality, longevity, and a unique and beautiful aesthetic. While you might think that Amish made furniture is more suited to large homes, there are plenty of beautiful pieces that fit perfectly into compact apartments.
Before you redecorate your home, take the time to learn how to choose the right furniture, and then consider some of the best Amish examples that are available to order online today.
5 Tips for Choosing Better Furniture for an Apartment
Choose Solid Construction: Flat packed furniture is cost effective and easy to come by. Mass produced furniture makes sense in some scenarios, but it's not the best choice for an apartment where you want to present an air of sophistication. Solid timber furniture will last longer, and it simply looks better. Handcrafted Amish furniture can last for your lifetime and beyond. You'll be making a real investment that stands the test of time.
Look for Styles That Compliment Your Home: The silhouette of your furniture can set the mood in any room. Modern apartments typically call for minimalistic furniture that is clean with straight lines and slightly sharper edges. If you are looking for a contemporary aesthetic, you will find it with Amish Furniture. If your home leans towards a more traditional look and feel, then you'll find plenty of Amish collections that take elements from the past and keep them relevant for apartment life.
Finish Matters: The finish is just as important as the material underneath. You might assume that wooden Amish Furniture is old fashioned. This simply isn't true. You can have your furniture finished in a variety of stains or even epoxy for a glass-like appearance. Choose finishes carefully and think about your existing décor. Darker finishes usually lend themselves towards modern homes, while lighter finishes are more suited to classic homes and traditional furniture designs. Explore a range of finishes at the Amish Showroom to find the best fit for your apartment.
Upholstery Can Add a Unique Element: Upholstery customization can allow you to impart your own sense of style on any piece of furniture. Fabric designs allow for more character and can be useful for eclectic styles. If you're looking for something more contemporary and unassuming, then the classic look of leather upholstery could be exactly what you need.
Choose Furniture That is Out of the Ordinary: For a home that really feels like it's yours, you should aim for furniture that bucks current trends. Mass produced furniture can make your apartment feel like it's straight out of a catalog, but is that really what you want? Amish Furniture is unique, and designs from the Amish Showroom can give your apartment the distinction that it deserves.
With these points in mind, it's time to start comparing the most beautiful Amish Furniture on the market today. You can view all our collections online, and we've got three standout suggestions to get you started.
Amish Furniture Ideas for Your Apartment
Looking for a bedroom that incorporates natural materials without being oversized or too imposing? The Heidi Mission Bedroom Suite makes excellent use of American woods with clean lines and edges that are well-suited to apartment life.
You don't need an oversized desk for your apartment office. The Artesa Library Table incorporates shelves for books, a drawer for storage, and a flat surface for drawing, writing, or laptop use. Its relatively small footprint will be ideal for a smaller apartment.
How do you make the best use of dining space in an apartment? A single pedestal table would be a great start. The Barrington Pedestal Table has a beautiful mission design with a compact footprint. Despite saving space, it still manages to incorporate exquisite craftsmanship that is usually only found on much larger tables.
Sure, there are some compromises to make when living in an apartment, but the quality of your furniture doesn't have to be one of them. Browse the very best Amish Furniture online at the Amish Showroom. Order from the convenience of your home and enjoy luxury handcrafted furniture that is of true heirloom quality.