It is often difficult to find home entertainment furniture that is made to the standards that we are used to. Just a single generation ago, home furniture was made to a high standard, using premium materials and craftsmanship to ensure a long-term investment. Today, a lot of the furniture on the market can feel cheap, disposable, and not worthy of a truly upmarket home.
When it comes to your home entertainment, your technology may be a product of the modern era, but your furniture can still take on the qualities of yesteryear.
Amish furniture is the perfect option for an entertainment unit that will stand out in your home today and for decades to come.
Benefits from Investing in the Best Amish Furniture Online
Amish furniture is made using a combination of traditional and modern methods. While we take inspiration from the past, we also incorporate new features and design techniques as they become available. At the Amish Showroom, our expert designers are innovators in modern furniture.
While we are very receptive to trends and changing tastes, we will never compromise on the quality of our furniture. Natural wood is still the material of choice for Amish furniture because it is long lasting and hard wearing. You could invest in an entertainment unit today and see it last throughout the lifetime of your home. This is true heirloom quality furniture.
Our styles and wood selections are extensive. You could buy Amish furniture for a traditional home, a modern home, or even an eclectic home that incorporates elements from several different eras.
Our wood and stain selections mean that you can get the perfect fit for your existing décor.
Our Amish Furniture Entertainment Units are Feature Packed
Need something for your high definition television, your hi-fi system, or even your game consoles? We have the best solutions with no compromises.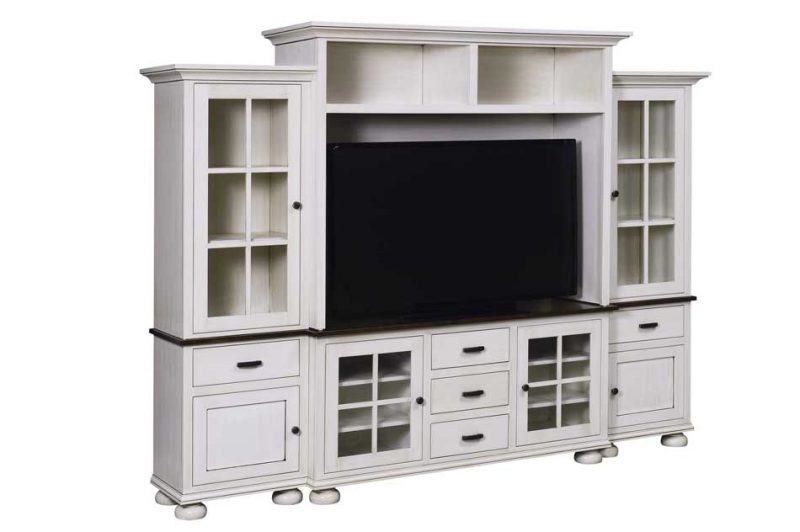 The Denali Wall Unit is a beautiful piece of living room Amish furniture that includes glass storage cabinets, LED lighting, space for discs and gaming consoles, and wine pulls out. Our unique Amish quality is carried through the design with soft close doors and fully extending drawer slides. This is an exquisite piece of furniture that would look wonderful in any high-end home. It's also a piece of furniture that could easily last for your lifetime and beyond, making it a real investment.
If you're looking for something smaller and more understated, you could consider the Bungalow Console and Towers. Designed as a stand for your high definition television, the open tower shelves are perfect for storing your media collection and decorations. There is ample cabinet space for consoles, hi-fi equipment, and anything else that you need to store. Upgrade this with soft close drawers for a real premium feel that you'll enjoy every day.
When you demand something that bridges the divide between classic and modern, you could consider the Kaitlyn Wall Unit. This entertainment center looks particularly impressive when finished in solid white paint, and it would make a great addition to either a traditional or transitional home. Wood shelves are adjustable, and there are soft close doors and full extension drawers for your convenience. This is a true touch of luxury that would elevate any living room. From the styling to the construction quality, the Kaitlyn Wall Unit is Amish furniture at its very best.
Upgrade Your Living Room with Heirloom Amish Furniture
Tradition and modern entertainment can come together seamlessly when you choose the best Amish furniture. If you are looking for living room furniture that has personality and style, you won't find anything better than the collections at the Amish Showroom.
Browse our complete range of furniture today and accessorize your home for a premium look. All our furniture is handcrafted in Minnesota, using wood sourced from our own environmentally sustainable forests. In an age when disposable home furnishings are common, it's refreshing to find furniture that carries the outstanding craftsmanship of yesteryear.