Amish furniture is an amazing addition to nearly any home, but as with any other type of furniture there is going to come a point where you need to make sure it remains intact, and that's not always easy. Today we're going to be talking a bit about how to properly refinish furniture and how to make it last for a very long time. Let's start at the very beginning!
Refinishing Amish Furniture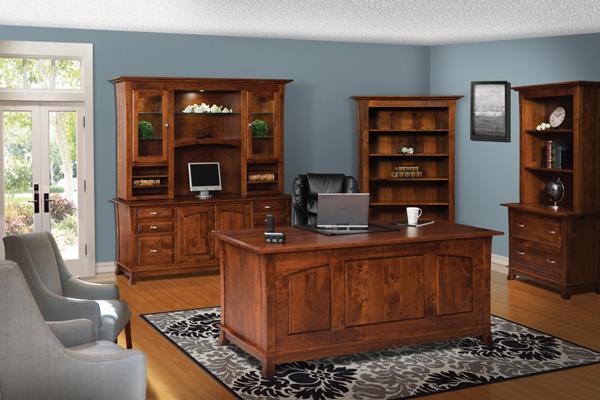 The concept of refinishing the best Amish furniture might seem very simple but there is in fact quite a bit to it. You need the right tools, you need to be patient, and you need to get the job done right. Keep in mind that you can turn this into a weekend project, but you do need to make sure that you give yourself the time to complete the following steps:
Remove Finish
Fill Grain
Apply a Sanding Sealer
Stain the Wood
Apply Clear Coat to the Wood
Now that we know what to do, let's take a quick look at these steps in detail.
Step 1: Removing the Old Finish
In order to remove the old finish you are going to need chemical strippers, but do make sure you're practicing safety when using them. For example you'll need to make sure you're wearing rubber gloves, eye protection, and most certainly a dust mask. Most importantly, make sure that the room you're working in has adequate ventilation. Once you use a paint stripper, do make sure that you allow the wood time to dry before you move on to the next steps.
Step 2: Sanding it Down
There is a common misconception that after you use a chemical stripper you won't need to sand, but this couldn't be farther from the truth. As always, make sure you have adequate ventilation and eye protection! When you are sanding, go in the same direction of the grain, and use a palm sander of 80-150 grit to complete the removal of the finish. Continue until you see bare wood.
Step 3: Time to Fill the Grain
Theoretically this would be an optional step and it all depends on the grain type. If the wood has a tight grain you can skip this step, but if it has open grain, filler might become a necessity. Woods with open grain include oak or mahogany.
Step 4: Sanding Sealer
A sanding sealer is a great idea because it will help your Amish furniture to absorb the stain you apply evenly so that it looks amazing once you are done and have it sitting in your living room. You'll want to start by applying a heavy coat and permitting it to soak into the wood, and then wipe of excess with a rag before you allow it to dry. Once ready, proceed to sand the surface to get an even application.
Step 5: Stain It!
You're almost finished! All you need to do is stain the wood, and you can choose from several different types of stain which include:
Water Based
Oil Based
Gel
One-Step
As always, no matter which of these you choose, start by applying a generous coat, and then removing any excess with a clean cloth. Then, apply another coat to the surface. This may need to be done multiple times, just make sure you allow the stain to dry between coats.
Step 6: Apply the Clear Coat
Once you apply a clear coat you can make your piece of furniture look just as it did when you first saw it at the Amish furniture store. Simply apply a clear coat tot he wood, and the surface, and apply one more layer. As always, make sure you're allowing the coat to dry between layers!
You can expand on these steps as you learn your own new tips and tricks, and you'll definitely want to keep expanding your knowledge! When you pick up any Amish furniture for sale you want to make sure that it lasts for a very long time, and refinishing is one sure way to guarantee that it does!