As you shop for Amish furniture online you might find yourself at a bit of a loss as to what the different types of wood are. In this case, we're going to be talking about laminate veneer and solid wood furniture, both of which have their place in the furniture industry, but both of which are from entirely different ends of the quality spectrum. We will start by taking a look at laminate.
Laminate Veneer – Not the Best for Amish Furniture Online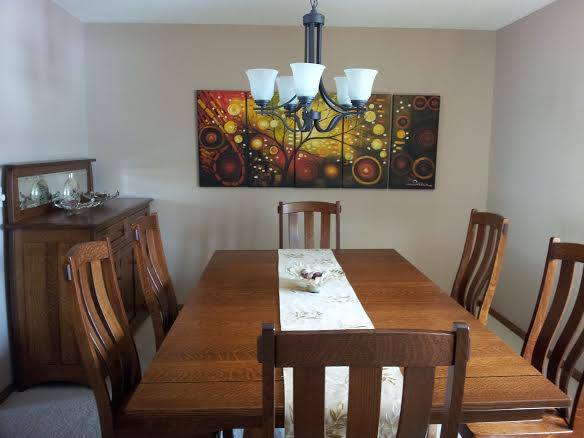 The first thing you'll notice with laminate veneer is that it tends to be much cheaper than many of the other options on the market, so what does that mean exactly? Well, first of all, it's not really made from wood. Veneer not only looks manufactured, it is of slightly lower quality than the solid wood used in Amish furniture. Now, with that being said, as a manufactured wood, veneers are accompanied by a durable core, usually medium-density fiber. Ultimately they will have a shiny surface made to emulate the wood grain of a solid wood piece but they would not pass as such with a close visual inspection.
While a product that is not made of wood might seem to be at a disadvantage, there are a few advantages to consider. It is cheaper, it is easier to clean, and it is relatively low maintenance. There are cons, however, for example, it is made of lower quality, the refinishing options are limited, and there are very few variations in the patterns. You just won't get the natural randomness that you would with real wood grain.
Solid Wood – The Material used in Amish Furniture
Solid wood is an outstanding furniture option but if you're here reading this then you already suspected that. It is considered to be the best material when purchasing any Amish furniture online or in stores. There are plenty of great benefits, for example, the classic aesthetics which work well with any décor. Additionally, it is much more durable than laminates or veneers, making it very desirable among those who are furnishing their home for the first time.
Finally with solid wood Amish furniture you have the potential for restoration which is something that you would not have a laminate or veneer. A scratch or ding can be fixed, and you can even pain solid wood furniture to completely change the overall look. Being able to change the furniture to meet your evolving lifestyle is one of the greatest perks and definitely one you should take into account when you are purchasing furniture.
The differences between the two are quite clear and you should do your best to make sure that you have the best furniture for your environment in the right style. Take a look at our store today and get your area furnished.