Do you look for standout style in your home? Sometimes, it's simple elegance that can have the biggest impact. When it comes to your kitchen table, a look outside of the ordinary could be perfect for your needs.
Slightly rustic but never sacrificing on quality, plank top dining tables can impress. Made by Amish Furniture master craftsmen and women, you could beautify your home with unique plank top tables.
If you want a kitchen or dining room that is unique, beautiful, and effortlessly stylish, it's time to take a look at the best Amish Furniture for sale.
What's Special About Amish Furniture Plank Style Dining Tables?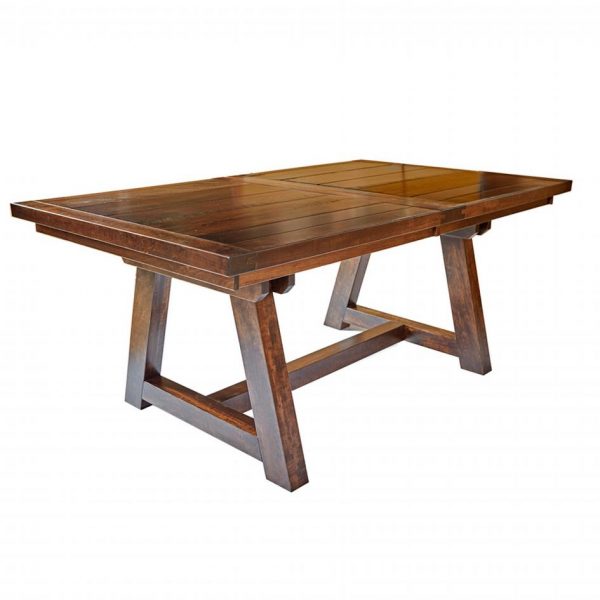 Plank tabletops are a tribute to the past, recreating a look from some of the earliest homes in America. But, that doesn't mean that plank tops aren't a great choice for modern homes. The rustic designs can be made to fit almost any home style.
Amish Furniture is made to exacting quality standards by the best craftsmen and women in Minnesota. At the Amish Showroom, you'll find the best Amish Furniture in America.
We incorporate traditional ideas and techniques, as well as modern interpretations. We like to respect history, but never at the expense of style or practicality. Our furniture is classically inspired but suitable for your home.
Plank top tables are perfect examples of how we combine the past and the present. Thick planked tops, flawless craftsmanship, and long-lasting stains are available.
See exactly what makes our tables special by exploring a few of your options below.
Get a Bargain on a Modern Plank Mission Trestle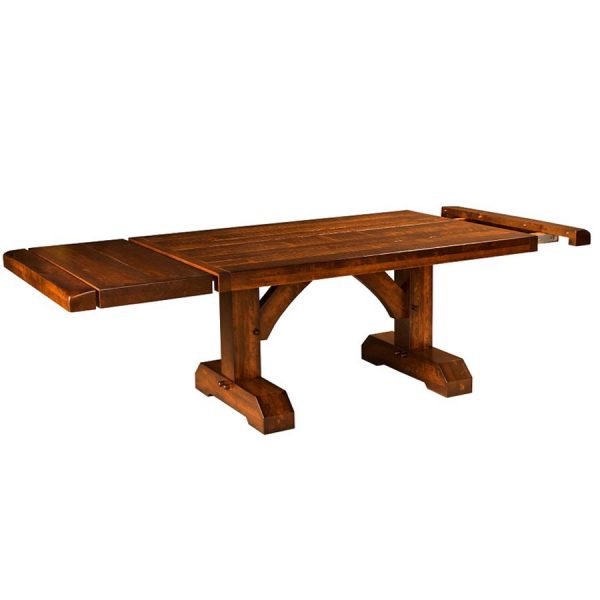 Classic longevity with modern trestle style. The Modern Plank Mission Trestle is a unique piece of furniture from our Lumber Harvest Sale. You can get a huge discount on this piece of heirloom quality furniture.
This trestle table features an impressive 1.5″ planked top that showcases the beauty of our natural timber.
Available with a smooth top or a rustic top, you can fit this into a clean modern home, or a rustic home that oozes with character.
As a special run item, we don't offer customization on this table, but we've chosen a highly popular and versatile finish that could be ideal for your home.
Take a look at this table today and picture it as the centerpiece in your dining room or large open kitchen.
Reagan Trestle Plank Top
Another option in a classic design is the Reagan Trestle Plank Top Table. This one features two breadboard style ends with pullout leaves, so you can expand the table whenever you need to add more seating for a special occasion.
The Reagan Trestle Plank Top is a large and bold table that is suited to a home where you demand character from your Amish Furniture. If you want to really make a statement in your dining room, this could be the perfect table for you.
Choose to use one or two eaves at a time, and get maximum versatility from this design.
A Single Pedestal Table for a Compact Dining Room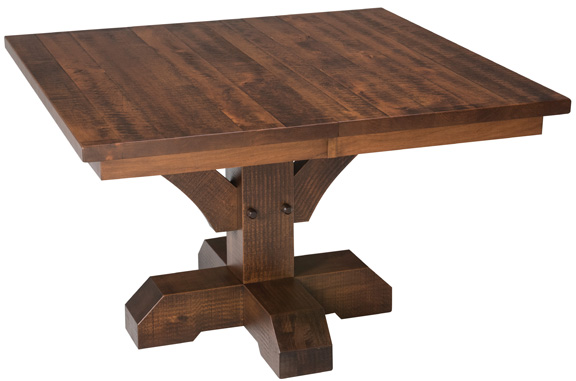 What if you want a beautiful plank top table for a smaller dining room? Maybe you prefer a non-standard symmetrical square table for your interior design? The Reagan Single Pedestal could be the answer.
Available with a rustic saw cut top or a smooth top, this is one beautiful table that combines the best of tradition and modern minimalism. Available in both Brown Maple and Rustic Cherry, this option gives you an unobstructed view of natural timber beauty.
Use it in your dining room, or even in a smaller nook of your home. This is one of the simplest and most elegant pieces of Amish Furniture online.
View the Most Beautiful Amish Furniture Plank Top Tables and More
Don't wait when it's time to refresh your home with beautiful furniture. The Amish Showroom is your premier destination for unique handcrafted Amish Furniture online. View our plank top tables, custom dining tables, and furniture for every room of your home.
When you demand the best with furniture that is made to last, always insist on handcrafted pieces from the Amish experts.