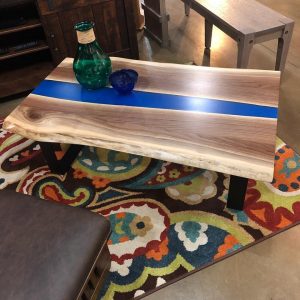 Trends often come and go in the furniture world, but the quality and prestige of Amish Furniture is something that has never gone out of style. The timeless quality designs that are both familiar and innovative and natural wood selections have all helped Amish Furniture to remain one of the most desirable options for discerning families.
Although Amish Furniture is designed with tradition in mind, the best craftsmen have never been afraid to try new things and take risks. Combination of wood and epoxy tabletops have emerged as a highly popular trend on the market lately. Unfortunately, many commercially available pieces leave much to be desired when it comes to quality materials and woodworking.
If you want an epoxy tabletop designed by master furniture makers, assembled with the best combination of tradition and innovation, and that will stand the test of time to last for generations, then an epoxy Amish table is what you're looking for.
Custom Epoxy Amish Furniture Designed and Made to Order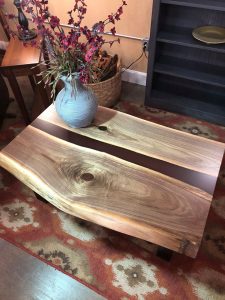 The advantage of incorporating epoxy resin into a tabletop is that you will have a unique piece of furniture that is quite literally one of a kind. Most of our epoxy resin tabletops are made to order, so you can work closely with our designers to get the perfect aesthetic for your home.
The use of epoxy resin opens new possibilities where you can combine the past and present, or even go for a forward-thinking aesthetic that is uniquely your own.
Many of our customers love the look of living edge wood. The natural grain, shape, and beauty is retained to bring nature into your living room, dining room, or anywhere in the house where you want to add a touch of true beauty.
Epoxy can be used to creatively combine two book matched pieces of timber, or, you can go all out and combine rustic pieces of timber that otherwise wouldn't be suitable for high-end furniture making. We don't just see the use of epoxy as something aesthetic, it's also a way to maximize the use of our resources. Some trees simply aren't suited to traditional furniture design. Rather than letting our precious resources go to waste, we can use creativity and modern materials to reclaim the timber that wouldn't otherwise make it to the production floor.
Amish furniture is inherently eco-friendly thanks to our sustainable wood sources and our long-lasting furniture. The use of epoxy takes things to the next level, allowing us to create beauty from irregular, distressed, or rough-cut pieces of timber.
Are You Tired of Bland Furniture Collections That Lack Real Artistry?
We take pride in every piece of Amish furniture that leaves our workshop. Traditional handcrafting, quality that lasts beyond a lifetime, and beautiful designs all contribute to furniture pieces that are heirloom quality. Many people love the traditional look of Amish furniture, while others prefer our more modern designs like oversized West Coast Style furniture. There are others still who want something that can't be compared to anything else on the market.
If you find yourself in the latter category, then you'll love our epoxy tabletop designs. Sometimes the epoxy is used sparingly to fill imperfections in the wood. On some tables, the epoxy becomes the main feature of its own, and our use of special EcoPoxy resin means that we can add beautiful reflective metallic pigments, or even glowing epoxy for specialist installations in bars and restaurants.
Because we make everything to order you could have a table suited to any room of the home, place of business, or commercial establishment.
A solid timber and epoxy bar top could become a standout feature in your new club. Restaurant tables could be fully customized, allowing you to develop a unique brand identity. In your home, you could create a beautiful coffee table for your entertainment room or man cave. Beautiful custom Amish tables could be perfect for your conference or boardroom tables.
The possibilities are endless, and your creativity can run free. Even if you only have a basic concept in mind, we'll design around it and bring your vision to life.
Contact the Amish Showroom for Custom Epoxy Table Tops
Browse our collection today for traditional, modern, and transitional tabletops. If you're interested in a fully custom epoxy table, then you can contact us to get the process started. We'll work with you to create one of a kind furniture that has the beauty and longevity of the best Amish collections.