Building a business can be tough, and choosing the furniture for your office can be even tougher. There are so many different things to choose from, and we strongly recommend that you use nothing but the finest Amish furniture. Why? Because Amish furniture lasts, but mostly because there are so many different pieces out there for you to pick among. Today we're going to look at a few crucial examples of Amish furniture that you should be looking through and adding to your office.
Add Office Chairs as Your First Piece of Amish Furniture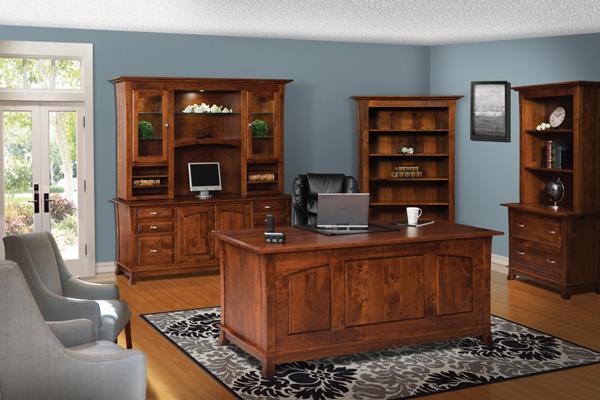 The low back client chair is just one example of the great pieces we offer at our Amish furniture store that will bring your space to a whole new level. We offer quite a few different chairs, all of which are leather backed and ready to not only provide a comfortable sitting place for clients and employees but also to convey a certain, much-needed aesthetic throughout your space. If a professional is what you're looking for, then our Amish furniture for sale is exactly what you need.
Check Out our Selection of Desks
For a typical office that conducts business one of our best examples is the Freemont Mission File desk, which features a typical flat top and plenty of space for a computer, papers, office supplies, etc. It also features a number of drawers that can be used for virtually anything office related. If you are building a home office you can be a little bit more liberal with your desk design; for example, you might go with a dual-level desk for additional space.
Try an Entertainment Center
While it might seem like an odd idea in the case of an office, an entertainment center can actually be a great idea. With this, you will be able to place a television in the lobby or even in your office. For offices, we would strongly recommend a stand entertainment center rather than a full cupboard in efforts to save space.
Roll Top Desks
These aren't the most common piece of Amish furniture in an office but you will see them from time to time. A roll top desk closes from the top using a piece of flexible wood set on rollers so that the contents of the desk in question can be sealed away. This is most often used as a writing desk but it can most definitely support a netbook or a small laptop for work purposes.
No matter what you need for your office we have it in the form of Amish furniture for sale and it won't be too long before your entire office is fully outfitted.