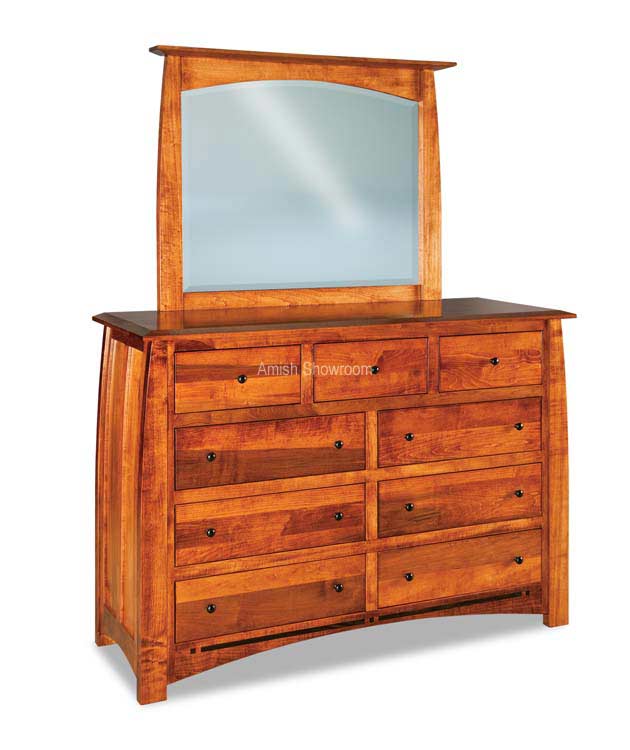 Amish Furniture is known throughout America for its timeless quality, an aesthetic that never ages, and its flexibility for any home. It's perfect whether you're following traditional decorating ideas, transitional style, or even modern concepts like rustic chic.
The best Amish Furniture collections stand out immediately. They inspire you to make bold creative decisions with quality heirloom pieces that stand the test of time. At the Amish Showroom, the Boulder Creek Collection is popular with homeowners who want something that bridges the gap between past and present.
If you're looking to add a touch of class to your home with versatile bedroom furniture, then this is the collection for you.
It Starts with Quality Timber
Material choices are critical to long-lasting furniture. Amish furniture is made from natural timber sourced from sustainable forests. We insist on the highest quality materials that offer longevity as well as inherent natural beauty.
The Boulder Creek Collection features 1" solid wood tops. Curved edges soften the aesthetic to keep things modern and fresh. The subtle design means that pieces in this collection can pair well with other furniture and upholstery.
Because we make all our pieces in the house, you'll have the option to choose from oak, quarter-sawed white oak, brown maple, hard maple, walnut, elm, hickory, cherry, and rustic cherry. You can get a smooth and clean look or even something that is slightly distressed and ready for a rustic chic interior.
Custom made furniture means that you can add your own personality to every piece.
Luxury Amish Furniture Pieces That are Grounded in Tradition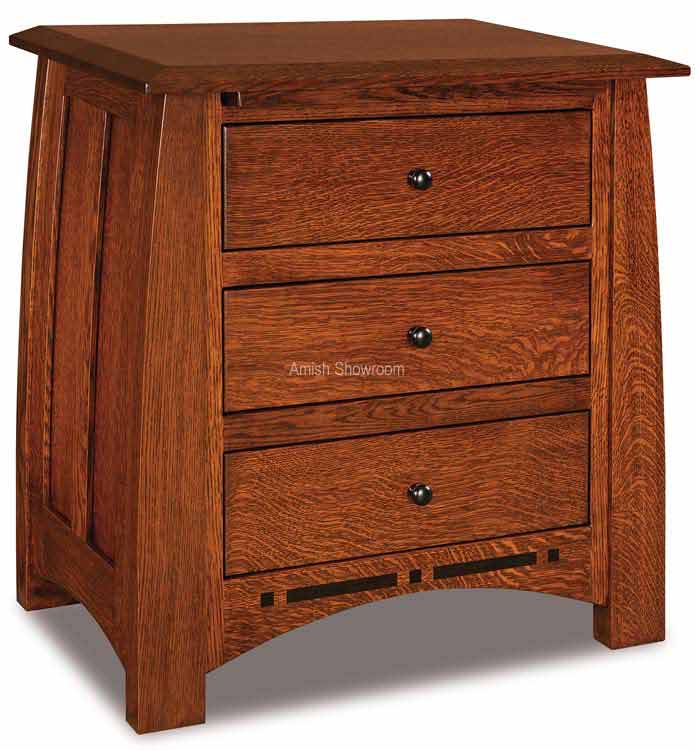 The feel of quality and luxury should never come at the expense of function. We design furniture to be used and loved for generations. Whether you're looking for a bedroom suite or dining room furniture, this collection will impress you. Start by looking at some of your options, and you'll gain an idea of just how much you can improve your home with this exquisite furniture.
The bedroom selection makes an immediate impact with unmistakable class and style. From nightstands to dressers, you can meet all your storage needs while designing a beautiful room that you'll love to come home to. Choose a Boulder Creek Amish furniture bed as the centerpiece of the room and build around it. You can choose various options like soft-close drawers for an elegant and smooth closing mechanism that prevents slamming and damage.
Nightstands don't just complement your other furniture choices. They also serve as storage for books, electronics, and other accessories. We even offer customization options. Want to include a charging station or add a night light? Talk to us about your design concept and we'll craft you something that you won't find in any regular showroom.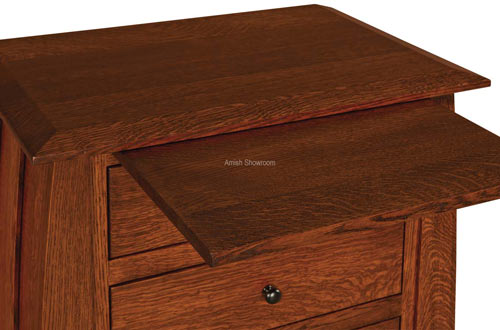 Add an armoire for a classic take on a well-organized wardrobe. Perfect for rooms where you are limited by space, or even to add to a dressing room or walk-in wardrobe. Armoires can even be used as mood-setting furniture in a bedroom when you aren't using it primarily for hanging clothes. The heirloom quality and timeless craftsmanship will make an armoire an investment that lasts generations.
You'll note that the Boulder Creek Collection features handcrafted Ebony inlays. If you love them, that's great! For many, they bring out the style of the furniture. If you prefer a more uniform look then these can be omitted completely. As always, with this bedroom Amish Furniture, you'll be able to choose your options based on your own sense of style. There are no wrong choices when it comes to your preferred aesthetic.
Hardware, as always, can be fully customized. Mirrors can be chosen depending on your needs, whether you're looking for a mounted dresser mirror, freestanding mirror, or even a wall mounted mirror.
Wood stains will transform the furniture, and you can see a selection of the most popular stains here. If you want a modern, minimalist, and monolithic design in your furniture, then onyx or even graphite could be perfect. Choose a warmer stain on oak wood if you're looking for something bright and inviting.
Explore the Best Amish Furniture Being Made Today
Craftsmanship, standout looks, versatility, and absolute beauty help to make Boulder Creek one of the best Amish furniture collections available today. View pieces for bedrooms and other areas of the home at Amish Showroom, and discover one of the best investments you can make in your home.