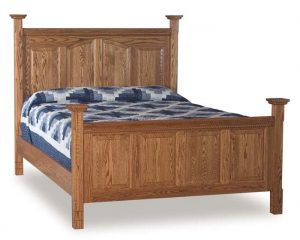 From the earliest days of Amish furniture to the collections that you can buy from the Amish Showroom today, Oak has been a mainstay. This traditional material is native to North America and has been used throughout our history. From building the homes of the earliest settlers to creating heirloom quality furniture pieces around the turn of the century, Oak has always been the first choice.
Today, Oak still prevails as a premium material for several reasons. We use it extensively at Amish Showroom, and the wide grain pattern makes it easy to distinguish. It creates beautiful furniture that is hardwearing and functional.
Fun Facts About Oak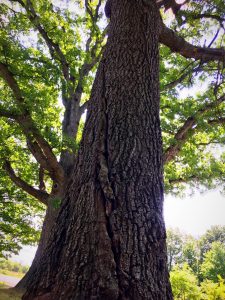 Oak is long-lasting, the wood is incredibly hard and strong, and maintenance is extremely low. It's also near impervious to insect and fungal attack, thanks to the high tannin content in the wood. This means that the harvest from Oak forests is highly consistent and sustainable.
The average Oak tree today can grow for up to 200 years, but there have been examples in history where Oak has lived for up to 2000 years! A single Oak tree can produce up to 2,000 acorns each year, and a single acorn out of every 10,000 will grow to become a mature tree. Oak forests can essentially sustain themselves, and with close management, we ensure that ours flourish. Acorns that don't grow into trees re-enter the ecosystem as food for bears, foxes, raccoons, squirrels, elk, and deer.
If you want to choose a wood species from sustainable forests and that will last for generations, then Oak is the way to go. You can significantly reduce your carbon footprint by choosing furniture that is not only inherently eco-friendly, but that can be passed down through your family, even beyond your lifetime.
Examples of Oak Amish Furniture from Our Collections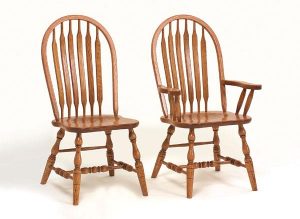 As master furnituremakers, we're passionate about our wood species, and we could tell you all day about Oak's beauty, longevity, and versatility. We also understand that you probably want to get right along to see examples of why Oak is so coveted in the furniture market.
A great starting point would be our Bent Paddle dining room chairs. Like all our furniture, these can be selected in Oak and customized with a stain of your choice. Arms are also an option if you want a slightly more formal aesthetic. With a hoop back design, solid Oak construction, and additional support underneath the seat, these are dining chairs that can last generations.
If they're not quite your style or you simply want to consider more designs, then take a look at all of our dining chair options.
Moving away from the dining room, the bathroom is another place where you could get great value and impressive looks from Oak Amish furniture. Treated and stained Oak can work perfectly in even humid bathroom environments. A bathroom vanity made using Oak will outlast any MDF vanity that you'll find on the market. You'll be making a real investment that can stand the test of time. Choice of hardware, stains, counters, and faucets can allow you to create a unique design that is traditional, modern, or somewhere in between with transitional style.
The Garland Vanity Double Bowl is a great example, and you can see more of our options here, along with custom kitchen cabinets.
Stains Bring Unique Aesthetics to Oak Amish Furniture
Oak responds well to staining, allowing you to bring a whole new aesthetic to handcrafted furniture while retaining the unmistakable and beautiful natural Oak grain.  We have over 15 shades to choose from.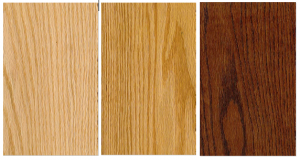 Versatile Amish Furniture for Every Home
Handcrafted Amish furniture can be used in every room of your home. From dining room collections and bathroom vanities to office furniture and kitchens, we do it all. Baseboards, cabinets, beds, cribs, bookshelves… the list goes on, and everything is made to the highest standards using a combination of both traditional and contemporary techniques.
The highest quality timbers and our commitment to quality make every piece a real investment. Your home deserves better than average. Explore our Amish furniture online, and see why Oak, Walnut, Maple, and other beautiful timbers will never go out of style when shaped by master furnituremakers.