Are you getting ready to move into your first home? There are so many things to consider and the interior is just one of those things and it would help to have a plan before you start the process and make sure that you're able to execute it quickly. To support that very line of thought we are going to list four pieces of Amish furniture that your home absolutely needs. Remember, when you buy from an Amish furniture store in Oregon, you are getting much more than a table or chair – you are getting a piece that will last a lifetime and beyond. Let's take a look at those five essential pieces right now!
Dining Room Tables – A Piece of Amish Furniture you Can't Live Without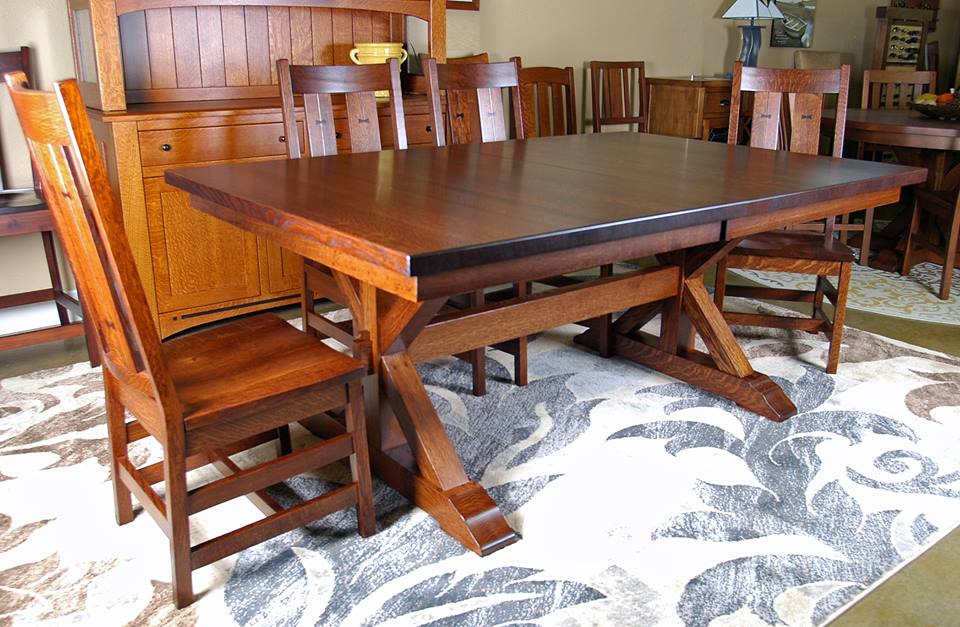 The first and most obvious piece you might look into when you buy Amish furniture is the table. It sits proudly at the center of your dining room and it's used for so many different purposes! It could be an activity table for your children, it could be where you do work or hold meetings. Most importantly, it's where you dine and when it comes right down to it you want this piece of Amish furniture to look amazing. When you are shopping for a new table you have a few basic options which include:
Leg Table – The most common option, often used for formal dining situations.
Pedestal Table – A slightly less formal piece but still beautiful, employing a single ornate support rather than four to six legs.
Trestle Table – If you're going for casual, this is the route you want to take. Trestle tables are often seen outdoors, on patios, or in sunrooms.
Choose your table wisely, or, if you want, choose different styles for different rooms.
Kitchen Islands – Another Centerpiece
The kitchen island will quickly become the centerpiece of the room and while it can often serve the same purpose as a dining room table. Kitchen islands will give you additional counter space for food preparation and most come with storage options so that you can keep your pots, pans, and other cooking supplies beneath them. No kitchen is complete without an island and it's best to get one at an Amish furniture store!
Get a China Cabinet
As you seek to buy Amish furniture you should most definitely consider getting a china cabinet. These cabinets can hold your more valued dishes, wine glasses, and more, all while putting them on display for you and your company to enjoy.
Don't Forget the Beds
Finally, we have the beds, which are essential in any home. You will need beds for both the master bedroom and any other bedrooms in the home, particularly for children. Solid wood Amish furniture beds are a great addition to any home as you can imagine and many of the children's beds can break down from a crib to a bed, and grow with the child.
Amish furniture can change your entire household and is a great investment for you. View our stock today and start furnishing!