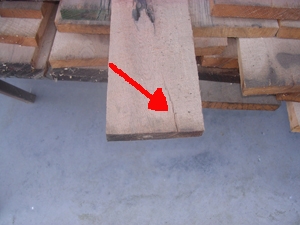 One of the challenges of solid wood furniture is controlling the wood from splitting (fig 109).  Amish craftsmen work hard to prevent this from happening.  The process actually starts when the log is cut.  The ends of the log, which are shaped like little straws carrying nutrients through the tree, are more porous and easily shed moisture.  This imbalance in the moisture content of the wood can cause splitting.
Splitting also occurs when the Amish craftsmen does not get enough glue on the seam of two boards.  It should be noted that glue is actually stronger than the wood.  Often a split or crack will form next to the glue joint, but not on the joint.
What to do?
The Amish have done most of the work for you by sealing the end grains with Conversion Varnish. This stops the flow of most moisture into the wood.
The consumer's job is to limit the Amish furniture from direct sunlight. The sun is trying to dry the top of the wood faster than non exposed areas. The consumer must also control the humidity levels in the home.  From summer to winter your home's moisture will change.  Your furniture was built to "move" with the changes by the Amish craftsman building floating panels in the doors, using screws to connect pieces were the grain patterns change direction, etc.
There is a tremendous amount of thinking, along with superior craftsmanship, that goes into each piece of Amish built furniture.