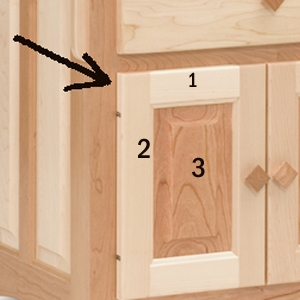 Amish craftsmen use different doors and drawers to achieve the look and style needed for their quality furniture. Amish use solid wood in their drawers and drawer faces, along with quality hardware to last generations.
Raised Panel
Flat Panel
Smooth
Raised panel doors are very popular on Amish furniture. They are built using rails (fig 34 – #2) and styles (fig 34 – #1) cut to the correct width for the project. Amish craftsmen use a router to remove the outer edge of the center section, or center panel (fig 34 – #3), of wood. This gives the illusion that the center section is floating higher than the rails and styles giving the raised panel look.
Depending on the furniture style the rails and styles are also routered on the outside edge to add more detail to the door design. Most raised panel doors on Amish furniture are overlay doors and the Amish use hidden, adjustable hinges.
Shown in fig 34 is a raised panel door. The door is built from 5 different pieces of wood. The rails, or side pieces, identified by #2 is built from solid wood from a router bit that places a special groove in the wood for the panel to sit in (number 3).
The second pieces of wood are the rails, identified by #1 on the photo. This piece has the same groove cut into it, but the end pieces are cut to fit inside the groove from the rails. This gives a glue surface and ties the door pieces together.
Figure 102 shows the side profile of this door. Note how the center panel "floats" inside the rails and stiles. This is a precise cut that must be made by the Amish Craftsman. If the gap it too small the solid wood panel will crack and if it's too large the panel will wiggle.
The center panel on fig. 102 has a profile cut around the edge by a router bit. This gives the illusion the panel is rising out of the door, thus the name of raised panel.
Flat Panel: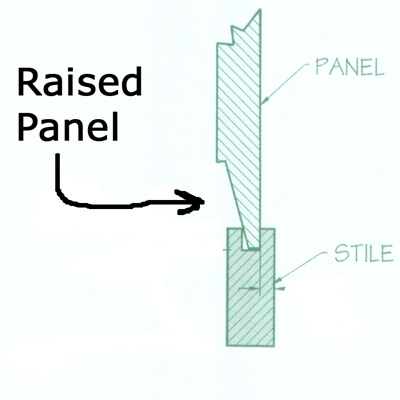 Flat panel doors have the mission style feel to them. The center panel is a solid piece of wood with the back of the panel routered out, or reversed. This makes the panel edge thinner so it will fit into the groove on the rails and styles. Often the rails and styles do not have a routered design profile. They are most often rounded edges. See the raised panel description which explains how the door is built.
The panel in Fig 102 (raised panel profile above) would be "turned around" so the profile was on the inside of the door and the outside of the panel would be flat.
Smooth:
These doors are not used very often in Amish furniture. They are just one large piece of wood that has the edges routered. There are no rails and styles.