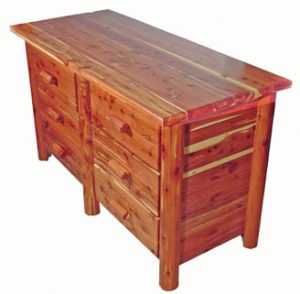 While also known as Cedar or Red cedar, this species is actually a type of Juniper, reaching a height of 30 feet and width of 15 feet when found in the open, although it is spire-like in youth. Fig 108 shows a piece of rustic red cedar furniture
Its aromatic heartwood is lavendar-red in color, and is prized for making Amish cedar chests, closet wood lining, cedar shavings, and small Amish carvings.
Many Amish craftsmen that use Cedar for their log style furniture often spray a clear finish over the wood to protect it.