When you're getting ready to renovate your home you have a lot to do and most importantly, you have a lot of money to spend. If you're hoping to buy Amish furniture then you've probably already priced it and you know that it's going to be hard on the wallet. That said, we're going to take some time to help you build a buying timeline. Before you visit the Amish furniture store, make sure that you have a plan.
Amish Furniture Store Guidelines – Get the Essentials First
It all starts with making sure that you have the essentials before you go for anything else at our Amish furniture store. We'll start with the most obvious spot: the bedroom.
The Bedroom
Starting in the bedroom you should first make sure that you have a bed or at least a bedframe. This is without a doubt the most expensive part of your renovation and it is crucial that you choose one that suits your immediate needs. When we say this, we're talking about both the bed size and the bed style. Remember, if this is the first piece of furniture that you purchase for your bedroom, it will set the style for the rest of your décor, so make sure that you choose wisely.
The second piece in the bedroom to focus on will be the dresser. While you can technically get by without one for a time, you will want to get one in as soon as possible. Once again, make sure that it matches the rest of the décor.
The Living Room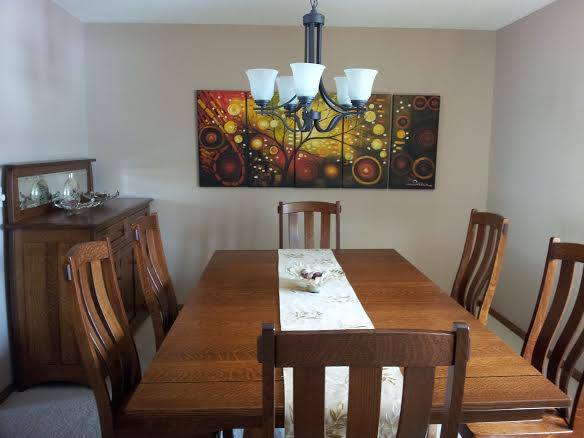 While you are busy equipping the bedroom, you should make sure to purchase a sofa and an entertainment center for your living room. These are two priority pieces that will make the room functional, but later on, you should definitely consider investing in a coffee table.
The Dining Room
This one is much more obvious: in the dining room, you're going to need a table and chairs. As always, make sure that the set you choose has the appropriately sized chairs and that it is the style you want. There are numerous other pieces that you're going to need to make your dining room complete, but start with the table and work your way up looking for Amish furniture for sale online.
Make it Perfect
We have the best Amish furniture to help you complete your renovation, and it won't break the bank on the first run if you follow the outline that we have suggested. Now would be a great time to start searching for the best Amish furniture whether you're doing a renovation, or you're buying a new home.