When you're working on remodeling a space you generally have a specific theme that you are going for. You certainly don't want to mix and match pieces haphazardly – you have a very specific theme in mind and you're going to need to choose a very specific set of furniture. Today we're going to talk about some of the trends that you should look for in Amish furniture to ensure that your space gets the rustic look that you're going for.
The First Amish Furniture Trend: Stain and Wood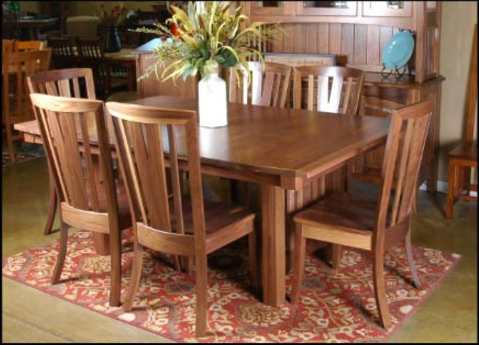 If you're hoping to achieve a certain look and feel you should start with the wood and stain when you buy Amish furniture. While many people tend to think that the stain itself determines the color of the wood, they are only half right. You have to take both of these into account when you are choosing furniture, for example, oak is going to be a much different shade than cedar. White cedar is lighter than oak regardless of the stain that is put on it, and you cannot lighten a darker wood. On the other side of the coin, you can darken a lighter wood. Ultimately you will want to make sure that when you are choosing a wood, that you choose something that goes along with the rest of your furniture. This is the first step toward achieving the rustic look that you want.
Look Into Live Edge Amish Furniture
Another great way to really achieve the rustic look that you are going for in your home is to use what is known as live edge furniture rather than going with the standard issue furniture with smooth, sanded edges. So, what is the difference exactly?
Live edge furniture is pretty amazing for a few different reasons, the first being that it embraces the natural curve of the wood. Looking at it, you see a piece of nature itself, and it all becomes better depending on the type you choose. When you look at live edge Amish furniture for sale it will be very important to make the distinction between rustic style and farmhouse style. Once you find the style that suits you best, stick with it so the rest of your house matches.
Achieving the perfect rustic interior using Amish furniture is not difficult by any stretch of the imagination. Check out our Amish furniture store and get exactly what you need to make your house look amazing.