Less is sometimes more in a modern home. If you feel that you're limited by your styling choices in a small dining room, then you may just be needing a few great ideas. Small spaces allow you to explore your creativity with unique pieces of furniture and decorations. From beautiful Amish Furniture to choosing the right colors, these are the tips that will help you to make the most of your dining room.
Pair a Round Table with Benches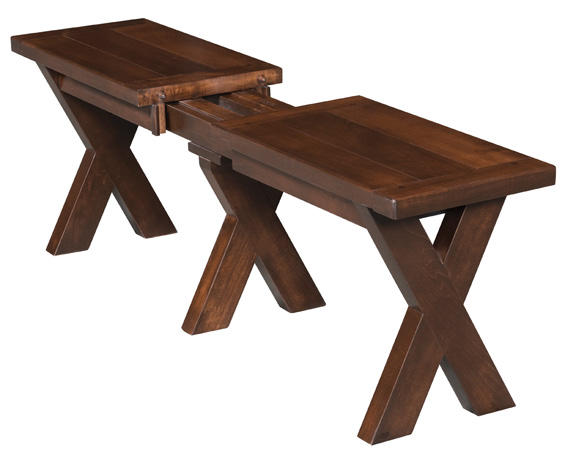 Space saving furniture can help you to decorate a small dining room without making major sacrifices. When you buy Amish Furniture online, you could even choose to expand furniture that can change as the need arises.
A small round table can be paired with benches to save space in your home. Pair your table with our expanding Frontier Bench and you'll be able to create extra seating whenever you need it. Benches are also perfect for adding seating to a dining table that is placed in the corner of a room.
Choose a Flip Out Dining Table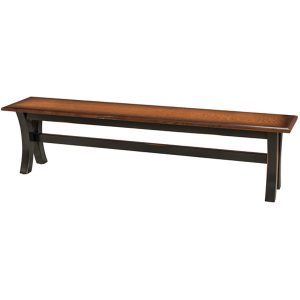 You could install a flip out dining table for an extremely compact dining room. This would work especially well in an apartment where you are truly limited for space. Benches are again a great option to use with a flip out dining table. During the daytime, benches can provide practical seating. When you do fold your table out, you'll have furniture right there for dining.
Our online Amish Furniture benches are made to heirloom-quality standards. You can make an investment today and enjoy our benches for your lifetime, and you could even repurpose them if you ever move into a larger home.
Our Grand Island Bench is perfect for modern apartment living and is particularly attractive when finished in a two-tone stain.
Choose a Narrow Dining Table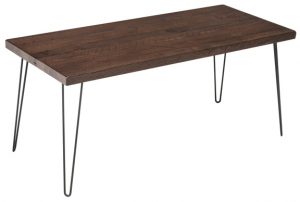 Maybe your dining room is not overly small, but simply creates some challenges when it comes to the floor plan. A long and narrow dining room can be particularly hard to design around, especially if you haven't seen the right furniture options.
If the room is long and narrow, then you'll need a table to match. At the Amish Showroom, we have you covered with a wide selection of handcrafted narrow tables. Our Silverton Dining Table is a fantastic option. It has a small footprint, and the hairpin leg design can help to keep a small room feeling open and airy.
Keep Large Surfaces Light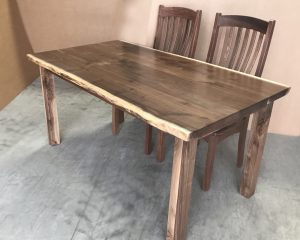 Even with the best Amish furniture online, you'll need to think carefully about color. Dark furniture is sometimes used to reduce the appearance of size, but you may find darker hues to be imposing in a small kitchen.
Instead, use surfaces to create light. Neutral stains will help your small dining room to feel much larger than it really is. Lightly stained oak is an excellent material to work within a dining room.
You could also choose rustic-inspired Amish furniture that shows elements of the natural timber. This can again keep a small room feeling natural, light, and bright. One particularly impressive example is our Live Edge Walnut Leg Table. This table is finished in a clear vanish which keeps the wood looking neutral. The live edge creates a two-tone pattern that is both beautiful and well suited to a smaller room.
You can pair this table with traditional chairs if you have space, or, it would go well with our bench designs in light stains.
Occasional Tables and More
If you do need to add extra furniture for decoration, then you'll find plenty of Amish furniture occasional tables to complement a small space. These can provide some necessary surface storage while also elevating the room with their natural beauty. Shallow sofa tables, like the Centennial design, can work just as well in your dining room like your living room.
Think Creatively as You Design Your Perfect Kitchen
A small space isn't a limitation. It's an opportunity to do something different and set your own trends. Amish furniture is the perfect starting point for a small dining room. You can maximize the space you have with quality handmade furniture that will last a lifetime.