It's time to start exploring your decorating ideas for the new year. You can give your home an exciting fresh look at the beauty and comfort of Amish Furniture online.
Amish furniture not only lasts for generations; it's made for the ages. Always in style and always reliable, our handcrafted collections will add both beauty and functionality to your home. If you're ready to start redecorating, then you'll need to start with the pieces that inspire you.
2019 will be the year of creativity where you can mix and match to get a completely unique look that reflects your own personality.
Barstools with Unique Personality and Amish Furniture Quality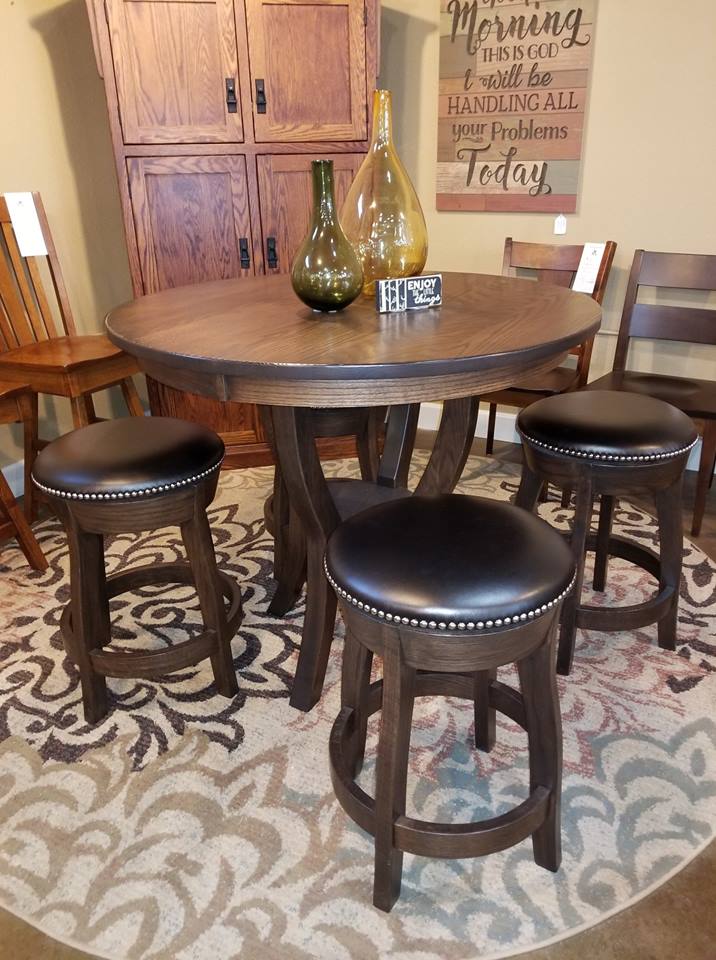 Barstools are perfect for a home bar, games room, man cave, or even for use as kitchen stools. At the Amish Showroom, we take the idea of a quality barstool and move it up to the next level. Standard or swivel stools are made with the finest American timbers sourced from our own sustainable forests. There's nothing that can come close to the elegance and longevity of handcrafted wooden barstools.
Our heirloom pieces can be used for generations, making your 2019 furniture investment one that will last.
Two-tone is the style for the new year, and with our custom furniture, you will have absolutely no limit on your own creativity. Not sure what will work? Talk to us today and we'll give you ideas that help you to incorporate the latest trends into your home.
Forget the Safe Options When Decorating with Amish Furniture in 2019
You'll want to get creative with your finishing options in the new year. Two-tone Amish Furniture barstools are coming into a trend, and this will continue well beyond 2019. Use a bright eye-catching color for the base and choose something traditional for the seat. A solid red base with a deep stain on top will create a beautiful contrast that is perfect for modern and transitional homes.
Even if traditional stains are more to your liking, you can still get a beautiful contrast with a custom upholstered seat top. Combine a rich stained base with a light leather or fabric seat. Pictured here is the Belmont Barstool with Maribeth, topped with a contrasting bone seat.
You could also go simple and traditional with our handcrafted Barrel Barstools. They're available with a selection of seat materials and are suited to almost any style of décor. Talk to us for custom finishing options.
Benches for Your Dining Room? Make it Work in Your Home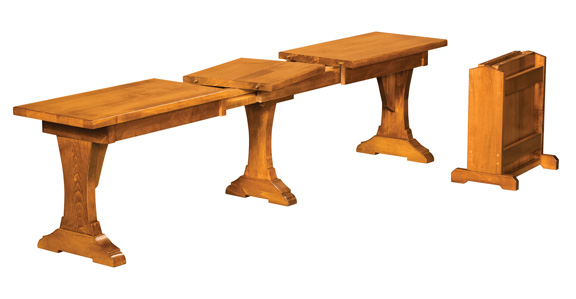 Looking for something different in your dining room? Forget chairs for 2019 and consider an expandable bench that brings both style and practicality. Benches are perfect for long and narrow formal dining tables, offering to seat for large families, parties, holiday celebrations, or any time that you need some extra space. You won't fret over your seating arrangement when you have expandable benches made by the Amish Furniture experts in Minnesota.
The Wasilla Bench is a beautiful option with clean lines and gorgeous handcrafted legs. Available in options like Brown Maple, Cherry, and Oak; you can choose a finish to perfectly match your décor. Solid paints are also available for a country home, distressed, or rustic chic look.
If you're looking for a simpler, modern style, consider the Shelby Expandable Bench with leaf inserts that extend up to 96 inches! Perfect for seating all your family and friends on a special occasion.
Handcrafted Amish Furniture is a Lifetime Investment
There's no shortage of selection when it comes to modern furniture, but the quality can sometimes be lacking. Why purchase mass produced furniture that will quickly wear down and fail, only for you to spend again and again. Amish furniture can last for a lifetime, whether you're choosing a barstool, bench, or even a full dining suite. Make a real investment that lasts for generations.
Explore handcrafted furniture from America's finest producer. Order Amish furniture online today for the best prices on heirloom-quality pieces.