Looking for a way to make your home more beautiful and organized? You can buy Amish furniture online that will bring out the best in your home, with gorgeous collections that can suit any sense of style.
In addition to timeless quality and unparalleled beauty, you can also get excellent features like functional hidden storage that perfectly integrates into any room. For homes that need it, we also design secure hidden storage to protect your most important belongings.
The Advantages of the Hidden Storage Trend with Amish Furniture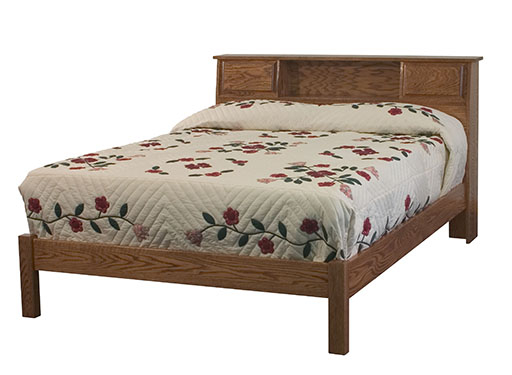 Hidden storage is an emerging trend in modern furniture, and 2019 is looking to be the biggest year yet for this unique design style.
With a busy home, it's all too easy for things to become cluttered and disorganized. Functional hidden storage gives you options to store all your belongings like home accessories, electronics, clothing, blankets, and much more. You'll be able to access storage conveniently and easily, and you won't have to worry about the mess that can come from traditional storage solutions.
Hidden storage is also ideal for jewelry to keep your pieces safe and organized. Our custom-made furniture can also be designed to incorporate secure storage for anything from a wallet and keys to personal defense equipment.
Functional storage designs are beautiful when you buy Amish furniture online, with no compromise on aesthetics.
Functional storage for Everyday Items Made Possible with Amish Furniture
You can keep your kitchen clutter-free with hidden shelves, pantries, spice racks, garbage cans, and more. Kitchen installations can be custom made so that you get functional hidden storage directly integrated into your design.
Garbage can be concealed with handcrafted Amish cabinetry will keep your kitchen clean, presentable, and hygienic. If you have a smaller kitchen and want to maximize space, then an addition like a sliding spice rack or even a hidden wine rack could be perfect. Take a look at the examples below to see what our handcrafted kitchens can offer.
We custom make our cabinetry, so let us know if you have something unique in mind!
Hidden and Functional Storage for Bedrooms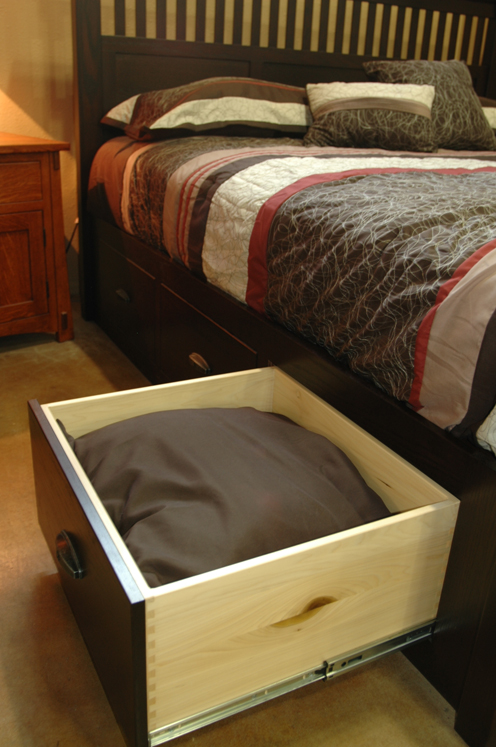 If you feel like you're running out of space in your home, then adding storage to bedrooms would be a great idea.
Our under-bed storage designs are perfect for everything from children's toys, to blankets and other linen, clothing, and all manner of miscellaneous items. Make better use of a bed in a guest room by choosing a design with under-bed storage. This type of storage is ideal for space-saving and convenience.
If you're an avid reader, want to display ornaments or photographs, or simply want a convenient shelf near your bed, then you could choose one of our designs with a headboard that doubles as storage. Our classic Bookcase Bed offers beautiful timber construction and comes standard with sliding storage doors.
We're especially proud of our custom jewelry mirrors which can be added to armoires and dressers for your convenience. You can keep your everyday jewelry more organized and out of the way. A jewelry mirror is a much better option than casual jewelry dishes if you're looking to keep things organized.
Secret Storage on Custom Amish Furniture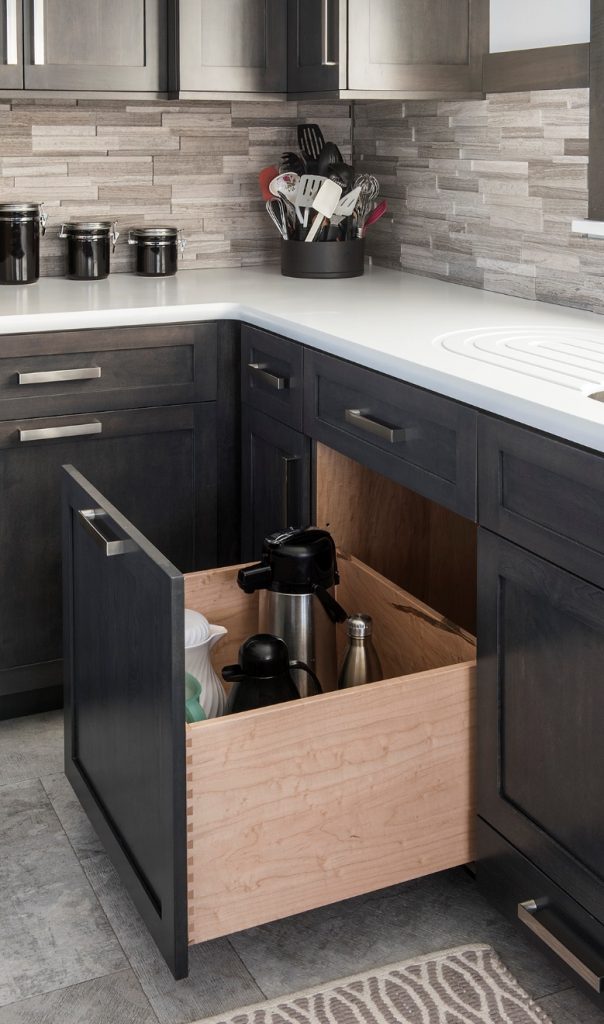 In addition to our standard hidden storage, we also offer furniture with secret compartments that are suitable for storing cash, documents, wallets, keys, and much more. For your most precious jewelry and heirlooms, we can incorporate velvet lined secret storage into our bedroom furniture. Custom nightstands can be built for both security and protection, with hidden locking compartments for handgun storage, or storage of valuables. We also hand make beautiful home office desks with secret storage compartments.
Out of respect for the privacy and security of our clients, we won't share images of our secret hidden storage. If you require furniture that provides secure storage, talk to us today. We can incorporate locking secret storage compartments into several of our existing Amish furniture designs.
All the Perks with Your Functional Hidden Storage Amish Furniture
Our furniture is made with the highest quality timbers with finishing options that bring out the inherent beauty of wood. Whether you want rich full grained options with a light stain, or something darker and more modern, we have you covered. If you like the rustic chic trend, then we can paint our furniture and cabinetry in solid colors. Choose the distressed look or go for smooth and modern – the choice is entirely up to you.
Streamline or secure your home with functional hidden or secret storage in the new year. Explore your options in our catalog and talk to the team today to start ordering beautiful customized Amish furniture online.