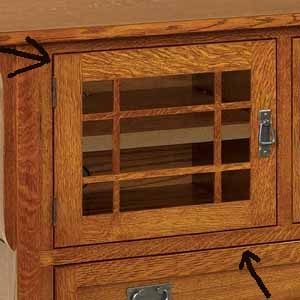 The inset, or flush mounted door (fig 31), sits inside the face frame.
When you look at a side profile of the Amish Furniture the door will not stick outside the frame. This type of door is much harder to build for the Amish Craftsmen as the gap around the door must be cut precise for an exact fit. There must be enough room for the drawer to function, yet enough space to allow the wood to expand and contract with the weather. Many Amish Craftsmen build each door custom for that opening. Amish furniture with inset doors and drawers will command a higher price for the extra labor involved in custom work.
Tip:
Amish Craftsmen build their inset doors to custom fit each face frame.
If you remove doors make sure and label them so they get placed back in the correct order.
---
Pocket Doors:
Pocket doors are most often found on T.V entertainment centers built by Amish Craftsmen. This type of door is an inset type door that allows the door to be opened, then a set of rails mounted inside the case allows the door to slide inside. This hides the doors out of the way while watching TV.