A good bookcase can be used in almost every room of the house. Place them in the study to hold all your books, place them in the living room to hold games and DVDs, or in your kitchen to hold your best china. They're versatile pieces that you can use however you need.
Here at the Amish Showroom, we have lots of different bookcases to offer. We have many that come with drawers, which are always popular as they offer you hidden space. Looking for the right bookcase for your home? Here's what you need to be looking for'S
Drawers To Suit Your Needs
As well as plenty of shelves, many of our bookshelf units will come with drawers. We've even created models that have drawers for specific needs. For example, you can have drawers that are designed to hold file folders, as you'll see in our McCoy Bookcase AMB and CLR models. These will be great in the study, as you can store important documents in them and have them within reach at all times. As well as this, you won't need an extra piece of furniture to store your files, either.
Enclosed Bookcases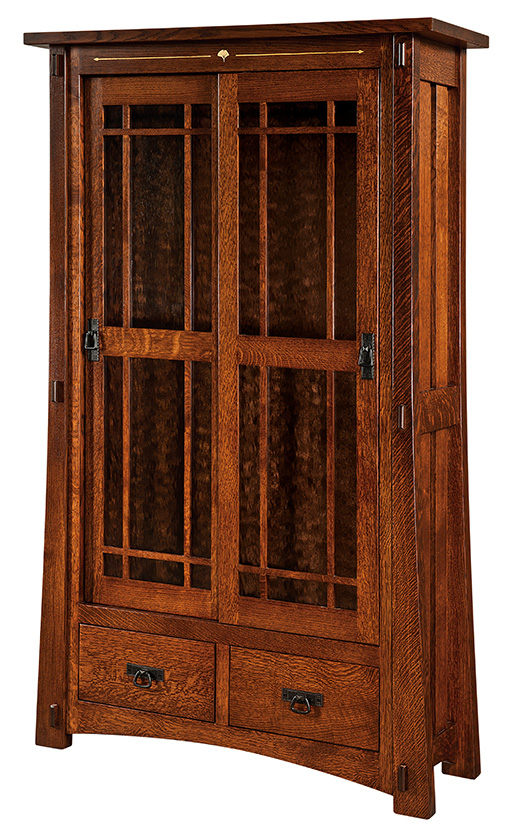 Take a look at our bookcases, and you'll find there's plenty of options for open as well as enclosed cases. The enclosed options will use glass doors, so you can keep the contents of the case protected, while you can still see inside. This makes them perfect for kitchens when you want to store and display china. They're also a good option if you want to display collectibles. Our Morgan Bookcase is a great example of this, so take a look and see if this model is for you. Want wood instead of glass doors? Contact us!
Get Extra Storage
As mentioned above, we offer bookcases that have file drawers in them. That's not all we offer though. Plenty of our bookcases Have drawers that can hold almost anything you can think of. Need somewhere to keep pieces that you want to keep out of sight? Pick one of our bookcases with drawers, so you can store them while displaying other pieces on the shelves.
Lots Of Custom Options
Have you found a bookcase on our site that looks perfect for your home? We can make it even more perfect by offering you custom options. You'll be able to choose the height, depth, and number of shelves in your piece. When you're ready to order, just call the showroom. We'll be able to make the shelves to your specifications, so it'll fit in perfectly wherever you place it.
Options for Bookcases
Select how your bookshelves look. Do you want the Cooper Bookcase for your home? You can change out the wood type, to match with the rest of the items in your home. Choose from rustic cherry, oak, brown maple, and more. Once you pick the wood, you'll be able to choose the stain and the hardware, so you can get just the look that you want.
Follow Us Online
Need more ideas for your home? Then follow us on social media, where we regularly post ideas and our latest pieces. You can find us on Facebook Pinterest YouTube and Instagram. Keep an eye on our posts to see what we come up with next.