Create a fresh new aesthetic in your bedroom by changing what is, without a doubt, the most important piece of furniture.
With a new bed, you can make your personal space more comfortable, and in some cases more practical. With countless designs available today, you could even dramatically change the look and feel to bring your room up to date for the new year.
Sleigh beds follow some traditional design cues, and at the Amish Showroom, we add modern touches to keep things fresh. Whether you want traditional, ultra-contemporary, or transitional, our wood and stain choices will help you to get the results you desire.
Find the best bed for your needs by starting with three Amish Furniture sleigh bed options available to order online today.
Old Classic Sleigh Bed with Bookcase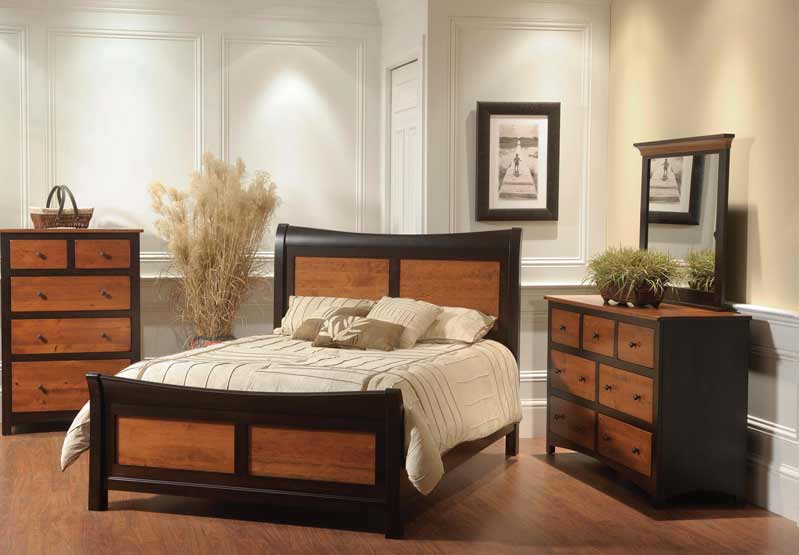 Here's a gorgeous piece of handcrafted Amish Furniture that combines both form and function into one very attractive package. Having extra storage on your headboard can help you to keep your room tidy and uncluttered. A bookcase headboard is the perfect place to store the book you're currently reading, electronics like smartphones and tablets, or even your everyday jewelry like watches and bracelets.
Our Old Classic Sleigh bed is available in oak and other woods, and pricing starts with a Queen Size that measures 63.5 inches wide by 99 inches long. Amish Furniture craftsmanship means you get features like dovetail slats and heavy-duty bolts that will last a lifetime and beyond.
If you love the design but would prefer a more traditional sleigh bed without a bookcase, then consider the Old Classic Sleigh Bed. Customize your material selections online or talk to us today to learn more.
Avondale Bed – Timeless Amish Furniture Beauty and Craftsmanship
The Avondale Sleigh Bed presents itself with a modern two-tone aesthetic that would look wonderful in either a modern or transitional home. If you demand elegance, quality, and breathtaking looks, then this could be the ideal option for your bedroom makeover.
We have designed the Avondale Bed to fit with a range of modern styles, or, you could pair it with a full Avondale suite to achieve a unified aesthetic throughout your bedroom. Dressers, nightstands, and chests can help to fill the rest of your room while offering practical storage solutions.
Although pictured in a unique two-tone stain, we can finish the Avondale Bed to meet your requirements. A low footboard is available upon request.
The Riverview Bedroom Suite is a Stunning Example of Amish Furniture Beauty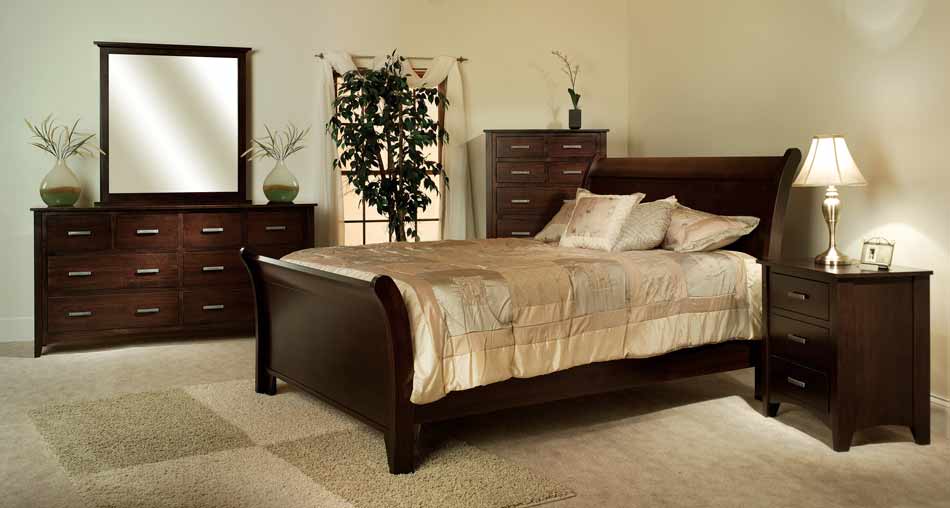 Sometimes it's the simplest designs that take your breath away. The Riverview Mission Bed is a sleigh bed with elegant curves and a modern minimalist design. Finished in a dark stain, this bed would fit perfectly into any modern home where high-end elegance is demanded.
The arched headboard is pure class and distinction, and the footboard is available in either a standard or low option. This bed or the entire Riverview Mission suite would be perfect for a master bedroom, with options like chest drawers, nightstands, and dressers available to order.
For modern homes, we recommend the darker stains, as they work well with other design elements that are typically used in contemporary settings. Pictured is the full suite in Brown Maple with an Onyx stain. Of course, you can explore your own sense of style at the Amish Showroom, and our master craftsmen and women can finish the Riverview bed or full suite in a stain of your choice.
Wood selections include Oak, Quarter Sawn White Oak, Cherry, Brown Maple, Elm, Hickory, and Walnut. Whether you want a deep and rich grain from an elegant wood, or something more affordable and understated, we'll help to turn your vision to reality.
Amish Furniture Sleigh Beds Made to Last
All our Amish Furniture is heirloom quality. Our collections are made to last the lifetime of your home and beyond. An investment in an Amish bed is an investment for the long-term, and you'll love how our sleigh beds carry their timeless beauty throughout years of ownership.
Quality construction methods and the absolute best materials make Amish Furniture the first choice for discerning homeowners. Explore all our products at the Amish Showroom online.