French Cottage design aesthetic, is a perfect blend of Victorian and Farmhouse influences.   Here at Amish Showroom, we offer French Cottage Furniture in every furniture category whether you want a Dining Set, Bedroom Suite, or Occasional pieces.  French Cottage furniture can feature intricate hand turned legs, tufted fabric, and smooth grains.  It typically will not feature heavy textures, straight clean lines, or wide wood grains.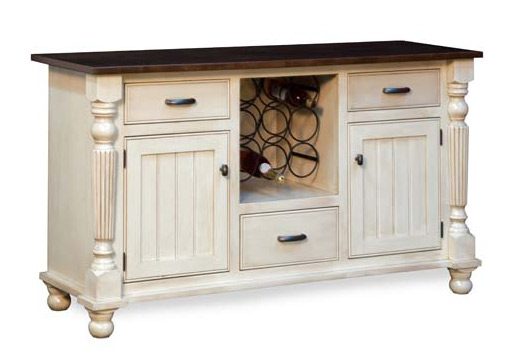 We no longer live in an age where Amish Crafted directly translates to Traditional Oak Furniture.  Amish Showroom offers a multitude of options so that you can customize your furniture.  The Lincoln Buffet is shown with a painted base and stained top, this effect is called two-tone.  We can use any Sherwin Williams paint color, and offer large varieties of stain.  When having your furniture painted consider selecting Brown Maple wood, the natural wood grain is easily hidden under the coat of paint and provides a clean look. The ivory paint color adds a warm hue that is typical in this interior design aesthetic.  Most French inspired sideboards, hutches and buffets will have a wine rack in them.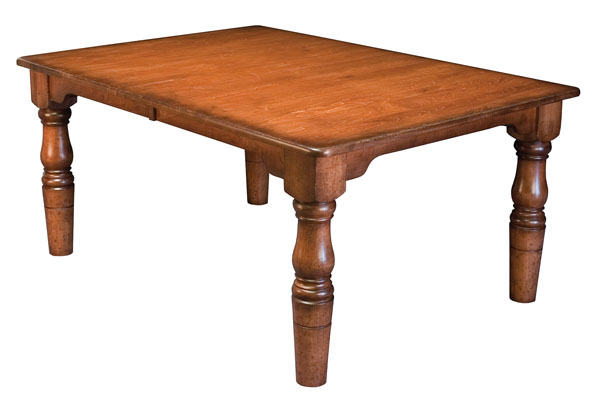 French Cottage Dining Tables can feature any number of design elements from Victorian to Farmhouse. This Dining Table will lean more towards the Farmhouse design with the hand turned legs and rounded corners on the table top.  This table can be built with up to 17 leaves!   You could also get this table with two-tone stain or two-tone paint.  For more options click the link here.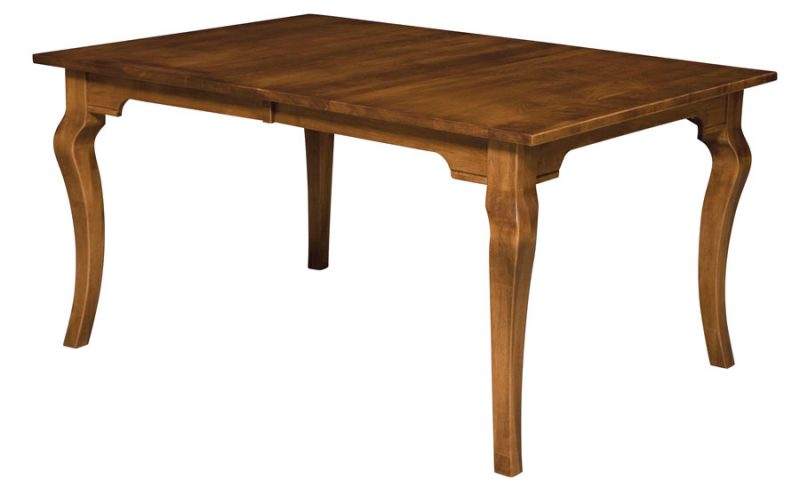 The Granby Dining Table leans more towards the Victorian design aesthetic. It's signature curved legs are handcrafted and absolutely stunning.  Pair with a modern dining chair or a fabric chair to create a warm inviting dining space. Shown in Brown Maple with stain.  French Cottage homes will feature rich brown tones as opposed to natural or reds. Note that this table does have the square top with mission corners to really show off the curvature of the legs.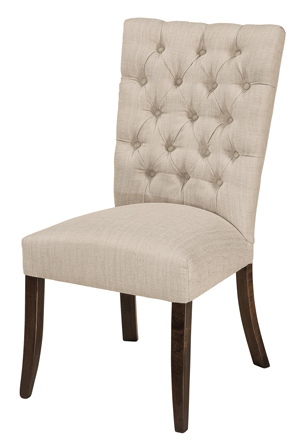 French Cottage Dining Chairs can have fabric or wood seats, typically leather seats are not incorporated into this design but all of the chairs shown here do come with leather options. We have hundreds of fabrics for you choose from!  The great thing about French Cottage is that you can go more modern or more vintage in your dining space depending on which chairs you select.
Want to check out some more fun ideas in this design or explore other interior design categories?  Follow us on Pinterest!  You can view our entire French Cottage Board there.