Modern Rustic Furniture might sound like an oxymoron but it can be achieved in interior design.  Whether you want to add  Barn-wood Texture, use an Antique Slate Stain, or choose hardware that nods towards a rustic aesthetic.  Here are some fantastic ideas to incorporate Modern Rustic Furniture into your bedroom.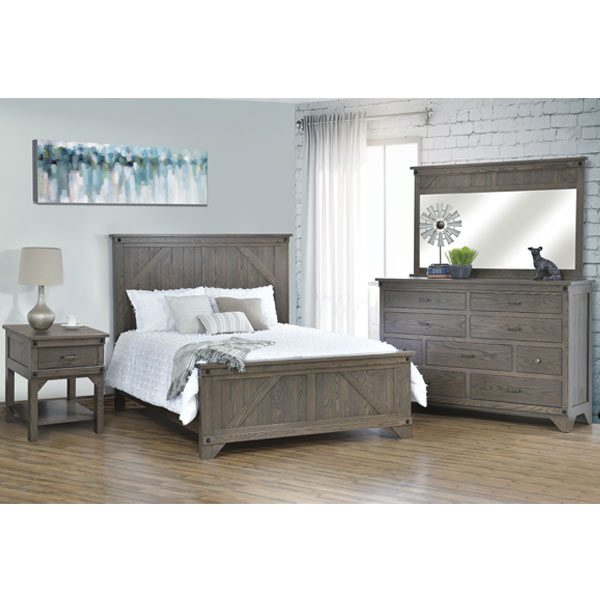 The Cambridge Bedroom Set is shown in Oak with Antique Slate stain. Note how the dresser has two different types of drawers and hardware adding a modern touch.  This collection also has clean lines throughout and an angular cut on the feet of the bed and case pieces.   On the bed you can see the nod to a Barn-Door "X" that is half completed making it lean more towards the modern side of the spectrum.
If you want the Cambridge Collection to lean more towards the Rustic side, you could choose a stain color that has warm brown hues, or change the wood type to Rustic Cherry or Rustic Hickory.  By selecting a Rustic Wood Type you would have knots present in the boards that would add a little character and texture to the wood.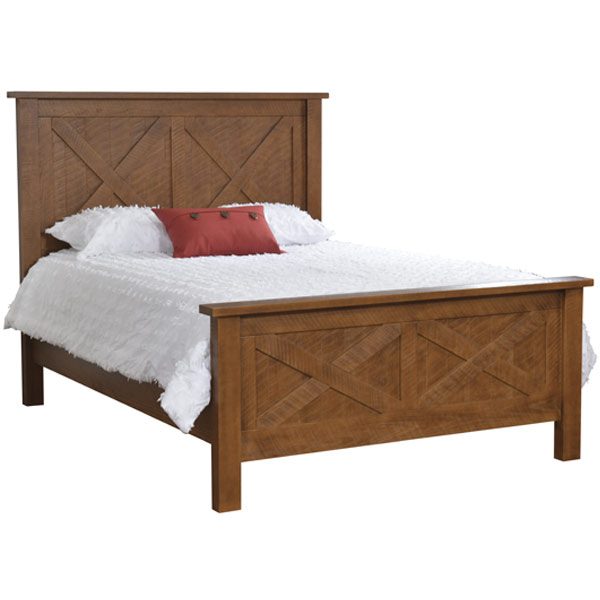 Looking for that completed Barn-Door "X" look, check out the Timber Lake Bed.  This bed has texture and is shown in Brown Maple wood.  The saw marks add texture through out the entire collection.  The Case pieces that go with this bed also feature the full "X".
Want to lean more toward the modern side of the scale with the Timber Lake Collection?  Change your stain color to a cooler hue, select different case pieces.  All of your pieces in your order are finished at the same time, so they will be stained to match even if the case pieces and bed aren't from the same collection.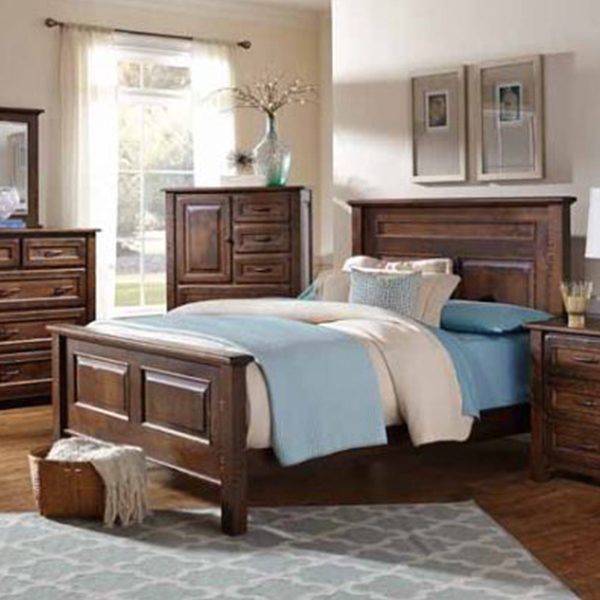 The Belwright Collection is shown with optional texture.  When purchasing from this collection you can decide if you want to add the texture or not.  Better yet, you can add texture to any of the available wood species!
Another collection that offers an optional texture is the Farmhouse Collection shown below.
Common features that you will find in the Modern Rustic aesthetic include; rustic wood species, cool tones and hues, clean lines, barnwood textures, rough sawn textures, "X" shapes, brassy hardware, textured hardware, paneled beds, and larger case pieces.
Furniture from Amish Showroom is handcrafted by the Amish in the United States.  Each piece is crafted using only American hardwoods.  It can take up to 12 weeks to have your order built and delivered.  We ship to 48 States including California, New York, and Texas.  Each bedroom collection is constructed of solid wood.  Changing out hardware is done at no extra fee and we have hundreds of options in our hardware catalog.   Shop Online, over the phone, or in store at our showroom located in Coates, MN.