Grace and distinction will never go out of style. When you design your bedroom, your furniture choices will set the tone. You have worked hard to build a home that you love, so it makes sense to invest in furniture that reflects your values.
Tradition, longevity, and high style: this is what your bedroom deserves.
Amish Furniture is an excellent choice when you are working towards a traditional style. Before you consider the disposable and mass-produced furniture that floods the market today, take some time to consider these heirloom quality Amish pieces.
Luxembourg Bedroom Amish Furniture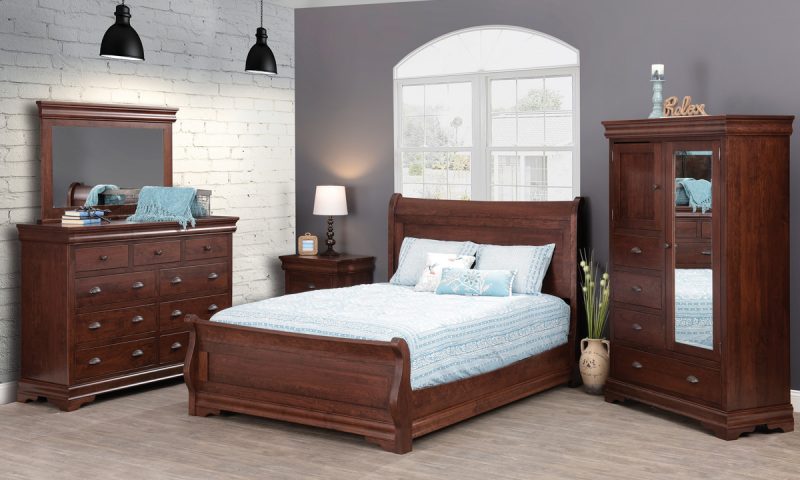 For many people, a traditional bedroom suite cannot be without a sleigh style bed. This style evokes memories of yesteryear, while also providing significant aesthetic benefits. Sleigh beds incorporate large sweeping panels that allow the natural beauty of wood to shine through. When you choose materials like Oak or even Walnut, you'll be able to see dazzling grain patterns every single day.
The Luxembourg Bed Suite was created for discerning homeowners like you. This is an exquisite piece of Amish Furniture that would look gorgeous inside your traditionally inspired home. It can also work in a transitional home where you incorporate elements of the past and the present.
This bed has a real presence with a large 52-inch headboard and perfectly sized 25-inch footboard. The sleigh style is making a big comeback, and this is one of the most breathtaking pieces that you will find anywhere today.
The Houston Suite for Tradition with a Modern Twist
Are you looking for a traditional bedroom that has a little more of a rustic feel? The Houston Suite is strong on tradition and brings elements of the early settler lifestyle into your home. It incorporates styling features that wouldn't be out of place on the early frontier of American history. It blends classic looks with modern trends, with big and bold being key to the design philosophy.
The Houston bed is the centerpiece of this suite. The oversized headboard will make a statement in any bedroom. If you are going for a large California style but insist on a traditional aesthetic, then this will be the bedroom suite for you.
Keeping with the traditional rustic theme, the Houston Suite is crafted from rough sawn Brown Maple and is made and priced to order. Contact us today to place your order for this impressive collection of handcrafted Amish Furniture.
The Mission Antique Suite for a High-End Bedroom Makeover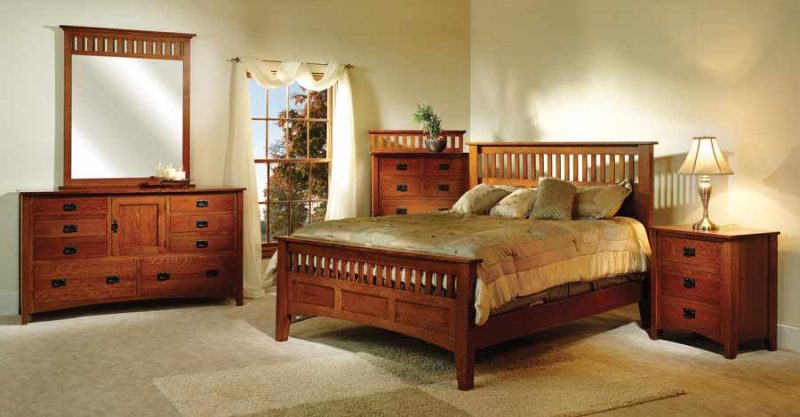 If you lean more towards the conservative side of interior design, our mission collections will appeal. Unique mission designs evoke memories of the past with beautiful slotted features that are unique in a market of bland furniture. The Mission Antique Suite is one of the best examples of why you should always choose handcrafted Amish Furniture for your home.
You won't find furniture like this in your average furniture store, and you definitely won't find it through flat packed disposable furniture.
The bed and matching furniture will last for the lifetime of your home, allowing you to pass the furniture down for generations of enjoyment. This Amish Furniture is handcrafted using timber sourced from our own forests. This allows us to maintain quality from the very beginning of the process, right up until the final stain coat and inspection.
You can choose woods like Oak with a classic grain, Hickory, Walnut, and even Rustic Cherry with sap and knots that add real character.
Going to a traditional bedroom doesn't mean your furniture has to be boring. Order the Mission Antique Suite if you're looking for a bedroom that exudes beauty and distinction.
Explore All of Our Traditional Amish Furniture Online
You don't need to leave your home to buy Amish Furniture. You can explore all our collections online today, with full customization options so that you can design a bedroom that is truly unique.
Enjoy the longevity, beauty, and one-of-a-kind nature of handcrafted furniture. Browse the Amish Showroom and create an upscale bedroom that you'll love to come home to.