Storage solutions for clothing and other personal items are essential for a well-kept home. The problem for many today is that apartments, townhouses, and other small homes can lack usable storage space. One solution to this problem is the addition of specialized furniture that can both beautify and add practicality to your home.
If your home is starved for space and if you are running out of ways to keep organized, then it's time to browse the handmade Amish Furniture armoires available at the Amish Showroom.
Beautiful Amish Furniture Offers More Than Your Average Wardrobe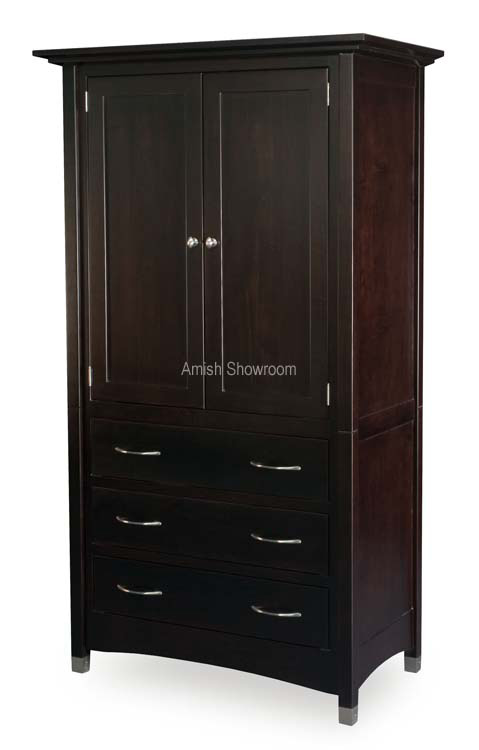 When you think of a simple wardrobe you probably think primarily of utility and function. While a storage solution like a wardrobe should always be practical, your home also deserves lasting beauty.
Amish Furniture armoires are undoubtedly a step up when it comes to beauty, quality, and even practicality. Our collections are deeply rooted in tradition, but bring new innovations in materials, timber treatment, stains, and even design. When you want furniture that will stand the test of time, lasting for generations and far beyond the lifetime of your home, Amish Furniture is the obvious choice.
Take a look at some of our standout pieces today and explore our complete collections at the Amish Showroom online.
Elegance and Functional Design – Lexington Armoire
Stately, elegant, and suitable for traditional, modern, and transitional homes. The Lexington Armoire is an excellent storage solution which can be used in bedrooms, halls, spare rooms, or anywhere in the home where you need functional and beautiful storage. This piece would not look out of place in a large foyer or even in your study.
Reverse panels create depth in the presentation, and the Lexington Armoire has a flush finish that is perfect if you like clean lines and minimalist designs. You'll find wood selections aplenty, which can be combined with our stains so that you can perfectly accessorize with the rest of your furniture. Oak is perfect if you want to choose a light or dark stain, or, you could choose something more exotic like walnut if you want breathtaking woodgrain that exudes class and distinction.
A combination of drawers and a generous wardrobe will meet all of your storage needs in the bedroom or anywhere else in your home. The Lexington Collection is the epitome of functional and Beautiful Amish Furniture.
The Vandella Wardrobe Armoire for a Rustic Home
Rustic design choices allow you to create a modest style in your home without sacrificing natural beauty or durability. The Vandella Wardrobe Armoire is one of our standout furniture pieces and shown here in Rustic Rough Sawn Brown Maple with an Almond Stain, you can see just how well the slightly distressed aesthetic can present itself.
Not just about the looks, the Vandella Wardrobe Armoire is practical with a large opening wardrobe with a hanging rail and adjustable shelf. There's also an undermounted drawer that can be upgraded with our soft-close mechanism to add a feel of lasting quality that will help to protect your furniture.
Handmade by master Amish Furniture craftsmen and women, this is a piece of furniture that can be handed down through the generations. If you want heirloom quality for your home, you need to look no further than the Amish Showroom.
Modern Beauty with the Caledonia Armoire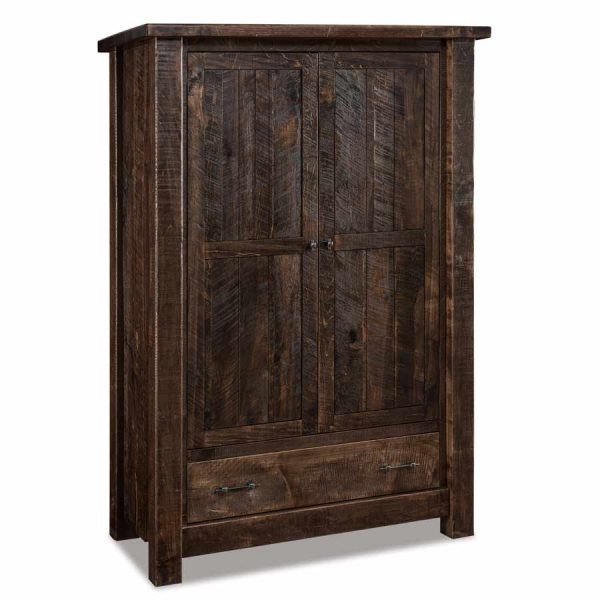 The Mission Style is a favorite of many homes throughout America. The Caledonia Armoire features sweeping lines combined with the classic Mission aesthetic to offer you something that blends both tradition and modern beauty.
Our Amish Furniture Caledonia Armoire can create lasting beauty in your home while offering you the practical storage that you need. Place this model in a hall for linen storage or use it in a bedroom for everyday clothing and other personal items. With a combination of draws and a large opening wardrobe cupboard for hanging and folded clothes, you'll be able to keep your home organized and tidy.
Available in beautiful natural timber including Brown Maple, White Oak, and even Rustic Cherry, you'll be able to choose a finish that complements your existing décor.
See Our Range of Amish Furniture Online Today
Whether you need to add storage to a bedroom, or if you want to create a whole new kitchen with Amish Furniture and handcrafted cabinets, the Amish Showroom is the best place to start. Centuries of tradition go into every collection, and our construction methods combine the best of time-tested and modern approaches to ensure that you get heirloom furniture that will last.
View our armoires and more with easy online ordering today.