Your entryway is one of the most important areas of your home, setting the mood and becoming a point of focus any time that you have guests around for socializing and celebrations. It's somewhat surprising to learn that many homeowners don't place any special emphasis on their entryways when decorating. Whether your front door opens to a large space or a relatively compact hallway, there are several creative decorative choices that you can make with Amish Furniture.
Your entryway should be both practical and impactful, and with the following ideas you could turn a cluttered and ordinary entryway into something both impressive and inviting.
Declutter with Amish Furniture Hall Seats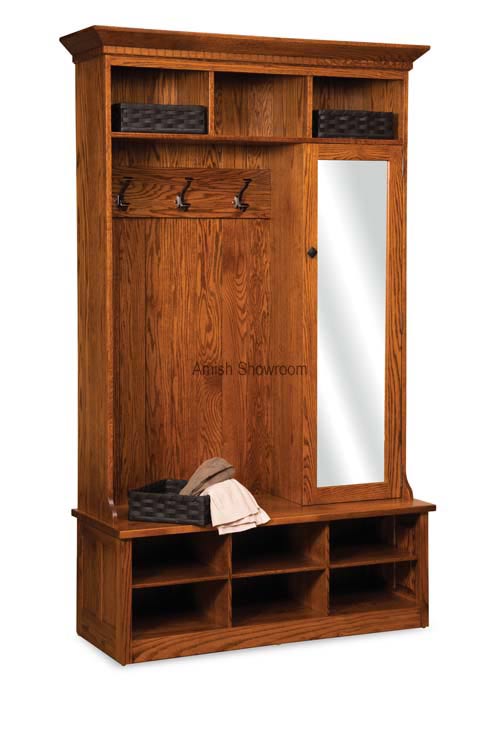 Hall seats could easily become the highlight of your entryway. Add one to a modest or mid-sized entryway hall, or, add two on opposing walls for a large entry foyer. Hall seats offer organized coat storage, shoe storage, and some models even have baskets and cabinets for miscellaneous items. We can custom build hall seats to your size requirements, with the stain and wood of your choice.
Take a look at the Baltimore Hall Seat as inspiration for your own home.
Add Stylish Hidden Storage Solutions
Clutter is something that can quickly occur in the entryway of even the most organized home. Your hall or foyer could quickly become the dumping ground of shoes, kid's school bags, coats, and other items. Without storage solutions, it can become almost impossible to keep everything clean and tidy.
Hall seats go a long way towards meeting your storage needs, but you can add even more with hallway benches that feature hidden storage. Our Amish Furniture Lattice Weave Drawer Bench is a popular option that has created functional hidden storage in countless homes. Our Lift Lid Mission Bench is another possibility that could suit your overall style concept.
Add Seating with Entryway Benches
Adding casual seating to your entryway will help to keep your home practical and inviting. With Amish Furniture, you can add benches that are exquisitely designed and expertly handcrafted.
The Harvest Trestle Bench is a beautiful option with elegant legs that scream high-end quality. For something even more flexible, consider the Henderson Bench with extensions.
Mission Benches are also a fantastic option, creating both class and distinction in your entryway. The highly detailed design of the Lowback Royal Mission Bench is particularly beautiful.
Office Furniture is Perfect for a Large Foyer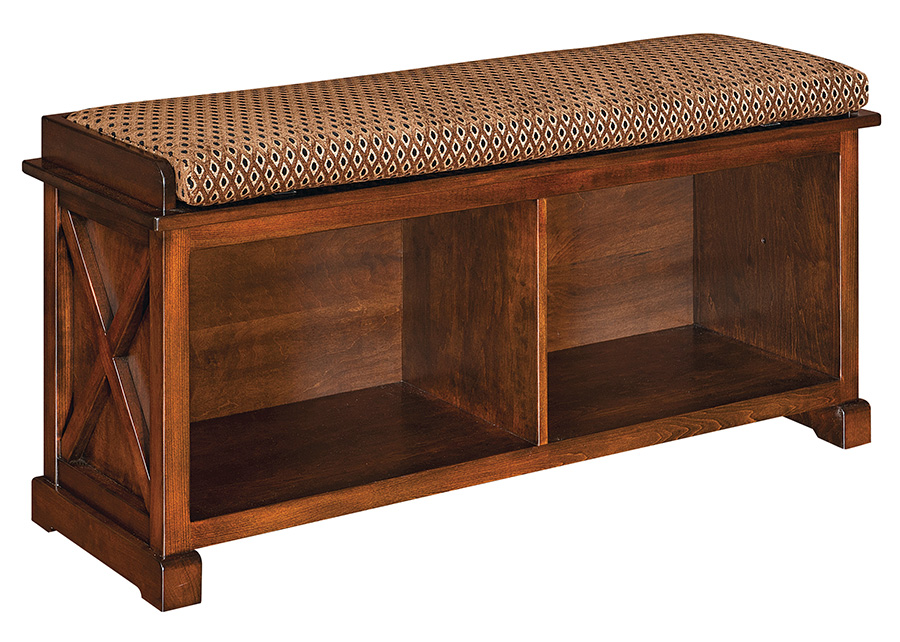 If your home features a large foyer that opens into adjoining halls and rooms, then you'll have ample space to fill with practical and beautiful Amish Furniture designs.
Office furniture designs are perfect for foyers, allowing you to add seating, bookcases, and other pieces that can make a great first impression.
Tall and prominent bookcases work well in entryways, and they can be combined with occasional tables and upholstered chairs to create a quiet corner of your home that will immediately stand out for every guest that walks in your door.
If size matters, then our Boulder Creek collection can create a strong visual impact. Heirloom quality craftsmanship showcases the natural wood grain on our Amish Furniture. Store books, photos, and small decorations on your entryway bookcases. Take a look at the Boulder Creek Double Bookcase for a large foyer where you need to fill space. For a more compact entryway, consider the single 6ft Boulder Creek Bookcase. Stain and wood choices are available to complement your existing décor.
Our beautiful upholstered client chairs and benches can pair a bookshelf or occasional table.
Buy Amish Furniture Online for Your Entryway
With just a few additions you could turn your entryway into something you're truly proud of. Whether it's adding seating or hidden storage, or even a bookcase or armoire, your entryway deserves the same attention that you would pay to any other room in your home. Explore the Amish Showroom today to discover timeless Amish Furniture that will add lasting beauty to your home.