A beautiful and functional home office can make you more comfortable and more productive. Whether you primarily work from home, or if you simply need a space for occasional work and personal projects, your furniture choices will have the most significant impact on how your office looks and feels.
If you want quality, features, durability, and timeless beauty, then Amish furniture is an excellent choice. With the collections at the Amish Showroom, you can design an office in contemporary, traditional, or even transitional style, giving you an aesthetic that inspires you and allows you to focus.
The new year is coming up, and it's the perfect time to design your new office. Here are some of our favorite pieces that could inspire your home office redesign.
Bold and Commanding, or Understated and Minimalistic? Amish Furniture for your Office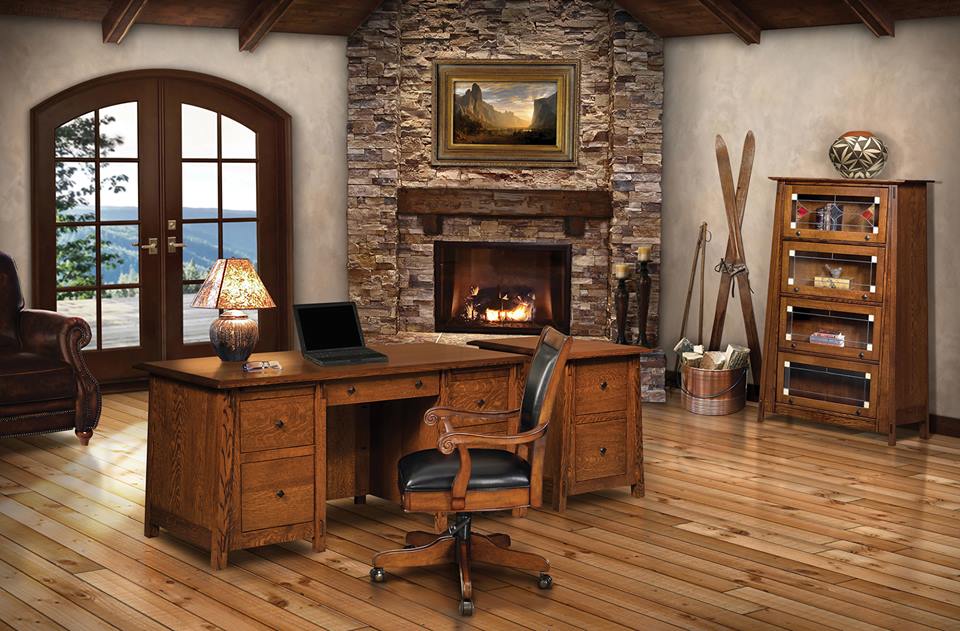 Just because there are generations of tradition behind Amish furniture, it doesn't mean that our furniture collections are stuck in the past!
Our office desks have the timeless beauty of natural timber but can be designed and stained to conform to current trends. Even a large piece like a wooden desk can suit a modern home!
Take the Boulder Creek L Desk as a fitting example. With beautiful curved edges that flare out, this desk has a presence and it can really make a statement in a large office. It's also practical, giving you all the space that you need to work, with plenty of storage. This desk would be perfect as a computer workstation, or it would even make a great writer's desk. Choose a darker stain like rich tobacco or graphite if you are looking for traditional wood furniture that has a modern twist.
Our furniture can be fully customized, so talk to us if you have any special requests like embedded power strips or even a charging station for your electronic devices.
If you're looking for something simpler and more traditional, then consider the Boston Open Desk. This large 72" desk is perfect for writing, drawing, or even for a laptop or all-in-one computer. The versatile desk is also great for kids and teenagers to use as a study desk.
You'll be able to choose from our quality wood selections and stains so that the Boston desk works with any type of décor.
Add Amish Furniture Bookcases or Display Shelves to Your Home Office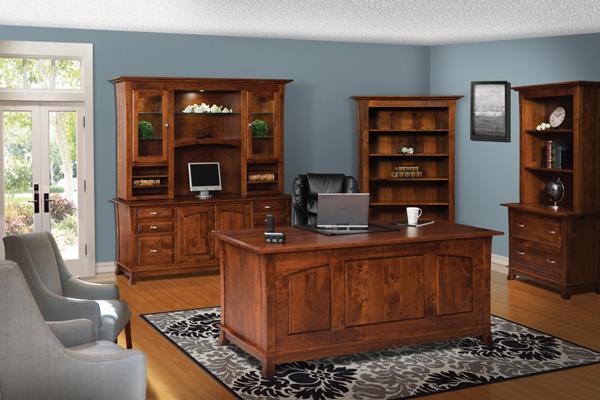 Don't forget about shelves and bookcases to complete your office. Or, you could choose a desk that has everything in one!
The Bridgefort Mission Corner Desk is one option that brings everything together. You get convenient shelves for documents, display shelves, cabinets, and generous drawer storage. You can also consider the Bridgefort Corner Desk Topper to combine with our other designs.
Our Kincade Bookcases are classically designed and perfect for a traditional home office, whereas our Bentley Bookcases are more modern, with a utilitarian open design. The Bentley design is perfect for books and display items.
With the Amish Showroom, you'll always have the freedom to combine different collections that work for you. If you need help choosing, then simply call us today or talk to us now through our Live Chat.
You can view all of our bookcases and open shelves here, with something to fit any style.
Everything You Love About Amish Furniture for Your Home Office
At the Amish Showroom, we continue to innovate and change perceptions about what Amish furniture can be in the modern world. We have immense respect for tradition, which is reflected in all our collections, but we also like to bring fresh ideas forward with modern designs using traditional handcrafting.
We can even create custom epoxy desktops or large worktables, to give you office furniture that is utterly unique.
Whatever look and feel you are aiming for, you can design your ideal new office for the new year. Our pieces are made to last for generations, so you'll be making a real investment. Browse the online showroom today and plan an office that brings out your best qualities in whatever work it is that you love to do.